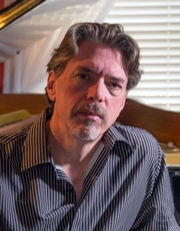 Brian Cashwell
Accompanist
Adjunct Instructor of Dance and Jazz; Dance Accompanist
Dieterle Vocal Arts Cntr
CCM Dance Division - 0003
Brian Cashwell, DMA, maintains an active and varied performing and teaching schedule throughout Ohio and the Midwest. Equally at home in jazz and classical idioms, he has directed the Jazz Ensemble at Wright State University, where he also taught jazz history, jazz improvisation, class piano, jazz piano and world music courses. He also collaborated in concerts with the WSU Women's Chorale, Collegiate Chorale, and on various student and faculty recitals. He has served as a faculty member of the Miami Valley Jazz Camp and maintains a private teaching studio.

Cashwell has played with the Blue Wisp Big Band, Masterworks Jazz Ensemble, Tommy Dorsey Orchestra, Glenn Miller Orchestra, Rob Parton, Chris Vadala, Gary Smulyan, Byron Striping, John Fedchock, Marcus Printump, Lew Soloff, John Von Ohlen and others.

His own trio, with drummer John Taylor and bassist Chris Berg, remains in demand, performing frequently for both public and private events. He has contributed to a number of recordings and his playing has been broadcast nationwide on National Public Radio. Cashwell also currently holds the piano chair in the Classic Jazz Stompers and Flying Circus Big Band. As a student, his arrangement of In your Own Sweet Way was performed by the CCM jazz ensemble, and his arrangement of Johnny Mandel's You Are There was premiered by the WSU Women's Chorale.
 
In other roles he has toured with The Boys Choir of Harlem throughout the U.S. and abroad, and as accompanist for the Central State University Choir has collaborated with the Cleveland Orchestra, Dayton Philharmonic and other notable ensembles. As a classical pianist Cashwell was twice awarded the Atlanta Steinway Society prize, performed in master classes for Vladimir Feltzman, Robert Blocker, Ruth Laredo and others, and performed Prokofiev's First Piano Concerto with the University of Georgia Symphony. He served as the pianist for the premiere of Rosephanye Powell's To Sit and Dream and Steven Aldredge's The Lord is my Shepherd.

Before moving to the Dayton area, Cashwell lived in New York City where he performed in various musical roles at a diverse selection of venues including the Blue Note, the Metropolitan Museum of Art, Symphony Space, the Lion's Den, the Cutting Room, Kavehaz, the Brooklyn Academy of Music. He also served as a ballet pianist for the School of American Ballet, Barnard College, Steps on Broadway, Ballet Academy East and The Alvin Ailey School.

His theatre work includes performances in touring Broadway productions of The Producers, Phantom of the Opera, Hairspray, Pacific Overtures, the Irish Tenors and many other productions at Cincinnati's Aronoff Center, Music Hall and Playhouse in the Park. He made his motion picture debut in the 2015 Don Cheadle film Miles Ahead, a fictionalized biopic of Miles Davis. Cashwell is currently the organist and men's ensemble director/arranger at Normandy United Methodist Church.

He received a D.M.A. from CCM, M.M. from University of Georgia and B.M. from Florida State University. His teachers include James Streem, Bill Peterson, Fred Hersch, Gary Dial, Phil DeGreg and Mike LeDonne.