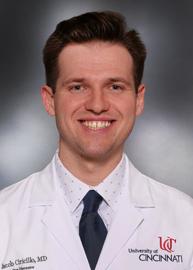 Jacob Ciricillo
Clinical Instructor
Personal Statement
Inherently, I realized I know how to CARE for human beings even without medical knowledge, a characteristic every reliable physician needs. We have a responsibility to love and accept our patients instead of judging them or turning away. If we, as humanistic providers, are not able to establish a cohesive support system of family, friends, and various healthcare workers, patients will not be given a favorable chance to heal.

Why I Chose Cincinnati
I am a Cincinnatian at heart, so I might be a little biased, but I truly think Cincinnati is a hidden gem in the Midwest. You get 4 seasons a year, a diverse food and arts scene, and multiple bang-average sports teams (with beautiful stadiums though)! Housing is affordable, there is greenspace throughout the city, and the people are always willing to lend a hand. It has just about everything one could need, all in a medium-sized city with plenty of diversity. With my support systems in place and new friends to meet during residency, I can already envision a long-term career here. 
 
MD: The University of Toledo College of Medicine and Life Sciences