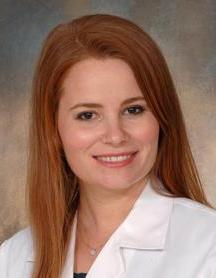 Katherine Clark
Assistant Professor of Clinical
Medical Sciences Building
7558
COM IM Gen Med - Hospital Medicine - 0535
Internal Medicine
Medical Sciences Building Room 6065
Cincinnati, Ohio 45267
MD, Michigan State University College of Human Medicine East Lansing, MI, 2010
BS, University of Notre Dame Notre Dame, IN, 2006 (Major- Biology Minors- Anthropology, Science, Technology, Values )
Residency , University of Cincinnati Cincinnati, Oh, 2013 (Internal Medicine )
Positions and Work Experience
06-2010 -06-2013 Internal Medicine Residency, University of Cincinnati, Cincinnati, Ohio
07-2013 -To Present Instructor of Clinical Medicine, General Internal Medicine, University of Cincinnati/UC Physicians Group, Cincinnati, Ohio
07-2010 -To Present Clinical Instructor, University of Cincinnati Medical Center, Cincinnati, Ohio
08-2014 -To Present NKU Preceptor for Nurse Practitioner Program, Northern Kentucky University,
09-2005 -12-2005 Teaching Assistant, Freshman Biology, Lectured and assisted freshman in biology lab, Notre Dame University,
Research and Practice Interests
Research looking at the Geriatrics Internal Medicine clinical experience and its effect on resident knowledge and interest in working with older adults at the MSU KCMS residency program.
 
Research looking at medical student's interest, attitudes and knowledge of geriatrics over 3 years of medical school. Surveyed students each year looking at effects of clinical experiences on interest and attitudes toward working with older adult populations.
          
Internal Medicine
Internal Medicine
American Board of Internal Medicine
08/19/2013
CHM Endowed Competitive Medical Scholarship for Academic Excellence
2010 AOA, Michigan State College of Human Medicine
Part of a task force to create Hospitalist Instruction Manual for new hires 07-2014
Created policy for providing Dieticians order writing at UCMC 08-2014 -To Present
College of Human Medicine Admissions 09-2006 -05-2008
Admissions Committee Student Chair 09-2007 -05-2008
Ingham County Health Department Indigent Patient Program 09-2007 -05-2008
CHM admissions housing coordinator 09-2007 -05-2008
CHM Service Learning Peru 06-2007
Big Brothers Big Sisters, South Bend, IN 09-2004 -05-2006
South Bend Tennis Association, South Bend, IN 09-2004 -05-2006
Summer Service internship with Father Fred Foundation, Traverse City, MI 05-2005 -07-2005
Summer Service Internship with Cleveland Care Alliance 06-2004 -07-2004
HCR Manor Care georgian Bloomfield, Birmingham, MI 05-2002 -08-2002
2012 -To Present: American College of Physicians
2006 -To Present: American Medical Association
Academic - Internal Medicine
Medical Sciences Building Room 6065
Cincinnati  Ohio, 45267
Phone: 513-558-2590
katherine.clark@uc.edu