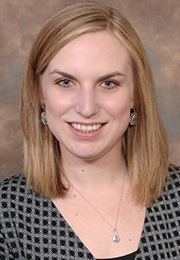 Melanie Millar Bauer Comer
Assistant Professor-Affiliate
Teachers College
CECH Education - 0022
As a senior instructional designer at the College of Nursing, Melanie Comer parters with faculty to design and develop courses in the Master of Science in Nursing (MSN) and post-graduate certificate online and hybrid programs.

As part of the college's iPad initiative, she also collaborates with faculty in the on-site Bachelor of Science (BSN) program to redesign course content for delivery via iTunes U and multi-touch books developed with iBooks Author, as well as to plan app-based learning activities and assignments. She also works closely with the Center for Academic Technologies and Educational Resources (CATER) to provide faculty professional development on leveraging technology to integrate active learning in the classroom.

Comer holds a Master of Education in curriculum and instruction with a focus in instructional design and technology, a Master of Science in health education and promotion with a focus in exercise and fitness, a Bachelor of Science in secondary education, a Bachelor of Arts in French, and a professional certificate in business French, all from the University of Cincinnati. In 2015, Comer was selected as an Apple Distinguished Educator and a UC eLearning Champion.
Master of Science,: University of Cincinnati, Cincinnati, OH,, 2017 (Health Promotion and Education, Concentration in Exercise Management)
Master of Education,: University of Cincinnati, Cincinnati, OH,, 2013 (Curriculum and Instruction, Concentration in Instructional Design and Technology)
Bachelor of Science,: University of Cincinnati, Cincinnati, OH,, 2011 (Secondary Education)
Bachelor of Arts,: University of Cincinnati, Cincinnati, OH,, 2011 (French, Certificate: Business French)
Positions and Work Experience
11-01-2012 -To Present Senior Instructional Designer, • Oversee the course design & development for the online MSN, DNP, and RN-BSN programs • Oversee the incorporation of active learning strategies into face-to-face instruction for BSN courses using the iPad • Plan and implement faculty professional development opportunities related to enhancing learning experiences using technology • Contributed to the design and development of an online pedagogy course for faculty • Contributed to the design of a Blackboard template that is currently implemented in all College of Nursing courses, University of Cincinnati, Cincinnati, OH