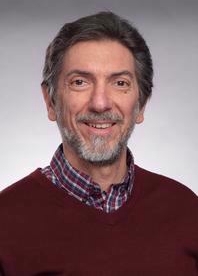 Sam Coppoletti
Adjunct Associate Professor
CC West Woods Acad Cntr
250.23
CC Physical Therapy Assisting - 0162
Dr. Coppoletti is an Associate Professor and Educator teaching the orthopedics series and other related courses.  He served as the Area Program Coordinator of the Physical Therapist Assistant (PTA) Program at Clermont College for 10 years. He has been certified in strength and conditioning (NSCA) since 2005 and has been a licensed Physical Therapist in the State of Ohio since 2001. He earned his BS in Business Administration at N. Illinois University in 1980, a Masters in PT at the University of Iowa in 1989, and a transitional DPT from Shenandoah University in VA in 2008. He has taught or coordinated programs since 1995 in the Four Corners, Missouri, and Ohio. He is a member and past president of the Consortia of OH PTA Educators, past Ohio Licensure Board member and secretary for four years, and has served on several advisory boards over the years.

He served as Program Director and ACCE at Shawnee State University for eight years prior to working at UC Clermont College. Before beginning teaching, he had worked for a total of eight years in a variety of ambulatory and inpatient care settings including work reconditioning, inpatient acute care, outpatient orthopedics, outpatient neurological rehab, pediatrics, along with some limited time spent in skilled nursing and home health.

His favorite part of teaching is watching his students grow into health care professionals. He is currently studying how learning actually works in the lab, along with the role of digital recordings in assisting students to improve their skill performance. His personal interests are fitness, choral music performance, and spirituality.
 
MPT: University of Iowa Iowa City, IA, 1989 (Physical Therapy)
t-DPT: Shenandoah University Winchester, VA, 2008 (DPT-transitional)
Bachelors of Science: N.IL. University DeKalb, IL., 1980 (Business Marketing Administration)
Research and Practice Interests
Orthopedics
Biomechanics of singing 
Licensure interests
Home Health
Fitness and Wellness/Nutrition
 
Positions and Work Experience
2001 -2009 ACCE and Program Leader, PTA Program , Shawnee State University, Portsmouth, OH
1995 -1999 ACCE and Program Director, PTA Program, San Juan College, Farmington, NM
1999 -2001 ACCE, At MPT program, S.W. Baptist University, Bolivar, MO
2009 -2019 Program Coordinator, Educator, Directed PTA Program, UC Clermont College, Batavia, OH
Other Publications
Sam Coppoletti and TriState Connection staff RN. (2007. ) Arthritis Care Update .2007-Tri-State Connection, 1 (1 ) ,3 -4 TriState SW Arthritis Foundation
Invited Presentations
N. Raley-Woodward and S. Coppoletti (02-04-2018. ) How Learning Works: Evidence-Based Practices from Lab and Classroom Studies .At SoTL within Combined Sections Meeting, New Orleans, LA. Conference. . Level:National
Lecture
Sam Coppoletti (04-15-2017. ) How Learning Works Overview for High School Educators .Amelia, OH. Other Institution. Level:Local
Post Graduate Training and Education
09-28-2019-09-30-2020 L.I.F.E. Leadership Development , Selected by the OPTA for leadership training., OPTA, , Columbus, OH
1997-2019 CI Credentialed, In early rendition of the Clinical Instructor Credentialing certification course, level 1., APTA, , Farmington, NM
CV,