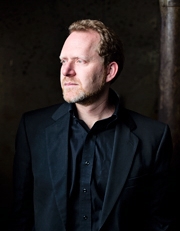 L. Brett Scott
Professor
Professor of Ensembles and Conducting
Dieterle Vocal Arts Cntr
117
CCM Choral Studies - 0003
Brett Scott is Professor of Ensembles and Conducting at the UC College-Conservatory of Music, where he conducts the CCM Chorale, teaches conducting and literature at the graduate and undergraduate level, and is Music Director of Opera d'arte, CCM's undergraduate opera company. Under his direction, the CCM Chorale released its first commercial recording, Lux Dei, through Ablaze Records, and has begun production of its second recording, focusing on sacred music for choir and electronics. Chorale has given multiple regional and world premieres by both American and international composers, including the 2015 revival performance of Dave Brubeck's The Gates of Justice, the 2016 regional premiere of Abyssinian Mass by Wynton Marsalis and the North American premiere of Stabat Mater by Ivan Moody, and the 2018 North American premiere is Fredrick Sixten's St. John Passion. In 2019 Chorale will give the American premiere of Andrew Staniland's Dark Star Requiem and create the world premiere recording of the English version of Sixten's St. John Passion. Under his direction Opera d'arte has won numerous awards through the National Opera Association. His conducting students have on multiple occasions reached the finals of the ACDA graduate student conducting competition and have been regularly selected to participate in Chorus America masterclasses.

Prior to his appointment at the University of Cincinnati, Scott was Director of Choral Activities at the University of Rochester and Assistant Professor of Music at the Eastman School of Music. Comfortable in front of a wide range of ensembles, Scott currently directs Cincinnati's Musica Sacraand is the Musical Director of Coro Volante, a vocal ensemble dedicated to the performance and recording of music by living composers. Under his direction the group has released two recordings through Ablaze records, with two more expected over the next year. 

Scott has conducted and taught throughout the United States, Canada, Central America and Europe. An acknowledged expert on contemporary music, he is in demand internationally as a lecturer on Canadian music and has presented at several national and international conferences. He was editor of Chorus America's Research Memorandum Series, an Associate Editor of NCCO's The Choral Scholar, and is a contributor to the most recent Grove Dictionary of American Music. His authorized biography of composer, educator and soundscape activist R. Murray Schafer was published by Rowman and Littlefield in March of 2019. 
 
Scott currently serves as President of the National Collegiate Choral Organization and a member of the jury for the American Choral Director Association's Julius Hereford Prize.
BM: Canadian Bible College Regina, Saskatchewan, Canada,
MM: University of Regina Regina, Saskatchewan, Canada,
DMA: CCM
Grant: #URC Faculty 2012-13 Investigators:Cornish Scott, Lincoln 05-01-2013 -06-30-2013 UC's University Research Council R. Murray Schafer: A Life in Music Role:PI $8,000.00 Active Level:Internal UC