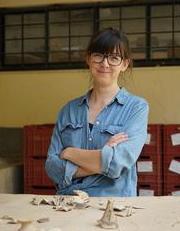 Alice Crowe

Alice Crowe is a PhD candidate specializing in Aegean Prehistory. She received her B.A. in Archaeology and Classical Civilization from Boston University, and completed her M.A. at the University of Cincinnati with a thesis entitled "The Minoan Past in the Past: Bronze Age Objects in Early Iron Age Burials at Knossos, Crete." She has conducted fieldwork in Greece (Crete and the Mainland), Turkey, Albania, and Cyprus at sites spanning in date from the Bronze Age through the Roman periods. Her research interests include the archaeology of Late Bronze Age Crete, urbanism and urban decline, household archaeology, the reuse of objects in antiquity, and Bronze Age and Early Iron Age burial practices. Alice spent the 2018-19 year at the American School of Classical Studies at Athens (ASCSA) as the Emily Townsend Vermeule fellow, and is returning to the ASCSA for the 2019-20 AY as the Gorham Phillips Stevens fellow.
Conference/Workshop Proceedings
Crowe, A. 2019. "Old Things, New Contexts: Bronze Age Objects in Early Iron Age Burials at Knossos." In MNEME. Past and Memory in the Aegean Bronze Age (Aegeaum 43), edited by E. Borgna, I. Caloi, F. M. Carinci, and R. Laffineur.  
Paper Presentations
Alice Crowe (01-07-2017. )The Minoan Past in the Past: Bronze Age Objects in Early Iron Age Burials at Knossos, Crete .Toronto. Conference. Level:National
Alice Crowe (04-2018. )Old Things, New Contexts: Bronze Age Objects in Early Iron Age Burials at Knossos .Venice. Conference. Level:International