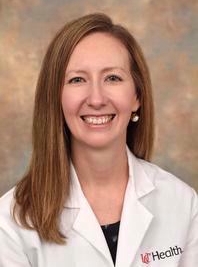 Emily K. Curran , MD
Assistant Professor
Vontz Center
COM IM Hematology/Oncology Division - 0562
Current Role
Emily K. Curran, MD, is an Assistant Professor in the Department of Medicine, Section of Hematology & Oncology at the UC College of Medicine. 


Current Clinical Focus and Interests
Dr. Curran's clinical interest focuses on the care of patients with hematologic malignancies and, in particular, acute leukemia. Her particular area of expertise is in treatment of adolescent and young adult (AYA) patients with hematologic malignancies. She is a member of the American Society of Hematology (ASH) and the American Society of Clinical Oncology (ASCO).


Summary of Background/Previous Work History, Education and AchievementsDr. Curran is a graduate of Stanford University and Stanford University School of Medicine. She completed her residency training in Internal Medicine and fellowship in Hematology & Oncology at the University of Chicago. She completed an additional fellowship in Clinical Pharmacology and Pharmacogenomics at the University of Chicago.
 
BA: Stanford University Stanford, CA, 2002 (Human Biology)
MD: Stanford University School of Medicine Stanford, CA, 2008
Residency: University of Chicago Medical Center Chicago, IL, 2009 (Internal Medicine)
Fellowship: University of Chicago Medical Center Chicago, IL, 2015 (Division of Hematology/Oncology)
Fellowship: University of Chicago Chicago, IL, 2016 (Clinical Pharmacology and Pharmacogenomics)
American Board of Internal Medicine (Hematology) (Certification Date: 10-31-2017 )
American Board of Internal Medicine (Medical Oncology) (Certification Date: 10-27-2016 )
Hematology and Oncology
Leukemia
Acute Lymphocytic Leukemia
Acute Myeloid Leukemia
Amyloidosis
Castleman Disease
Chronic Lymphocytic Leukemia
Chronic Myelogenous Leukemia
Lymphadenopathy
Lymphoma
M Protein
Macrocytosis
Macroglobulinemia
Mantle Cell Lymphoma
Mastocytosis
Mediastinal Adenopathy
Monoclonal gammopathy
Monoclonal protein
M-Spike
Mycosis Fugoides
Myelodysplastic Syndrome
Myeloma
Myeloproliferative Disorder
Paraproteinemia
Plasma Cell Disorder
Polycythemia vera
Proteinuria
Sideroblastic anemia
T-cell lymphoma
Hematology
Internal Medicine
Medical Oncology
Grant: #TL-895-203 Investigators:Curran, Emily 01-01-2022 -01-01-2025 Telios Pharma, Inc An Open-Label, Multicenter, Phase 1b/2 Study of the Safety and Efficacy of TL-895 Combined with KRT-232 in Subjects with Relapsed/Refractory (R/R) FLT3+ Acute Myeloid Leukemia (AML) Role:PI 0.00 Hold Level:Industry
Investigators:Curran, Emily 07-16-2021 -07-31-2025 Tempus TEMPUS Time program Role:PI 0.00 Hold Level:Industry
Grant: #TL-895-201 Investigators:Curran, Emily 08-01-2021 -07-31-2024 Telios Pharma, Inc A Phase 2, Open-label, Multicenter Study of TL-895 in Subjects with Relapse/Refractory Myelofibrosis, Janus Kinase Inhibitor Intolerant Myelofibrosis and Janus Kinase Inhibitor Treatment Ineligible My Role:PI 323148.83 Hold Level:Industry
Grant: #IRB17-1110 Investigators:Curran, Emily 09-01-2021 -08-31-2024 University of Chicago Phase I trial of ruxolitinib in combination with a pediatric based-regimen for adolescents and young adults (AYAs) with Ph-like acute lymphoblastic leukemia (ALL) Role:PI 111485.00 Hold Level:Higher Education
Grant: #BF-MNN-101 Investigators:Curran, Emily 12-01-2021 -11-30-2024 IQVIA Biotech Phase 1 1st-in-human dose-escalation & expansion study of BMF-219, oral irreversible menin inhibitor, in adult patients w/acute leukemia inc. those w/an MLL/KMT2A gene rearrangement orNPM1 mutation Role:PI 395691.57 Hold Level:Industry
Grant: #SL03-OHD-104 04-01-2022 -03-31-2025 Shattuck Labs, Inc. An Open-Label Phase 1a/1b Dose Escalation and Expansion Cohort Study of SL-172154 (SIRPa-Fc-CD40L) in Combination With Azacitidine or With Azacitidine and Venetoclax for the Treatment of Subjects with Role:PI 630661.15 Hold Level:Industry
Grant: #SL03-OHD-104 04-01-2022 -03-31-2025 Shattuck Labs, Inc. An Open-Label Phase 1a/1b Dose Escalation and Expansion Cohort Study of SL-172154 (SIRPa-Fc-CD40L) in Combination With Azacitidine or With Azacitidine and Venetoclax for the Treatment of Subjects with Role:PI 630661.15 Hold Level:Industry
Peer Reviewed Publications
Curran, Emily; Stock, Wendy (2019. ) Taking a "BiTE out of ALL": blinatumomab approval for MRD-positive ALL.Blood, , 133 (16 ) ,1715-1719 More Information
Wang, Amy Y; Weiner, Howard; Green, Margaret; Chang, Hua; Fulton, Noreen; Larson, Richard A; Odenike, Olatoyosi; Artz, Andrew S; Bishop, Michael R; Godley, Lucy A; Thirman, Michael J; Kosuri, Satyajit; Churpek, Jane E; Curran, Emily; Pettit, Kristen; Stock, Wendy; Liu, Hongtao (2018. ) A phase I study of selinexor in combination with high-dose cytarabine and mitoxantrone for remission induction in patients with acute myeloid leukemia.Journal of hematology & oncology, , 11 (1 ) ,4 More Information
Curran, Emily K; Godfrey, James; Kline, Justin (2017. ) Mechanisms of Immune Tolerance in Leukemia and Lymphoma.Trends in immunology, , 38 (7 ) ,513-525 More Information
Yap, Kai Lee; Furtado, Larissa V; Kiyotani, Kazuma; Curran, Emily; Stock, Wendy; McNeer, Jennifer L; Kadri, Sabah; Segal, Jeremy P; Nakamura, Yusuke; Le Beau, Michelle M; Gurbuxani, Sandeep; Raca, Gordana (2017. ) Diagnostic evaluation of RNA sequencing for the detection of genetic abnormalities associated with Ph-like acute lymphoblastic leukemia (ALL).Leukemia & lymphoma, , 58 (4 ) ,950-958 More Information
Curran, Emily; Chen, Xiufen; Corrales, Leticia; Kline, Douglas E; Dubensky, Thomas W; Duttagupta, Priyanka; Kortylewski, Marcin; Kline, Justin (2016. ) STING Pathway Activation Stimulates Potent Immunity against Acute Myeloid Leukemia.Cell reports, , 15 (11 ) ,2357-66 More Information
Curran, Emily; Stock, Wendy (2015. ) How I treat acute lymphoblastic leukemia in older adolescents and young adults.Blood, , 125 (24 ) ,3702-10 More Information
Curran, Emily; Corrales, Leticia; Kline, Justin (2015. ) Targeting the innate immune system as immunotherapy for acute myeloid leukemia.Frontiers in oncology, , 5 ,83 More Information
Curran, Emily; Smith, Sonali M (2014. ) Phosphoinositide 3-kinase inhibitors in lymphoma.Current opinion in oncology, , 26 (5 ) ,469-75 More Information
Jain, Nitin; Curran, Emily; Iyengar, Neil M; Diaz-Flores, Ernesto; Kunnavakkam, Rangesh; Popplewell, Leslie; Kirschbaum, Mark H; Karrison, Theodore; Erba, Harry P; Green, Margaret; Poire, Xavier; Koval, Greg; Shannon, Kevin; Reddy, Poluru L; Joseph, Loren; Atallah, Ehab L; Dy, Philip; Thomas, Sachdev P; Smith, Scott E; Doyle, L Austin; Stadler, Walter M; Larson, Richard A; Stock, Wendy; Odenike, Olatoyosi (2014. ) Phase II study of the oral MEK inhibitor selumetinib in advanced acute myelogenous leukemia: a University of Chicago phase II consortium trial.Clinical cancer research : an official journal of the American Association for Cancer Research, , 20 (2 ) ,490-8 More Information
Partap, Sonia; Curran, Emily K; Propp, Jennifer M; Le, Gem M; Sainani, Kristin L; Fisher, Paul Graham (2009. ) Medulloblastoma incidence has not changed over time: a CBTRUS study.Journal of pediatric hematology/oncology, , 31 (12 ) ,970-1 More Information
Curran, Emily K; Le, Gem M; Sainani, Kristin L; Propp, Jennifer M; Fisher, Paul Graham (2009. ) Do children and adults differ in survival from medulloblastoma? A study from the SEER registry.Journal of neuro-oncology, , 95 (1 ) ,81-85 More Information
Curran, Emily K; Sainani, Kristin L; Le, Gem M; Propp, Jennifer M; Fisher, Paul G (2009. ) Gender affects survival for medulloblastoma only in older children and adults: a study from the Surveillance Epidemiology and End Results Registry.Pediatric blood & cancer, , 52 (1 ) ,60-4 More Information
Curran E.;Corrales L.;Kline J. (01-01-2015. ) Targeting the innate immune system as immunotherapy for acute myeloid leukemia.Frontiers in Oncology, , 5 (APR ) , More Information
Derman B.A.;Streck M.;Wynne J.;Christ T.N.;Curran E.;Stock W.;Knoebel R.W. (02-23-2020. ) Efficacy and toxicity of reduced vs. standard dose pegylated asparaginase in adults with Philadelphi.Leukemia and Lymphoma, , 61 (3 ) ,614-622 More Information
Muffly L.;Curran E. (12-06-2019. ) Pediatric-inspired protocols in adult acute lymphoblastic leukemia: Are the results bearing fruit?.Hematology (United States), , 2019 (1 ) ,17-23 More Information
Lyu J.;Curran E.;Ji Y. (01-01-2018. ) Bayesian adaptive design for finding the maximum tolerated sequence of doses in multicycle dose-find.JCO Precision Oncology, , 2 , More Information
Stinchcombe, Thomas E; Zhang, Ying; Vokes, Everett E; Schiller, Joan H; Bradley, Jeffrey D; Kelly, Karen; Curran, Walter J; Schild, Steven E; Movsas, Benjamin; Clamon, Gerald; Govindan, Ramaswamy; Blumenschein, George R; Socinski, Mark A; Ready, Neal E; Akerley, Wallace L; Cohen, Harvey J; Pang, Herbert H; Wang, Xiaofei (2017. ) Pooled Analysis of Individual Patient Data on Concurrent Chemoradiotherapy for Stage III Non-Small-Cell Lung Cancer in Elderly Patients Compared With Younger Patients Who Participated in US National Cancer Institute Cooperative Group Studies.Journal of clinical oncology : official journal of the American Society of Clinical Oncology, , 35 (25 ) ,2885-2892 More Information
Salahudeen, Ameen Abdulla; Patel, Manali I; Baas, Paul; Curran, Walter J; Bradley, Jeffrey D; Gandara, David R; Goss, Glenwood D; Mok, Tony S; Ramalingam, Suresh S; Vokes, Everett E; Malik, Shakun M; Wakelee, Heather A (2017. ) Overview of Thoracic Oncology Trials in Cooperative Groups Around the Globe.Clinical lung cancer, , 18 (1 ) ,5-12 More Information
Lynch, Thomas J; Bogart, Jeffrey A; Curran, Walter J; DeCamp, Malcolm M; Gandara, David R; Goss, Glenwood; Henschke, Claudia I; Jett, James R; Johnson, Bruce E; Kelly, Karen L; Le Chevalier, Thierry; Mulshine, James L; Scagliotti, Giorgio V; Schiller, Joan H; Shaw, Alice; Thatcher, Nick; Vokes, Everett E; Wood, Douglas E; Hart, Carol (2005. ) Early stage lung cancer--new approaches to evaluation and treatment: conference summary statement.Clinical cancer research : an official journal of the American Association for Cancer Research, , 11 (13 Pt 2 ) ,4981s-4983s More Information