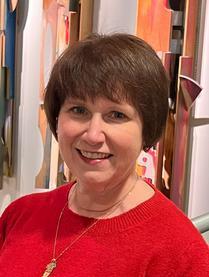 Anne Cushing-Reid
Asst Dean
Assistant Dean and Director of Preparatory and Community Engagement Division; Adjunct Instructor of Arts Administration
Emery Hall
4261
CCM Preparatory and Community Engagement - 0003
Anne Cushing-Reid was named Assistant Dean and Director of the CCM Prep Division in July 2021.

In this role, she leads a team of outstanding teaching artists including CCM faculty and area professional performing artists, who provide the highest level training in music, ballet, and theatre arts for students of all ages and abilities. Students who are interested in and passionate about their artforms attend pre-college programs that can prepare them to pursue careers as professional artists, but also as advocates, teachers, and patrons of the performing arts.

CCM community programs bring together the artistic excellence of CCM students, faculty and staff with a variety of  partners in schools, neighborhoods, and beyond. A passionate advocate for access to arts experiences for all people, she leads CCM's partnership with Lives United: Music, Arts & Community (Lives United/Vidas Unidas) an initiative located in the Mt. Auburn neighborhood. She also represents CCM on the university-wide college access initiative, CPS Strong. Additionally, she has served as an adjunct faculty member teaching Arts Education and Community Engagement and facilitating the Current Issues Forum for CCM's Arts Administration graduate program.

For more than 25 years, Ms. Cushing-Reid worked for the Cincinnati Symphony and Pops Orchestra in a series of positions leading to her 2009 appointment as Senior Director of Community Engagement and Learning. In that capacity, she led the Orchestra's community engagement, educational and regionalization initiatives and developed strategies that increased the reach of the orchestra's programs by more than 80%. Ms. Cushing-Reid was a key participant in the development of the CSO's broad-based education and community engagement initiative, Sound Discoveries: Music for Life, Music for the Community, Music for a Career. Under her leadership the CSO formed its Advisory Committee for Education, a volunteer group of area teachers who participated in the planning of Sound Discoveries: Workshops for Educators and production of preparation materials for Young People's Concerts.
 
An advocate for arts in education, Ms. Cushing-Reid is a member and Treasurer of the Board of the Ohio Alliance for Arts Education. She is a founding member and past co-chair of the Greater Cincinnati Alliance for Arts Education (GCAAE), served on the ArtsWave Community Audit for Arts Education advisory committee, served on the Family and Civic Engagement Team (FACET) at Cincinnati Public Schools, and is a member and past-chair of the Price Hill Arts Connection. She is a member of the Cincinnati USA Regional Chamber's WE Lead Class 7. Ms. Cushing-Reid  is a proud recipient of the Kentucky Music Educators' Association District 6 "Friend of Music" award and is a 2020 Dada Rafiki honoree.
 
Ms. Cushing-Reid has been a co-presenter and moderator for sessions at the League of American Orchestras' National Conference, the University of Cincinnati Diversity & Inclusion Conference and Southwest Ohio/Northern Kentucky STEM Conference. She has also served as a guest blogger for Americans for the Arts.
 
A clarinetist, Ms. Cushing-Reid played in and served on the board of the Seven Hills Sinfonietta, a community chamber orchestra in Cincinnati. Currently, she is learning to play the viola, a long-time aspiration, and has participated in the Cincinnati New Horizons Orchestra and Price Hillharmonic Orchestra.
 
Ms. Cushing-Reid is a graduate of Mount St. Joseph University, holding a Bachelor of Arts in Music and Business Administration and a Master of Arts in Education.
BA: Mount St. Joseph University Cincinnati, OH, (Music (clarinet) and Business Administration)
MA: Mount St. Joseph University Cincinnati, OH , (Education)