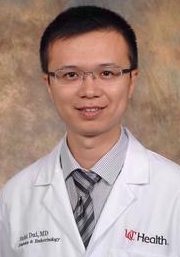 Yufei Dai , MD
Assistant Professor of Clinical
University of Cincinnati
231 Albert Sabin Way
MSB 7067
Cincinnati, Ohio 45267-0547
Phone 513-558-3566
Fax 513-558-8581

Current Role
Yufei Dai, MD, is an assitant professor at division of Endocrinology, department of Internal Medicine

Key Highlights (optional)


Current Clinical Focus and Interests
Diabetes,  secondary diabetes, cystic fibrosis related diabetes, diabetes after total pancreatectomy with islet autotransplatation, hypoglycemia

Summary of Background/Previous Work History, Education and Achievements
Dai joined the University of Cincinnati faculty in 2019 where he completed his Endocrinology and Metabolism Fellowship training. 

Dai received his medical degree from the Medical College of Hunan Normal University (China) in 2009 and a master's degree in Internal Medicine (Endocrinology) from Peking Union Medical College Hospital in 2012. He completed his residency in Internal Medicine at Howard University Hospital in Washington, DC.

Dai is board certified in internal medicine and Endocrinology & Metabolism.
Medical Degree: Hunan Normal University College of Medicine Changsha, China, 2009 (Internal Medicine)
Master's Degree: Peking Union Medical College Beijing, China, 2012 (Internal Medicine (Endocrinology))
Residency: Howard University Hospital Washington, DC, 2017
Fellowship: University of Cincinnati Cincinnati, OH, 2019 (Endocrine)
American Board of Internal Medicine (Endocrinology-Diabetes and Metabolism) (Certification Date: 10-10-2019 )
American Board of Internal Medicine (Certification Date: 08-18-2017 )
Diabetes
Endocrinology
Autoimmune Thyroiditis
Cystic Fibrosis Related Diabetes
Diabetes Mellitus
Diabetes Type 1 (Diabetes Mellitus, Type 1)
Diabetes Type 2 (Diabetes Mellitus, Type 2)
Diabetic Hypoglycemia
Diabetic Nephropathy
Enlarged Breasts in men (Gynecomastia)
Galactorrhea
Graves' Disease
Hashimoto's Thyroiditis
Hyperandrogenism
Hyperparathyroidism
Hypogonadism
Hypothyroidism (Underactive thyroid)
Insulin Resistance
Low Blood Sugar (Hypoglycemia)
Postpartum Thyroiditis
Pre-Diabetes
Subacute Thyroiditis
Thyroiditis
Endocrinology-Diabetes and Metabolism
Internal Medicine
Research and Practice Interests
The effect of weight loss sugery on liver glycogen metabolism.
Peer Reviewed Publications
Liu M, Zhu H, Dai Y, Pan H, Li N, Wang L, Yang H, Yan K, Gong F. (2018. ) Zinc-α2-Glycoprotein Is Associated with Obesity in Chinese People and HFD-Induced Obese Mice. Front Physiol, ,
Zhu H, Wang X, Pan H, Dai Y, Li N, Wang L, Yang H, Gong F (2016. ) The Mechanism by Which Safflower Yellow Decreases Body Fat Mass and Improves Insulin Sensitivity in HFD-Induced Obese Mice. Front Pharmacol, ,
Zhu HJ, Dai YF, Wang O, Li M, Lu L, Zhao WG, Xing XP, Pan H, Li NS, Gong FY. (2011. ) Generalized glucocorticoid resistance accompanied with an adrenocortical adenoma and caused by a novel point mutation of human glucocorticoid receptor gene. Chin Med J (Engl), ,
Mao JF, Wu XY, Nie M, Lu SY, Gong FY, Dai YF (2010. ) [A report of familial male-limited precocious puberty caused by a germ-line heterozygous mutation (M398T) in luteinizing hormone receptor gene] .Zhonghua Nei Ke Za Zhi., ,
Zhu HJ, Dong CX, Pan H, Ping XC, Li NS, Dai YF, Wang LJ, Yang HB, Zhao WG, Gong FY (2012. ) rs4215 SNP in zinc-α2-glycoprotein gene is associated with obesity in Chinese north Han population. Gene, ,
Dai, Yufei; Hagen, Matthew; Andaluz, Norberto; Bhabhra, Ruchi (2019. ) Aggressive granular cell tumor of the neurohypophysis with optic tract edema and invasion into third ventricle.Surgical neurology international, , 10 ,217 More Information
Moore, Mary Courtney; Warner, Shana O; Dai, Yufei; Sheanon, Nicole; Smith, Marta; Farmer, Ben; Cason, Rebecca L; Cherrington, Alan D; Winnick, Jason J (2021. ) C-peptide enhances glucagon secretion in response to hyperinsulinemia under euglycemic and hypoglycemic conditions.JCI insight, , More Information
Hanyuan Xu, Guiyan Han, Linjie Wang, Huihua Ding, Chunyan Wang, Xiaochuan Ping, Caixia Dong, Dianxi Zhang, Yufei Dai, Naishi Li, Yufeng Li, Hongbo Yang, Huijuan Zhu, Hui Pan, Fengying Gong, Jichun Chen & Xiaoping Xing (2022. ) 25-hydroxyvitamin D levels are inversely related to metabolic syndrome risk profile in northern Chinese subjects without vitamin D supplementation .Diabetology & Metabolic Syndrome, ,
Warner, Shana O; Wadian, Abby M; Smith, Marta; Farmer, Ben; Dai, Yufei; Sheanon, Nicole; Edgerton, Dale S; Winnick, Jason J (2021. ) Liver glycogen-induced enhancements in hypoglycemic counterregulation require neuroglucopenia.American journal of physiology. Endocrinology and metabolism, , 320 (5 ) ,E914-E924 More Information
Xu, Hanyuan; Han, Guiyan; Wang, Linjie; Ding, Huihua; Wang, Chunyan; Ping, Xiaochuan; Dong, Caixia; Zhang, Dianxi; Dai, Yufei; Li, Naishi; Li, Yufeng; Yang, Hongbo; Zhu, Huijuan; Pan, Hui; Gong, Fengying; Chen, Jichun; Xing, Xiaoping (2022. ) 25-hydroxyvitamin D levels are inversely related to metabolic syndrome risk profile in northern Chinese subjects without vitamin D supplementation.Diabetology & metabolic syndrome, , 14 (1 ) ,23 More Information
Academic - University of Cincinnati
231 Albert Sabin Way
Cincinnati  Ohio, 45267-0547
Phone: 513-558-3566
Fax: 513-558-8581