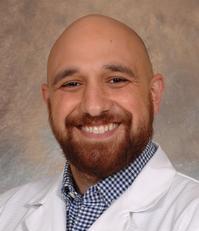 Aram Derbedrossian
Medical Resident/Fellow
Personal Statement
There were mornings that I would spend hours connecting with my patients in between physical exam maneuvers. I slowly found myself becoming equally curious about my patients' life stories and their disease course. I connected with one patient over her previous career as a bookstore-owner -- bonding over our shared love for reading -- and another patient over our love for the Harry Potter series. I developed a deep passion for instilling a connection with my patients, and I found equal gratification with forming patient bonds as I did with formulating complex differential diagnoses.

Why I Chose Cincinnati
My fiancé and I were looking for a city that combined the positive aspects of both Los Angeles, CA and Grand Rapids, MI. We loved the size of the city combined with the diversity of the population. We also enjoyed exploring the different local restaurants and breweries. Lastly, we were really impressed with the interview day and passion shown by the faculty for their residents and patients. I chose to rank University of Cincinnati as my first choice and by a happy coincidence, my fiancé chose to rank Cincinnati Children's Hospital as her number one choice as well. 
MD: Michigan State University College of Human Medicine - Grand Rapids