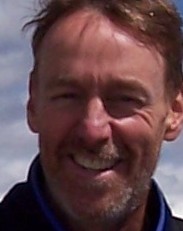 Craig Dietsch
Associate Professor
Associate Professor, Department Head, Geology
Dr. Dietsch's research focuses on the evolution of mountain chains, crustal tectonics, petrology, and landscape evolution.  His current fieldwork areas include the Himalaya of northern India, eastern Pyrenees, the Catalan Coastal Ranges of northeastern Spain, the Appalachians, western New England, and southern California.  Current research topics include bedrock exhumation in relation to fluvial incision, geodynamics of migmatite domes, and how the generation of alluvial fans may record tectonic and climactic signals. 
B.S.: Dickinson College Carlisle, PA,, 1978 ( -- junior year at the University of Edinburgh, Scotland.)
M.S.: Yale University New Haven, CT,, 1981
M.Ph.: Yale University New Haven, CT,, 1981
Ph.D.: Yale University New Haven, CT,, 1988
Research and Practice Interests
"…Geologists, in their all but closed conversation, inhabit scenes that no one ever saw, scenes of global sweep, gone and gone again, including seas, mountains, rivers, forests, and archipelagoes rising in volcanic violence to settle down quietly and then forever disappear — almost disappear.  If some fragment has remained in the crust somewhere and something has lifted the fragment to view, the geologist goes out with his hammer and his sandwich, his magnifying glass and his imagination [and his mass spectrometer and his ion probe], and rebuilds the archipelago."
 
— from John McPhee's Basin and Range [with only a slight addition]
 
My research interests center on understanding the life history of mountain chains: from their inception as volcanic island arcs, for example, to their exhumation and the formation of high-elevation, Himalayan landscapes.  This career-long odyssey has led me through the realms both large and small: mesoscopic structural geology, mineralogy and mineral chemistry, regional geology, igneous and metamorphic petrology, igneous geochemistry, tectonics, 40Ar/39Ar, U-Pb, and (U-Th)/He geochronology, and tectonic geomorphology.  My principle interest is to integrate geochronology and tectonics, and more recently, tectonics and geomorphology.  I currently have field-based projects in the Himalaya of northern India, in northeastern Spain (the Catalan Coastal Ranges and the eastern Pyrenees), southern California, and in the western New England Appalachians.  In the lab, my students and I use a variety of instruments, including most recently the electron microprobe lab at the University of Massachusetts for in situ Th-U-Pb dating of monazite and the USGS/Stanford SHRIMP-RG ion probe for U-Pb dating and trace element geochemistry of zircon.
 
Part of my current research is focused on quantifying rates and magnitudes of landscape evolution in the Himalaya of northern India in collaboration with my colleague Lewis Owen and our students.  We are determining (U-Th)/He ages of apatite (in collaboration with Jim Spotila of Virginia Tech) along vertical transects to determine the ages and rates of recent bedrock exhumation and surface exposure ages of strath terraces using terrestrial cosmogenic nuclide dating to determine rates of fluvial incision and quantify temporal and spatial relations among rock uplift, surface uplift, and exhumation.  Our research group has on-going, funded projects in the Himalaya of northern India and western Tibet.
 
Another current project is testing geodynamic models of early- or pre-Variscan deformation, metamorphism, and exhumation recorded in the Catalan Coastal Ranges of northeastern Spain, southeastern France, and the Pyrenees.  The overall approach is to integrate petrologic data and thermochronology of high-grade basement gneisses and metapelites, U-Th-Pb dating of monazite, and U-Pb zircon geochronology of syn-orogenic conglomerates and a variety of intrusive rocks.  The goal of this project is to further understand the early stages of intracontinental deformation in general, and the multi-phase evolution of the Variscan Chain in southwestern Europe in particular.  I'm working in collaboration with F.J. Martinez of the Universitat Autònoma de Barcelona (UAB), Jordi Cirés, Chief Geologist of the Mapping Unit (Unitat de Cartografia Geològica) of the Institute Geològic de Cataluña, and John Aleinikoff of the USGS.
 
I have a long-standing interest in the thermal and tectonic evolution of the New England and Maritime Appalachains, including the evolution of domes there.  Projects in New England have included the thermo-tectonic evolution of domes in the Rowe-Hawley Zone of western Connecticut; the geochemistry, geochronology, and terrane a
2006 University of Cincinnati Faculty Development Council -- Learning (U-Th)/He dating and applying it in the Himalaya of northern India. $605
2000 University of Cincinnati Faculty Development Council -- Learning and doing age mapping and dating of monazite on the University of Massachusetts' electron mircoprobe. $4,445 Type:Grant
1991 University of Cincinnati, University Research Council -- Gemeni Table for separation and recovery of minerals from rocks for geochronological and geochemical research. $3,675 Type:Grant
1989 American Chemical Society – Petroleum Research Fund -- Petrochemical analysis of meta-igneous basement and cover rocks in western Connecticut and implications for regional tectono-stratigraphy of southern New England. $18,000 Type:Grant
1989 NATO International Scientific Exchange Programmes -- Collaborative Research -- $6,835 Type:Grant
1989 University of Cincinnati, University Research Council -- Mineral separation laboratory for ultrapure mineral samples for geochronologic and geochemical research. $6,134 Type:Grant
Grant: #SRS 004886 Investigators:Dietsch, Craig 06-01-2007 -12-31-2009 Evolving Earth Foundation From Mid-Crustal Depths to Soaring Peaks: The Tectonic, Temporal, and Thermal Evolution of the Indus Suture Zone, Eastern Ladakh, NW Limalaya Role:PI $3,000.00 Closed Level:Private Non-Profit
Grant: #Connecticut DEEP 2017 StateMap / Project DEPA00002049101 Investigators:Dietsch, Craig; Ward, Dylan 06-01-2017 -05-31-2018 U.S. Geological Survey USGS w/ Connecticut Geological Survey Role:PI $41,228.00 Awarded Level:Federal
Grant: #G19AC00305 Investigators:Dietsch, Craig 09-01-2019 -08-31-2020 U.S. Geological Survey Bedrock Geologic Mapping of the southern half of the 7.5 minute Stamford, Connecticut, quadrangle Role:PI $17,500.00 Awarded Level:Federal
Grant: #3200002682-21-254 / G19AC00257 Investigators:Dietsch, Craig 11-12-2020 -07-31-2021 U.S. Geological Survey USGS Earth MRI Hicks Dome Project- Work Plan and Cost Estimate Guidance for Earth Mapping Resources Initiative Geologic Mapping in the Hicks Dome, Kentucky Focus Area Role:PI $8,618.00 Awarded Level:Federal
Invited Presentations
(01-2003. ) Introduction to Problem-Based Learning .University of Delaware, Institute for Transforming Undergraduate Education, Workshop. .
(09-2002. ) Center for the Enhancement of Teaching & Learning .U.C. Summer Institute, Workshop. .
Post Graduate Training and Education
09-1985-12-1986 National Research Council Postdoctoral Research Associate, Argon thermochronology with J.F. Sutter and Mick Kunk in their lab at the USGS in Reston, VA, and U-Pb zircon geochronology with R.E. Zartman and J. Aleinikoff in the USGS's isotope lab in Denver, CO. , USGS, Branch of Isotope Geology, , Reston, VA and Denver, CO