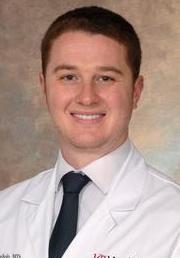 Patrick DiSalvio
Clinical Instructor
Personal Statement
In addition to coordination of care, internal medicine offers constant opportunities to learn and teach. This aligns with my passion for education, which has continued to grow since my time as a tutor at Morehead State. I have sought both formal and informal opportunities to expand my teaching including, tutoring medical students, quizzing third years on rounds, and teaching patients about their condition. These experiences have reinforced the fulfillment I derive from teaching. I have had the good fortune of learning from attendings who excel at teaching residents and students on rounds. They promote self-improvement without being discouraging. During presentations, if a student's plan was incomplete, the attendings would guide students to the missing information. Regardless of the additional time this took, the student was never made to feel rushed. As an external observer, I saw that this allowed students to develop a deeper understanding of the content.

Why I Chose Cincinnati
I chose Cincinnati for many reasons but the camaraderie among the residents and the emphasis of medical education are among the most important. I sought out a program where the residents are truly friends and enjoy working together. During my interview I could tell this was true at Cincinnati. In addition, one of my passions is teaching and I knew Cincinnati would foster this passion and allow me to grow not only as a resident but as a teacher as well.
 
MD: University of Louisville School of Medicine