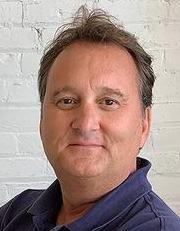 Steven J. Doehler
Associate Professor
Associate Professor, Industrial Design Coordinator
Aronoff Center
5280B
DAAP School of Design - 0016
Expertise area: Industrial Design, Human/Computer interface design, Service Design, Design Strategy/Thinking

Topical areas of interest: Health and wellness, Entreprnurialism

I am an expert in the area of user centered product development and human computer interface design.  I received a BFA from the University of Illinois at Chicago and an MA from the Ohio State University both in Industrial Design.  I have worked professionally for consulting and corporate design offices since 1988 and in 1999 started my private practice IDWorks LLC. In 2006 I accepted a faculty position at the University of Cincinnati's Industrial Design Program.  Here I specialize in health and wellness and design entrepreneurialism. I am a strong advocate of interdisciplinary collaboration and actively work with the faculty and students from the College of Nursing, Business and several private entities. My areas of expertise include health and wellness, virtual business strategies, and entrepreneurialism.
Grant: #LWC - Mede Disp Investigators:Doehler, Steven; Sweeney, Richard; Vogel, Craig 12-10-2007 -06-30-2008 Live Well Collaborative, Inc. Hill-Rom Medication Dispensing System Role:PI $81,750.00 Closed Level:Private Non-Profit
Grant: #LWC-Tray Table Investigators:Doehler, Steven 08-01-2009 -03-31-2010 Live Well Collaborative, Inc. Tray Table Development Role:PI $26,325.00 Closed Level:Private Non-Profit
Grant: #LWC-Mobility Device Investigators:Anthony, Jean E.S.; Doehler, Steven; Frasure, Jamey; Lee, Roberta 01-04-2010 -06-30-2010 Live Well Collaborative, Inc. Assistive Mobility Device Development Role:PI $31,027.00 Closed Level:Private Non-Profit
Grant: #LWC - Nursing Investigators:Doehler, Steven 03-01-2010 -09-30-2010 Live Well Collaborative, Inc. LWC: Nursing Protocol/Nursing Service Improvement Role:PI $15,439.00 Closed Level:Private Non-Profit
Grant: #SRS 007873 Investigators:Doehler, Steven; Lee, Roberta 12-01-2011 -12-31-2012 Live Well Collaborative, Inc. LWC: Pfizer ThermaCare Role:PI $40,125.00 Closed Level:Private Non-Profit
Grant: #LWC Fixed Price Agreement Investigators:Arroniz, Inigo; Doehler, Steven 08-01-2012 -07-31-2013 Live Well Collaborative, Inc. Boeing: Flight Attendant Work Area Redesign Role:PI $50,653.00 Active Level:Private Non-Profit
Grant: #R40758 Investigators:Doehler, Steven 04-01-2021 -04-30-2022 UC's AHSS Wellbeing in Remote Work: Active Solutions for Offsite Office Work Role:PI $10,000.00 Active Level:Internal UC
Phone: 513-556-3752