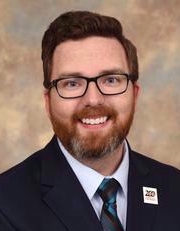 Christian Lawrence Drennen
Instructional Designer & Digital Media Specialist
Langsam Library
480
Fac Dev CET & L - 0033
University of Cincinnati, College of Allied Health Sciences
3225 Eden Avenue
Cincinnati, Ohio 45267
I come to the University of Cincinnati after a 9 year tenure with Staples Incorporated; with experience in their Retail, Operations, and Dotcom business units. As a Learning Professional there, I worked to design and implement corporate training curriculums consistent with adult learning principles for a variety of classroom applications, including virtual and e-learning. Now, as an Instructional Designer for the CETIS team with the College of Allied Health, I strive to incorporate a systematic process of creating instructional materials in both classroom and  online environments. I am proficient in Adobe software, WebEx and virtual classroom platforms, course construction models, interaction and mental models, MLO, CBT, and engagement training.  I am an active member of GCATD and offer my talents in video production as a Programing Content Provider for the Telecommunications Board of Northern Kentucky – a public access network in the northern Kentucky area. 
Bachelors of Science, Indiana Wesleyan University Marion Indiana, 2015 (Major: Business Management Minor: Computer Informatics)
Positions and Work Experience
10-12-2015 - Instructional Designer | Digital Media Specialist, Strategically prepare, motivate, and empower faculty and administrators to create and deliver innovative and student-centered learning experiences, resulting in students meeting learning outcomes while positioning the College of Allied Health Sciences to embrace change in a rapidly evolving field., University of Cincinnati - College of Allied Health and Sciences, Cincinnati Campus - French East Building, Room 280
Research and Practice Interests
Can different Knowledge Types impact the Levels of Learning; and can this effect learner cognition? Let's discuss the importance of understanding how levels of learning and knowledge types matrix to impact learner cognition in the classroom.

Click here to access my Research Blog for the complete topic post.
Academic - University of Cincinnati, College of Allied Health Sciences
3225 Eden Avenue
Cincinnati  Ohio, 45267
Phone: 513-558-7528
drennecl@ucmail.uc.edu