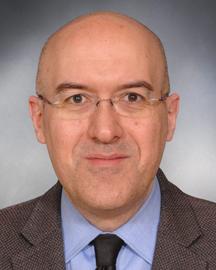 Konstantinos Drosatos , MSc, PhD, FAHA
Professor
Office, Cardiovascular Research Center
231 Albert Sabin Way
CVC-5939
Cincinnati, Ohio 45267
Phone +1-513-558-1392
Email k.drosatos@uc.edu
PROFILE
Konstantinos Drosatos received his BSc in Biology from the Aristotle University of Thessaloniki, Greece in 2000. He continued with graduate studies in Molecular Biology & Biomedicine at the University of Crete, Greece and Boston University, USA. From 2007 to 2012, he worked as a Post-doctoral Research Scientist at Columbia University and was then promoted to Associate Research Scientist. In 2014, he joined Temple University School of Medicine as a tenure-track Assistant Professor and was promoted to Associate Professor with tenure in 2020. In 2021, he accepted the offer for the Ohio Eminent Scholar position of Professor in Pharmacology & Systems Physiology at the University of Cincinnati, College of Medicine. 

RESEARCH IN THE DROSATOS LAB
Capitalizing on his training in hepatic and cardiac lipid metabolism, the research of his own lab  focuses on signaling mechanisms that link cardiac stress in diabetes, sepsis and ischemia with altered myocardial and systemic fatty acid metabolism.

Their 2016 paper in Circulation Research identified for the first time that KLF5 is a regulator of cardiac fatty acid metabolism in diabetes and was selected for the journal's editorial. His group then showed that KLF5 is a major driver of diabetic cardiomyopathy and ischemic heart failure. 

Their studies on sepsis have signified the role of cardiac metabolism and mitochondrial function impairment in the pathophysiology of septic cardiomyopathy. In 2019, they characterized the cardiovascular complications in preclinical mouse models of sepsis, which has been of significant importance for the sepsis field. Their 2020 JCI Insight paper identified cardiomyocyte-derived BNP as a driver of septic hypotension and delineated the underlying signaling mechanism.   

DISTINCTIONS & LEADERSHIP
He is an elected Fellow of the Basic Cardiovascular Sciences Council of the American Heart Association (FAHA), the recipient of the 2014 Outstanding Early Career Investigator Award of the American Heart Association-Basic Cardiovascular Sciences Council, the recipient of the 2017 Early Research Investigator Award of the Medical School at Temple University, a Visiting Professor of the Center for Systems Biomedicine at the UCLA, and external faculty of the University of Crete Medical School (Greece).  He has founded and served as the president of two scientific networks of Greek biomedical scientists and physicians that live abroad: The Hellenic Bioscientific Association of the USA (~500 members) and the World Hellenic Biomedical Association (~3,000 members). During his tenure, he organized national meetings and an annual international summer school for medical and biosciences students. Currently, he is the Vice-President of the ARISTEiA-Institute for the Advancement of Research & Education in Arts, Sciences and Technology, chair-elect of the Mid-Career Committee of the International Society for Heart Research, and member of the Membership and Communications Committee of Basic Cardiovascular Sciences Sciences Council of the American Heart Association. He has been serving as the co-chair of the organizing committee of international conferences that were held in the USA, Asia and Europe. He is the co-founder of the "Olym
BSc: Aristotle University of Thessaloniki Greece, 2000 (Biology)
MSc: University of Crete Greece, 2002 (Molecular Biology & Biomedicine)
PhD: University of Crete & Boston University Greece & USA, 2007 (Molecular Biology & Biomedicine)
Research and Practice Interests
BACKGROUND
His graduate training focused on the transcriptional regulation mechanisms of ApoE and the role of ApoE in lipoprotein clearance. In these studies, he demonstrated the importance of the stress activated JNK signaling pathway in the regulation of apoE transcription and created a modified ApoE protein molecule that treats hyperlipidemia. In addition, he discovered that miR370 targets directly hepatic carnitine palmitoyl transferase, an enzyme that regulates fatty acid import in mitochondria. 

In his postdoctoral training at Columbia University, he studied the effects of aberrant lipid metabolism in cardiac function. He discovered β-adrenergic receptor desensitization as an additional dimension of cardiac lipotoxicity that is controlled by a PKC-dependent mechanism. Driven by his interest in cardiac stress signaling, he initiated a project that demonstrated the importance of cardiac fatty acid oxidation for the treatment of cardiac dysfunction in sepsis.

RESEARCH IN THE DROSATOS LAB
Capitalizing on his training in hepatic and cardiac lipid metabolism, the research of his own lab research focuses on signaling mechanisms that link cardiac stress in diabetes, sepsis and ischemia with altered myocardial and systemic fatty acid metabolism. Their 2016 paper in Circulation Research identified for the first time that Kruppel-like factor 5 (KLF5) is a regulator of cardiac fatty acid metabolism in diabetes and was selected for the journal's editorial. His group then showed that KLF5 is a major driver of diabetic cardiomyopathy and ischemic heart failure. Accordingly, two of their most recent studies about KLF5 in Circulation and Circulation Research have been highlighted in public media, as well as with an editorial in Circulation Research. Another study that delineated how a drug for diabetic patients (tesaglitazar) (JCI Insight, 2019) caused cardiac dysfunction, has drawn attention of public media.

Their studies on sepsis have signified the role of cardiac metabolism impairment in the pathophysiology of septic cardiomyopathy. Their 2017 paper in JCI Insight and the 2019 paper in the Journal of Molecular & Cellular Cardiology about the importance of cardiac fatty acid oxidation and mitochondrial function in treating septic cardiac dysfunction has been based on their early findings about the importance of the energetic machinery for the prevention of heart failure in sepsis. In 2019, they published a technical paper in the Journal of the AHA that characterized the cardiovascular complications in preclinical mouse models of sepsis, which, following the redefinition of the disease in 2016, has been of significant importance for the sepsis field. Their 2020 JCI Insight paper that identified cardiomyocyte-derived BNP as a driver of septic hypotension and delineated the underlying signaling mechanism was highlighted in the "JCI-This month" section.   
Positions and Work Experience
2014 -2020 Assistant Professor (tenure-track), Lewis Katz School of Medicine at Temple University, Philadelphia, PA, USA
2020 -2022 Associate Professor in Cardiovascular Sciences (tenured), Lewis Katz School of Medicine at Temple University, Philadelphia, PA, USA
2022 - Ohio Eminent Scholar & Professor in Pharmacology & Systems Physiology, University of Cincinnati College of Medicine, Cincinnati, OH, USA
Grant: #R01HL151924 Investigators:Drosatos, Konstantinos 07-15-2022 -03-31-2024 National Heart, Lung and Blood Institute Role of cardiomyocyte KLF5 in heart failure Role:PI 494336.00 Awarded Level:Federal
Grant: #Sub# PENDING / R01GM135399 Investigators:Drosatos, Konstantinos 01-01-2022 -08-31-2023 National Institute of General Medical Sciences Role of JNK and BNP in Septic Hypotension Role:PI 262689.19 Hold Level:Federal
Peer Reviewed Publications
https://www.ncbi.nlm.nih.gov/myncbi/konstantinos.drosatos.1/bibliography/public/ (2022. )
Palioura, Dimitra; Lazou, Antigone; Drosatos, Konstantinos (2021. ) Krüppel-like factor (KLF)5: An emerging foe of cardiovascular health.Journal of molecular and cellular cardiology, , 163 ,56-66 More Information
Sithara, Thomas; Drosatos, Konstantinos (2021. ) Metabolic Complications in Cardiac Aging.Frontiers in physiology, , 12 ,669497 More Information
Hoffman, Matthew; Palioura, Dimitra; Kyriazis, Ioannis D; Cimini, Maria; Badolia, Rachit; Rajan, Sudarsan; Gao, Erhe; Nikolaidis, Nikolas; Schulze, P Christian; Goldberg, Ira J; Kishore, Raj; Yang, Vincent W; Bannister, Thomas D; Bialkowska, Agnieszka B; Selzman, Craig H; Drakos, Stavros G; Drosatos, Konstantinos (2021. ) Cardiomyocyte Krüppel-Like Factor 5 Promotes De Novo Ceramide Biosynthesis and Contributes to Eccentric Remodeling in Ischemic Cardiomyopathy.Circulation, , 143 (11 ) ,1139-1156 More Information
Kyriazis, Ioannis D; Hoffman, Matthew; Gaignebet, Lea; Lucchese, Anna Maria; Markopoulou, Eftychia; Palioura, Dimitra; Wang, Chao; Bannister, Thomas D; Christofidou-Solomidou, Melpo; Oka, Shin-Ichi; Sadoshima, Junichi; Koch, Walter J; Goldberg, Ira J; Yang, Vincent W; Bialkowska, Agnieszka B; Kararigas, Georgios; Drosatos, Konstantinos (2021. ) KLF5 Is Induced by FOXO1 and Causes Oxidative Stress and Diabetic Cardiomyopathy.Circulation research, , 128 (3 ) ,335-357 More Information
Kalliora, Charikleia; Drosatos, Konstantinos (2020. ) The Glitazars Paradox: Cardiotoxicity of the Metabolically Beneficial Dual PPAR? and PPAR? Activation.Journal of cardiovascular pharmacology, , 76 (5 ) ,514-526 More Information
Pfleger, Jessica; Coleman, Ryan C; Ibetti, Jessica; Roy, Rajika; Kyriazis, Ioannis D; Gao, Erhe; Drosatos, Konstantinos; Koch, Walter J (2020. ) Genomic Binding Patterns of Forkhead Box Protein O1 Reveal Its Unique Role in Cardiac Hypertrophy.Circulation, , 142 (9 ) ,882-898 More Information
Lieu, Melissa; Traynham, Christopher J; de Lucia, Claudio; Pfleger, Jessica; Piedepalumbo, Michela; Roy, Rajika; Petovic, Jennifer; Landesberg, Gavin; Forrester, Steven J; Hoffman, Matthew; Grisanti, Laurel A; Yuan, Ancai; Gao, Erhe; Drosatos, Konstantinos; Eguchi, Satoru; Scalia, Rosario; Tilley, Douglas G; Koch, Walter J (2020. ) Loss of dynamic regulation of G protein-coupled receptor kinase 2 by nitric oxide leads to cardiovascular dysfunction with aging.American journal of physiology. Heart and circulatory physiology, , 318 (5 ) ,H1162-H1175 More Information
Hoffman, Matthew; Kyriazis, Ioannis D; Dimitriou, Alexandra; Mishra, Santosh K; Koch, Walter J; Drosatos, Konstantinos (2020. ) B-type natriuretic peptide is upregulated by c-Jun N-terminal kinase and contributes to septic hypotension.JCI insight, , 5 (8 ) , More Information
Joseph, Leroy C; Reyes, Michael V; Lakkadi, Kundanika R; Gowen, Blake H; Hasko, Gyorgy; Drosatos, Konstantinos; Morrow, John P (2020. ) PKC? causes sepsis-induced cardiomyopathy by inducing mitochondrial dysfunction.American journal of physiology. Heart and circulatory physiology, , 318 (4 ) ,H778-H786 More Information
Pol, Christine J; Pollak, Nina M; Jurczak, Michael J; Zacharia, Effimia; Karagiannides, Iordanes; Kyriazis, Ioannis D; Ntziachristos, Panagiotis; Scerbo, Diego A; Brown, Brett R; Aifantis, Iannis; Shulman, Gerald I; Goldberg, Ira J; Drosatos, Konstantinos (2019. ) Cardiac myocyte KLF5 regulates body weight via alteration of cardiac FGF21.Biochimica et biophysica acta. Molecular basis of disease, , 1865 (9 ) ,2125-2137 More Information
Kalliora, Charikleia; Kyriazis, Ioannis D; Oka, Shin-Ichi; Lieu, Melissa J; Yue, Yujia; Area-Gomez, Estela; Pol, Christine J; Tian, Ying; Mizushima, Wataru; Chin, Adave; Scerbo, Diego; Schulze, P Christian; Civelek, Mete; Sadoshima, Junichi; Madesh, Muniswamy; Goldberg, Ira J; Drosatos, Konstantinos (2019. ) Dual peroxisome-proliferator-activated-receptor-?/? activation inhibits SIRT1-PGC1? axis and causes cardiac dysfunction.JCI insight, , 5 , More Information
Hoffman, Matthew; Kyriazis, Ioannis D; Lucchese, Anna M; de Lucia, Claudio; Piedepalumbo, Michela; Bauer, Michael; Schulze, P Christian; Bonios, Michael J; Koch, Walter J; Drosatos, Konstantinos (2019. ) Myocardial Strain and Cardiac Output are Preferable Measurements for Cardiac Dysfunction and Can Predict Mortality in Septic Mice.Journal of the American Heart Association, , 8 (10 ) ,e012260 More Information
Woodall, Benjamin P; Gresham, Kenneth S; Woodall, Meryl A; Valenti, Mesele-Christina; Cannavo, Alessandro; Pfleger, Jessica; Chuprun, J Kurt; Drosatos, Konstantinos; Koch, Walter J (2019. ) Alteration of myocardial GRK2 produces a global metabolic phenotype.JCI insight, , 5 , More Information
Cao, Tongtong; Liccardo, Daniela; LaCanna, Ryan; Zhang, Xiaoying; Lu, Rong; Finck, Brian N; Leigh, Tani; Chen, Xiongwen; Drosatos, Konstantinos; Tian, Ying (2019. ) Fatty Acid Oxidation Promotes Cardiomyocyte Proliferation Rate but Does Not Change Cardiomyocyte Number in Infant Mice.Frontiers in cell and developmental biology, , 7 ,42 More Information
Kokkinaki, Dimitra; Hoffman, Matthew; Kalliora, Charikleia; Kyriazis, Ioannis D; Maning, Jennifer; Lucchese, Anna Maria; Shanmughapriya, Santhanam; Tomar, Dhanendra; Park, Joon Young; Wang, Hong; Yang, Xiao-Feng; Madesh, Muniswamy; Lymperopoulos, Anastasios; Koch, Walter J; Christofidou-Solomidou, Melpo; Drosatos, Konstantinos (2019. ) Chemically synthesized Secoisolariciresinol diglucoside (LGM2605) improves mitochondrial function in cardiac myocytes and alleviates septic cardiomyopathy.Journal of molecular and cellular cardiology, , 127 ,232-245 More Information
Sato, Priscila Y; Chuprun, J Kurt; Grisanti, Laurel A; Woodall, Meryl C; Brown, Brett R; Roy, Rajika; Traynham, Christopher J; Ibetti, Jessica; Lucchese, Anna M; Yuan, Ancai; Drosatos, Konstantinos; Tilley, Doug G; Gao, Erhe; Koch, Walter J (2018. ) Restricting mitochondrial GRK2 post-ischemia confers cardioprotection by reducing myocyte death and maintaining glucose oxidation.Science signaling, , 11 (560 ) , More Information
Son, Ni-Huiping; Basu, Debapriya; Samovski, Dmitri; Pietka, Terri A; Peche, Vivek S; Willecke, Florian; Fang, Xiang; Yu, Shui-Qing; Scerbo, Diego; Chang, Hye Rim; Sun, Fei; Bagdasarov, Svetlana; Drosatos, Konstantinos; Yeh, Steve T; Mullick, Adam E; Shoghi, Kooresh I; Gumaste, Namrata; Kim, KyeongJin; Huggins, Lesley-Ann; Lhakhang, Tenzin; Abumrad, Nada A; Goldberg, Ira J (2018. ) Endothelial cell CD36 optimizes tissue fatty acid uptake.The Journal of clinical investigation, , 128 (10 ) ,4329-4342 More Information
Stamatelopoulos, Kimon; Pol, Christine J; Ayers, Colby; Georgiopoulos, Georgios; Gatsiou, Aikaterini; Brilakis, Emmanouil S; Khera, Amit; Drosatos, Konstantinos; de Lemos, James A; Stellos, Konstantinos (2018. ) Amyloid-Beta (1-40) Peptide and Subclinical Cardiovascular Disease.Journal of the American College of Cardiology, , 72 (9 ) ,1060-1061 More Information
Kalea, Anastasia Z; Drosatos, Konstantinos; Buxton, Jessica L (2018. ) Nutriepigenetics and cardiovascular disease.Current opinion in clinical nutrition and metabolic care, , 21 (4 ) ,252-259 More Information
Cheng, Zhongjian; Shen, Xinggui; Jiang, Xiaohua; Shan, Huimin; Cimini, Maria; Fang, Pu; Ji, Yong; Park, Joon Young; Drosatos, Konstantinos; Yang, Xiaofeng; Kevil, Christopher G; Kishore, Raj; Wang, Hong (2018. ) Hyperhomocysteinemia potentiates diabetes-impaired EDHF-induced vascular relaxation: Role of insufficient hydrogen sulfide.Redox biology, , 16 ,215-225 More Information
Zeng, Huihong; Nanayakkara, Gayani K; Shao, Ying; Fu, Hangfei; Sun, Yu; Cueto, Ramon; Yang, William Y; Yang, Qian; Sheng, Haitao; Wu, Na; Wang, Luqiao; Yang, Wuping; Chen, Hongping; Shao, Lijian; Sun, Jianxin; Qin, Xuebin; Park, Joon Y; Drosatos, Konstantinos; Choi, Eric T; Zhu, Qingxian; Wang, Hong; Yang, Xiaofeng (2018. ) DNA Checkpoint and Repair Factors Are Nuclear Sensors for Intracellular Organelle Stresses-Inflammations and Cancers Can Have High Genomic Risks.Frontiers in physiology, , 9 ,516 More Information
Zhang, Xiaokan; Ji, Ruiping; Liao, Xianghai; Castillero, Estibaliz; Kennel, Peter J; Brunjes, Danielle L; Franz, Marcus; Möbius-Winkler, Sven; Drosatos, Konstantinos; George, Isaac; Chen, Emily I; Colombo, Paolo C; Schulze, P Christian (2018. ) MicroRNA-195 Regulates Metabolism in Failing Myocardium Via Alterations in Sirtuin 3 Expression and Mitochondrial Protein Acetylation.Circulation, , 137 (19 ) ,2052-2067 More Information
Pollak, Nina M; Hoffman, Matthew; Goldberg, Ira J; Drosatos, Konstantinos (2018. ) Krüppel-like factors: Crippling and un-crippling metabolic pathways.JACC. Basic to translational science, , 3 (1 ) ,132-156 More Information
Joseph, Leroy C; Kokkinaki, Dimitra; Valenti, Mesele-Christina; Kim, Grace J; Barca, Emanuele; Tomar, Dhanendra; Hoffman, Nicholas E; Subramanyam, Prakash; Colecraft, Henry M; Hirano, Michio; Ratner, Adam J; Madesh, Muniswamy; Drosatos, Konstantinos; Morrow, John P (2017. ) Inhibition of NADPH oxidase 2 (NOX2) prevents sepsis-induced cardiomyopathy by improving calcium handling and mitochondrial function.JCI insight, , 2 (17 ) , More Information
Ji, Ruiping; Akashi, Hirokazu; Drosatos, Konstantinos; Liao, Xianghai; Jiang, Hongfeng; Kennel, Peter J; Brunjes, Danielle L; Castillero, Estibaliz; Zhang, Xiaokan; Deng, Lily Y; Homma, Shunichi; George, Isaac J; Takayama, Hiroo; Naka, Yoshifumi; Goldberg, Ira J; Schulze, P Christian (2017. ) Increased de novo ceramide synthesis and accumulation in failing myocardium.JCI insight, , 2 (14 ) , More Information
Ji, Ruiping; Akashi, Hirokazu; Drosatos, Konstantinos; Liao, Xianghai; Jiang, Hongfeng; Kennel, Peter J; Brunjes, Danielle L; Castillero, Estibaliz; Zhang, Xiaokan; Deng, Lily Y; Homma, Shunichi; George, Isaac J; Takayama, Hiroo; Naka, Yoshifumi; Goldberg, Ira J; Schulze, P Christian (2017. ) Increased de novo ceramide synthesis and accumulation in failing myocardium.JCI insight, , 2 (9 ) , More Information
Drosatos, Konstantinos (2016. ) Fatty old hearts: role of cardiac lipotoxicity in age-related cardiomyopathy.Pathobiology of aging & age related diseases, , 6 ,32221 More Information
Schulze, P Christian; Drosatos, Konstantinos; Goldberg, Ira J (2016. ) Lipid Use and Misuse by the Heart.Circulation research, , 118 (11 ) ,1736-51 More Information
Drosatos, Konstantinos; Pollak, Nina M; Pol, Christine J; Ntziachristos, Panagiotis; Willecke, Florian; Valenti, Mesele-Christina; Trent, Chad M; Hu, Yunying; Guo, Shaodong; Aifantis, Iannis; Goldberg, Ira J (2016. ) Cardiac Myocyte KLF5 Regulates Ppara Expression and Cardiac Function.Circulation research, , 118 (2 ) ,241-53 More Information
Sato, Priscila Y; Chuprun, J Kurt; Ibetti, Jessica; Cannavo, Alessandro; Drosatos, Konstantinos; Elrod, John W; Koch, Walter J (2015. ) GRK2 compromises cardiomyocyte mitochondrial function by diminishing fatty acid-mediated oxygen consumption and increasing superoxide levels.Journal of molecular and cellular cardiology, , 89 (Pt B ) ,360-4 More Information
Drosatos, Konstantinos; Lymperopoulos, Anastasios; Kennel, Peter Johannes; Pollak, Nina; Schulze, P Christian; Goldberg, Ira J (2015. ) Pathophysiology of sepsis-related cardiac dysfunction: driven by inflammation, energy mismanagement, or both?.Current heart failure reports, , 12 (2 ) ,130-40 More Information
Willecke, Florian; Scerbo, Diego; Nagareddy, Prabhakara; Obunike, Joseph C; Barrett, Tessa J; Abdillahi, Mariane L; Trent, Chad M; Huggins, Lesley A; Fisher, Edward A; Drosatos, Konstantinos; Goldberg, Ira J (2015. ) Lipolysis, and not hepatic lipogenesis, is the primary modulator of triglyceride levels in streptozotocin-induced diabetic mice.Arteriosclerosis, thrombosis, and vascular biology, , 35 (1 ) ,102-10 More Information
Pol, Christine J; Lieu, Melissa; Drosatos, Konstantinos (2015. ) PPARs: Protectors or Opponents of Myocardial Function?.PPAR research, , 2015 ,835985 More Information
Bosma, Madeleen; Dapito, Dianne H; Drosatos-Tampakaki, Zoi; Huiping-Son, Ni; Huang, Li-Shin; Kersten, Sander; Drosatos, Konstantinos; Goldberg, Ira J (2014. ) Sequestration of fatty acids in triglycerides prevents endoplasmic reticulum stress in an in vitro model of cardiomyocyte lipotoxicity.Biochimica et biophysica acta, , 1841 (12 ) ,1648-55 More Information
Drosatos, Konstantinos; Schulze, P Christian (2014. ) Savings precede spending: fatty acid utilization relies on triglyceride formation for cardiac energetics.Circulation, , 130 (20 ) ,1775-7 More Information
Drosatos-Tampakaki, Zoi; Drosatos, Konstantinos; Siegelin, Yasemin; Gong, Shan; Khan, Salmiyeh; Van Dyke, Thomas; Goldberg, Ira J; Schulze, P Christian; Schulze-Späte, Ulrike (2014. ) Palmitic acid and DGAT1 deficiency enhance osteoclastogenesis, while oleic acid-induced triglyceride formation prevents it.Journal of bone and mineral research : the official journal of the American Society for Bone and Mineral Research, , 29 (5 ) ,1183-95 More Information
Wan, Elaine; Yeap, Xin Yi; Dehn, Shirley; Terry, Rachael; Novak, Margaret; Zhang, Shuang; Iwata, Shinichi; Han, Xiaoqiang; Homma, Shunichi; Drosatos, Konstantinos; Lomasney, Jon; Engman, David M; Miller, Stephen D; Vaughan, Douglas E; Morrow, John P; Kishore, Raj; Thorp, Edward B (2013. ) Enhanced efferocytosis of apoptotic cardiomyocytes through myeloid-epithelial-reproductive tyrosine kinase links acute inflammation resolution to cardiac repair after infarction.Circulation research, , 113 (8 ) ,1004-12 More Information
Drosatos, Konstantinos; Schulze, P Christian (2013. ) Cardiac lipotoxicity: molecular pathways and therapeutic implications.Current heart failure reports, , 10 (2 ) ,109-21 More Information
Garcia-Arcos, Itsaso; Hiyama, Yaeko; Drosatos, Konstantinos; Bharadwaj, Kalyani G; Hu, Yunying; Son, Ni Huiping; O'Byrne, Sheila M; Chang, Chuchun L; Deckelbaum, Richard J; Takahashi, Manabu; Westerterp, Marit; Obunike, Joseph C; Jiang, Hongfeng; Yagyu, Hiroaki; Blaner, William S; Goldberg, Ira J (2013. ) Adipose-specific lipoprotein lipase deficiency more profoundly affects brown than white fat biology.The Journal of biological chemistry, , 288 (20 ) ,14046-14058 More Information
Drosatos, Konstantinos; Khan, Raffay S; Trent, Chad M; Jiang, Hongfeng; Son, Ni-Huiping; Blaner, William S; Homma, Shunichi; Schulze, P Christian; Goldberg, Ira J (2013. ) Peroxisome proliferator-activated receptor-? activation prevents sepsis-related cardiac dysfunction and mortality in mice.Circulation. Heart failure, , 6 (3 ) ,550-62 More Information
Khan, Raffay S; Chokshi, Aalap; Drosatos, Konstantinos; Jiang, Hongfeng; Yu, Shuiqing; Harris, Collette R; Schulze, P Christian; Homma, Shunichi; Blaner, William S; Shulman, Gerald I; Huang, Li-Shin; Goldberg, Ira J (2013. ) Fish oil selectively improves heart function in a mouse model of lipid-induced cardiomyopathy.Journal of cardiovascular pharmacology, , 61 (4 ) ,345-54 More Information
Georgiadou, Dimitra; Chroni, Angeliki; Drosatos, Konstantinos; Kypreos, Kyriakos E; Zannis, Vassilis I; Stratikos, Efstratios (2013. ) Allele-dependent thermodynamic and structural perturbations in ApoE variants associated with the correction of dyslipidemia and formation of spherical ApoE-containing HDL particles.Atherosclerosis, , 226 (2 ) ,385-91 More Information
Chokshi, Aalap; Drosatos, Konstantinos; Cheema, Faisal H; Ji, Ruiping; Khawaja, Tuba; Yu, Shuiqing; Kato, Tomoko; Khan, Raffay; Takayama, Hiroo; Knöll, Ralph; Milting, Hendrik; Chung, Christine S; Jorde, Ulrich; Naka, Yoshifumi; Mancini, Donna M; Goldberg, Ira J; Schulze, P Christian (2012. ) Ventricular assist device implantation corrects myocardial lipotoxicity, reverses insulin resistance, and normalizes cardiac metabolism in patients with advanced heart failure.Circulation, , 125 (23 ) ,2844-53 More Information
Drosatos, Konstantinos; Drosatos-Tampakaki, Zoi; Khan, Raffay; Homma, Shunichi; Schulze, P Christian; Zannis, Vassilis I; Goldberg, Ira J (2011. ) Inhibition of c-Jun-N-terminal kinase increases cardiac peroxisome proliferator-activated receptor alpha expression and fatty acid oxidation and prevents lipopolysaccharide-induced heart dysfunction.The Journal of biological chemistry, , 286 (42 ) ,36331-9 More Information
Vedantham, Srinivasan; Noh, HyeLim; Ananthakrishnan, Radha; Son, Ni; Hallam, Kellie; Hu, Yunying; Yu, Shuiquing; Shen, Xiaoping; Rosario, Rosa; Lu, Yan; Ravindranath, Thyyar; Drosatos, Konstantinos; Huggins, Lesley Ann; Schmidt, Ann Marie; Goldberg, Ira J; Ramasamy, Ravichandran (2011. ) Human aldose reductase expression accelerates atherosclerosis in diabetic apolipoprotein E-/- mice.Arteriosclerosis, thrombosis, and vascular biology, , 31 (8 ) ,1805-13 More Information
Drosatos, Konstantinos; Bharadwaj, Kalyani G; Lymperopoulos, Anastasios; Ikeda, Shota; Khan, Raffay; Hu, Yunying; Agarwal, Rajiv; Yu, Shuiqing; Jiang, Hongfeng; Steinberg, Susan F; Blaner, William S; Koch, Walter J; Goldberg, Ira J (2011. ) Cardiomyocyte lipids impair ?-adrenergic receptor function via PKC activation.American journal of physiology. Endocrinology and metabolism, , 300 (3 ) ,E489-99 More Information
Vezeridis, Alexander M; Drosatos, Konstantinos; Zannis, Vassilis I (2011. ) Molecular etiology of a dominant form of type III hyperlipoproteinemia caused by R142C substitution in apoE4.Journal of lipid research, , 52 (1 ) ,45-56 More Information
Iliopoulos, Dimitrios; Drosatos, Konstantinos; Hiyama, Yaeko; Goldberg, Ira J; Zannis, Vassilis I (2010. ) MicroRNA-370 controls the expression of microRNA-122 and Cpt1alpha and affects lipid metabolism.Journal of lipid research, , 51 (6 ) ,1513-23 More Information
Sanoudou, D; Duka, A; Drosatos, K; Hayes, K C; Zannis, V I (2010. ) Role of Esrrg in the fibrate-mediated regulation of lipid metabolism genes in human ApoA-I transgenic mice.The pharmacogenomics journal, , 10 (3 ) ,165-79 More Information
Khan, Raffay S; Drosatos, Konstaninos; Goldberg, Ira J (2010. ) Creating and curing fatty hearts.Current opinion in clinical nutrition and metabolic care, , 13 (2 ) ,145-9 More Information
Park, Tae-Sik; Hu, Yunying; Noh, Hye-Lim; Drosatos, Konstantinos; Okajima, Kazue; Buchanan, Jonathan; Tuinei, Joseph; Homma, Shunichi; Jiang, Xian-Cheng; Abel, E Dale; Goldberg, Ira J (2008. ) Ceramide is a cardiotoxin in lipotoxic cardiomyopathy.Journal of lipid research, , 49 (10 ) ,2101-12 More Information
Zannis, Vassilis I; Koukos, Georgios; Drosatos, Konstantinos; Vezeridis, Alexander; Zanni, Eleni E; Kypreos, Kyriakos E; Chroni, Angeliki (2008. ) Discrete roles of apoA-I and apoE in the biogenesis of HDL species: lessons learned from gene transfer studies in different mouse models.Annals of medicine, , 40 Suppl 1 ,14-28 More Information
Drosatos, Konstantinos; Kypreos, Kyriakos E; Zannis, Vassilis I (2007. ) Residues Leu261, Trp264, and Phe265 account for apolipoprotein E-induced dyslipidemia and affect the formation of apolipoprotein E-containing high-density lipoprotein.Biochemistry, , 46 (33 ) ,9645-53 More Information
Drosatos, Konstantinos; Sanoudou, Despina; Kypreos, Kyriakos E; Kardassis, Dimitris; Zannis, Vassilis I (2007. ) A dominant negative form of the transcription factor c-Jun affects genes that have opposing effects on lipid homeostasis in mice.The Journal of biological chemistry, , 282 (27 ) ,19556-64 More Information
2019 Elected Full Member of the Sigma Xi Scientific Research Honor Society Status:Recipient Level:National Type:Recognition
2017 Early Research Investigator Award Lewis Katz School of Medicine at Temple University Status:Recipient Level:University
2017 Elected Fellow of the American Heart Association (FAHA) American Heart Association, Basic Cardiovascular Sciences Council Status:Recipient Level:National
2016 Honorary Citizenship Municipality of Eastern Mani, Lakonia, Greece Status:Recipient Level:Local
2016 Visiting Professorship Center for Systems Biomedicine, David Geffen School of Medicine at UCLA Status:Recipient Level:Department
2014 Outstanding Early Career Award American Heart Association, Basic Cardiovascular Sciences Status:Recipient Level:National Type:Recognition
Post Graduate Training and Education
2007-2012 Postdoctoral Research Scientist, Cardiac fatty acid metabolism, Columbia University, , New York, NY, USA
2012-2014 Associate Research Scientist, Cardiac fatty acid metabolism, Columbia University, , New York, NY, USA
2019-2020 Leadership Academy 14, Premier professional development program offered exclusively to eligible full-time faculty and senior-level administrators recognized as rising leaders with the goal to build and sustain the institution's leadership capacity., Temple University, , Philadelphia, PA, USA
Academic - Office, Cardiovascular Research Center
231 Albert Sabin Way
Cincinnati  Ohio, 45267
Phone: +1-513-558-1392
k.drosatos@uc.edu