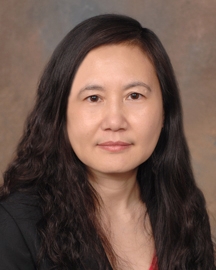 Chunying Du , PhD
Associate Professor
Vontz Center for Molecular Studies
3125 Eden Avenue
ML 0521
Cincinnati, Ohio 45267
Phone 513-558-4803
Email chunying.du@uc.edu
Dr. Chunying Du joined the University of Cincinnati in 2009. One of the research interests in Dr. Du's lab is to understand the regulation of apoptosis (cell death), an essential process for eliminating unwanted cells in development and homeostasis. Apoptosis is executed through precisely orchestrated biochemical and genetic pathways. Dysregulation of apoptosis can lead to human diseases including cancer, autoimmune diseases, and neurodegenerative disorders. The goal is to determine how caspases, inhibitors of apoptosis (IAPs), and IAP antagonists (such as Smac/Diablo) regulate mitochondrial pathways of apoptosis. Another focus in the Du lab is to study the cross talk of apoptosis proteins with DNA repair and cell cycle checkpoint control, a genome surveillance mechanism to prevent the passage of damaged genetic material to daughter cells. The goal is to use a combination of biochemistry, proteomics, and mouse genetics to determine how apoptosis proteins functionally modulate DNA repair and checkpoint control and how certain apoptosis proteins function to suppress tumor development. The long-term goal is to identify new molecules that regulate apoptosis, tumor suppression, and the maintenance of genomic stability, and to elucidate novel targets for therapeutic intervention in human diseases, including cancers.
Doctoral Degree: Iowa State University-Molecular, Cellular & Developmental Biology Program 1997 (Molecular, Cellular and Developmental Biology)
Post Doctoral Fellowship: University of Texas-Southwestern Medical Center in Dallas 2001 (Department of Biochemistry)
Research and Practice Interests
The goal of our research is to investigate the role of apoptosis, DNA-damage repair and autophagy in genomic stability preservation and tumor suppression. By using a combination of biochemistry, molecular biology and mouse genetics, we have uncovered novel mechanisms by which lymphomas and hepatocellular carcinomas are suppressed.
As a postdoctoral fellow at Univ. of Texas Southwestern Medical Center in Dallas, I discovered Smac, a mitochondrial protein that promotes programmed cell death or apoptosis by removing the inhibition on apoptosis. Based on this finding, several Smac-like drug candidates that mimic the function of Smac in sensitization of cancer cells to anti-cancer treatment are currently in clinical trials at Genentech Inc., Pfizer Inc, etc. As a Principal Investigator, I continue to study the regulation of apoptosis by the inhibitor of apoptosis BRUCE and discovered that BRUCE is essential for mouse embryogenesis. Our further characterization of BRUCE mutant mouse phenotypes has revealed a novel function for BRUCE in the suppression of lymphoma development and preservation of genomic stability by promoting repair of DNA double-strand breaks. Another mouse strain that we are studying is caspase-2 knockout mice. We discovered that a main function of caspase-2 in tumor suppression is to suppress NF-kappaB activity, and that down-regulation of caspase-2 is found in a variety of cancers. These findings together are expected to have implication in a broader spectrum of cancers in which genome stability and DNA-damage repair play a key role. Our goal is to understand the underlying mechanisms of cancer for developing innovative therapeutics to benefit cancer patients.
Positions and Work Experience
2001 -2009 Assistant Investigator, Stowers Institute for Medical Research,
2009 -To Present Associate Professor, University of Cincinnati, Cancer Biology Department
Grant: #BCTR0707815 Investigators:Du, Chunying 02-02-2010 -03-01-2011 Susan G. Komen Breast Cancer Foundation Reducing the Anti-apoptosis BRUCE Protein level activates p53 Apoptosis Pathway and Sensitizes Breast Cancer Cells to Chemotherapy-induced Apoptosis Role:PI $197,047.00 Closed Level:Private Non-Profit
Grant: #R01CA158323 Investigators:Du, Chunying; Porollo, Alexey; Wang, Jiang 05-01-2012 -03-31-2017 National Cancer Institute Studies of Lymphoma Suppression and DNA Repair Role:PI $632,004.00 Active Level:Federal
Grant: #1R21CA241025-01 Investigators:Du, Chunying; Niu, Liang; Wang, Jiang 09-02-2019 -08-31-2021 National Institutes of Health Novel Targeting of Liver Cancer Deficient of DNA Repair Role:PI $209,453.00 Awarded Level:Federal
Peer Reviewed Publications
Jones, Natalie C; Lynn, Megan L; Gaudenz, Karin; Sakai, Daisuke; Aoto, Kazushi; Rey, Jean-Phillipe; Glynn, Earl F; Ellington, Lacey; Du, Chunying; Dixon, Jill; Dixon, Michael J; Trainor, Paul A (2008. ) Prevention of the neurocristopathy Treacher Collins syndrome through inhibition of p53 function.Nature medicine, , 14 (2 ) ,125-33 More Information
Bank, Alexander; Wang, Peng; Du, Chunying; Yu, Jian; Zhang, Lin (2008. ) SMAC mimetics sensitize nonsteroidal anti-inflammatory drug-induced apoptosis by promoting caspase-3-mediated cytochrome c release.Cancer research, , 68 (1 ) ,276-84 More Information
Ren, Jinyu; Shi, Mingan; Liu, Renshui; Yang, Qi-Heng; Johnson, Teri; Skarnes, William C; Du, Chunying (2005. ) The Birc6 (Bruce) gene regulates p53 and the mitochondrial pathway of apoptosis and is essential for mouse embryonic development.Proceedings of the National Academy of Sciences of the United States of America, , 102 (3 ) ,565-70 More Information
Yang, Qi-Heng; Du, Chunying (2004. ) Smac/DIABLO selectively reduces the levels of c-IAP1 and c-IAP2 but not that of XIAP and livin in HeLa cells.The Journal of biological chemistry, , 279 (17 ) ,16963-70 More Information
Yang, Qi-Heng; Church-Hajduk, Robin; Ren, Jinyu; Newton, Michelle L; Du, Chunying (2003. ) Omi/HtrA2 catalytic cleavage of inhibitor of apoptosis (IAP) irreversibly inactivates IAPs and facilitates caspase activity in apoptosis.Genes & development, , 17 (12 ) ,1487-96 More Information
Deshmukh, Mohanish; Du, Chunying; Wang, Xiaodong; Johnson, Eugene M (2002. ) Exogenous smac induces competence and permits caspase activation in sympathetic neurons. The Journal of neuroscience : the official journal of the Society for Neuroscience, , 22 (18 ) ,8018-27
Li, Shuchen; Zhao, Yongge; He, Xi; Kim, Tae-Hyoung; Kuharsky, Diane K; Rabinowich, Hannah; Chen, Jun; Du, Chunying; Yin, Xiao-Ming (2002. ) Relief of extrinsic pathway inhibition by the Bid-dependent mitochondrial release of Smac in Fas-mediated hepatocyte apoptosis.The Journal of biological chemistry, , 277 (30 ) ,26912-20 More Information
Okada, Hitoshi; Suh, Woong-Kyung; Jin, Jianping; Woo, Minna; Du, Chunying; Elia, Andrew; Duncan, Gordon S; Wakeham, Andrew; Itie, Annick; Lowe, Scott W; Wang, Xiaodong; Mak, Tak W (2002. ) Generation and characterization of Smac/DIABLO-deficient mice. Molecular and cellular biology, , 22 (10 ) ,3509-17
Carson, Jonathan P; Behnam, Marcelina; Sutton, Jennifer N; Du, Chunying; Wang, Xiaodong; Hunt, Donald F; Weber, Michael J; Kulik, George (2002. ) Smac is required for cytochrome c-induced apoptosis in prostate cancer LNCaP cells. Cancer research, , 62 (1 ) ,18-23
Ren, Keqin; Lu, Jing; Porollo, Aleksey; Du, Chunying (2012. ) Tumor-suppressing function of caspase-2 requires catalytic site Cys-320 and site Ser-139 in mice.The Journal of biological chemistry, , 287 (18 ) ,14792-802 More Information
Jason B. Garrison, Ricardo G. Correa, Motti Gerlic, Kenneth W. Yip, Andreas Krieg, Craig M. Tamble, Ranxin Shi, Kate Welsh, Srinivas Duggineni, Ziwei Huang, Keqin Ren, Chunying Du* and John C. Reed* (*correspondent authors) (2011. ) ARTS and Siah Collaborate in a Pathway for XIAP Degradation .Molecular Cell, , 41 ,107 - 116
Garrison, Jason B; Correa, Ricardo G; Gerlic, Motti; Yip, Kenneth W; Krieg, Andreas; Tamble, Craig M; Shi, Ranxin; Welsh, Kate; Duggineni, Srinivas; Huang, Ziwei; Ren, Keqin; Du, Chunying; Reed, John C (2011. ) ARTS and Siah collaborate in a pathway for XIAP degradation.Molecular cell, , 41 (1 ) ,107-16 More Information
Ge, Chunmin; Che, Lixiao; Ren, Jinyu; Pandita, Raj K; Lu, Jing; Li, Kaiyi; Pandita, Tej K; Du, Chunying (2015. ) BRUCE regulates DNA double-strand break response by promoting USP8 deubiquitination of BRIT1.Proceedings of the National Academy of Sciences of the United States of America, , 112 (11 ) ,E1210-9 More Information
Garrison, Jason B; Ge, Chunmin; Che, Lixiao; Pullum, Derek A; Peng, Guang; Khan, Sohaib; Ben-Jonathan, Nira; Wang, Jiang; Du, Chunying (2015. ) Knockdown of the Inhibitor of Apoptosis BRUCE Sensitizes Resistant Breast Cancer Cells to Chemotherapeutic Agents.Journal of cancer science & therapy, , 7 (4 ) ,121-126 More Information
Ge, Chunmin; Che, Lixiao; Du, Chunying (2015. ) The UBC Domain Is Required for BRUCE to Promote BRIT1/MCPH1 Function in DSB Signaling and Repair Post Formation of BRUCE-USP8-BRIT1 Complex.PloS one, , 10 (12 ) ,e0144957 More Information
Pan, Ji-An; Sun, Yu; Jiang, Ya-Ping; Bott, Alex J; Jaber, Nadia; Dou, Zhixun; Yang, Bin; Chen, Juei-Suei; Catanzaro, Joseph M; Du, Chunying; Ding, Wen-Xing; Diaz-Meco, Maria T; Moscat, Jorge; Ozato, Keiko; Lin, Richard Z; Zong, Wei-Xing (2016. ) TRIM21 Ubiquitylates SQSTM1/p62 and Suppresses Protein Sequestration to Regulate Redox Homeostasis.Molecular cell, , 62 (1 ) ,149-151 More Information
Pan, Ji-An; Sun, Yu; Jiang, Ya-Ping; Bott, Alex J; Jaber, Nadia; Dou, Zhixun; Yang, Bin; Chen, Juei-Suei; Catanzaro, Joseph M; Du, Chunying; Ding, Wen-Xing; Diaz-Meco, Maria T; Moscat, Jorge; Ozato, Keiko; Lin, Richard Z; Zong, Wei-Xing (2016. ) TRIM21 Ubiquitylates SQSTM1/p62 and Suppresses Protein Sequestration to Regulate Redox Homeostasis.Molecular cell, , 61 (5 ) ,720-33 More Information
Lin, Yu-Fen; Shih, Hung-Ying; Shang, Zeng-Fu; Kuo, Ching-Te; Guo, Jiaming; Du, Chunying; Lee, Hsinyu; Chen, Benjamin P C (2018. ) PIDD mediates the association of DNA-PKcs and ATR at stalled replication forks to facilitate the ATR signaling pathway.Nucleic acids research, , More Information
Ge, Chunmin; Vilfranc, Chrystelle L; Che, Lixiao; Pandita, Raj K; Hambarde, Shashank; Andreassen, Paul R; Niu, Liang; Olowokure, Olugbenga; Shah, Shimul; Waltz, Susan E; Zou, Lee; Wang, Jiang; Pandita, Tej K; Du, Chunying (2019. ) The BRUCE-ATR signaling axis is required for accurate DNA replication and suppression of liver cancer development.Hepatology (Baltimore, Md.), , More Information
Che, Lixiao; Yang, Xingyuan; Ge, Chunmin; El-Amouri, Salim S; Wang, Qi-En; Pan, Dao; Herzog, Thomas J; Du, Chunying (2019. ) Loss of BRUCE reduces cellular energy level and induces autophagy by driving activation of the AMPK-ULK1 autophagic initiating axis.PloS one, , 14 (5 ) ,e0216553 More Information
Liang, Y; Gao, H; Lin, S-Y; Goss, J A; Du, C; Li, K (2015. ) Mcph1/Brit1 deficiency promotes genomic instability and tumor formation in a mouse model.Oncogene, , 34 (33 ) ,4368-78 More Information
Lin, Yu-Fen; Shih, Hung-Ying; Shang, Zeng-Fu; Kuo, Ching-Te; Guo, Jiaming; Du, Chunying; Lee, Hsinyu; Chen, Benjamin P C (2018. ) PIDD mediates the association of DNA-PKcs and ATR at stalled replication forks to facilitate the ATR signaling pathway.Nucleic acids research, , 46 (4 ) ,1847-1859 More Information
Che, Lixiao; Alavattam, Kris G; Stambrook, Peter J; Namekawa, Satoshi H; Du, Chunying (2020. ) BRUCE preserves genomic stability in the male germline of mice.Cell death and differentiation, , More Information
Vilfranc, Chrystelle L; Che, Li-Xiao; Patra, Krushna C; Niu, Liang; Olowokure, Olugbenga; Wang, Jiang; Shah, Shimul A; Du, Chun-Ying (2021. ) BIR repeat-containing ubiquitin conjugating enzyme (BRUCE) regulation of ?-catenin signaling in the progression of drug-induced hepatic fibrosis and carcinogenesis.World journal of hepatology, , 13 (3 ) ,343-361 More Information
Academic - Vontz Center for Molecular Studies
3125 Eden Avenue
Cincinnati  Ohio, 45267
Phone: 513-558-4803
chunying.du@uc.edu