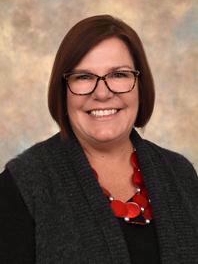 Kelly T. Epplen , PharmD, BCACP, FASHP
Associate Dean
Associate Dean for Admissions & Student Affairs
Associate Professor
Kowalewski Hall
135G
Pharmacy Student & Alumni Affairs - 0004
Dr. Kelly Epplen is the Associate Dean for Student Affairs and Admissions at the University of Cincinnati James L. Winkle College of Pharmacy.  She received her Doctor of Pharmacy degree from the University of Cincinnati in 1997 and began her career at the former Health Alliance of Greater Cincinnati where her primary role was the development and implementation of ambulatory clinical pharmacist services. She has been instrumental in developing pharmacist-managed anticoagulation clinics and pharmacotherapy clinics at UC Health, as well as St. Elizabeth Healthcare of Northern Kentucky.  In addition, she was actively involved in residency training and has served as program director for both PGY1 and PGY2 pharmacy residency programs.  She joined the University of Cincinnati faculty in 2009 and established a practice within the Family Practice Center of St. Elizabeth Healthcare where she was responsible for direct patient care as well as student and resident training.  In 2019, Dr. Epplen assumed the role of Associate Dean for Student Affairs and Admissions.  She was an advisory board member for the Ambulatory Care BCACP examination review course and has several publications in the area of ambulatory pharmacy practice.  She has co-authored the business plan development chapter in ASHP's publication:  Building a Successful Ambulatory Practice and is a contributing author for ASHPs revision of the Minimum Practice Standards for Ambulatory Care Pharmacy Practice.  She is a member of the ASHP Section of Ambulatory Care Practitioners, Section of Pharmacy Educators, and has served on a number of professional committees within ASHP.  Dr. Epplen obtained board certification as an ambulatory care pharmacist in 2011 and serves on the Board of Faith Community Pharmacy.
 
Doctor of Pharmacy: University of Cincinnati College of Pharmacy Cincinnati, Oh., 1997
Bachelor of Science in Pharmacy: University of Cincinnati College of Pharmacy Cincinnati, Oh., 1995
Research and Practice Interests
I currently practice in population health management within a large physician Accountable Care Organization.  My primary clinical responsibilities are to identify high risk patient populations and develop clinical programs designed to improve outcomes, increase quality measure performance, and decrease overall healthcare costs for the system.  My primary research interest involves demonstrating the ROI of clinical pharmacist services in this unique setting.
Positions and Work Experience
08-01-2009 - Associate Professor of Clinical Pharmacy Practice and Administrative Sciences. , Non-tenure track faculty position with practice responsibilities in population health within the St. Elizabeth Physician Accountable Care Organization., James L. Winkle College of Pharmacy,, University of Cincinnati
Grant: #A-1213-07-0343-UC-PH Investigators:Boone, Jill; Brown, Bethanne; Cavanaugh, Teresa; Cluxton, Robert; Doherty, Michael; Epplen, Kelly; Guo, Jianfei; Heaton, Pamela; Hein, Bradley; Kelton, Christina; Kim, Karissa; Metzger, Anne; Wigle, Patricia 07-01-2012 -06-30-2013 Department of Health and Human Services Evaluation of Medicaid Prescription Drug Use Role:Collaborator $282,600.00 Active Level:Federal
Grant: #MEDTAPP - FY14 Investigators:Boone, Jill; Brewer, David; Brown, Bethanne; Cavanaugh, Teresa; Cluxton, Robert; Doherty, Michael; Epplen, Kelly; Guo, Jianfei; Heaton, Pamela; Hein, Bradley; Kelton, Christina; Metzger, Anne; Wigle, Patricia; Witzke, Robert 07-01-2013 -06-30-2014 Department of Health and Human Services MEDTAPP - FY14 Role:Collaborator $272,382.00 Active Level:Federal
Grant: #MEDTAPP FY15 Investigators:Boone, Jill; Brewer, David; Brown, Bethanne; Cavanaugh, Teresa; Cluxton, Robert; Doherty, Michael; Epplen, Kelly; Guo, Jianfei; Heaton, Pamela; Hein, Bradley; Kelton, Christina; Metzger, Anne; Wigle, Patricia 07-01-2014 -06-30-2015 Department of Health and Human Services MEDTAPP FY15 Role:Collaborator $244,593.75 Active Level:Federal
Grant: #ODHE sub MEDTAPP Investigators:Boone, Jill; Brewer, David; Brown, Bethanne; Cavanaugh, Teresa; Cluxton, Robert; Doherty, Michael; Epplen, Kelly; Guo, Jianfei; Heaton, Pamela; Hein, Bradley; Kelton, Christina; Luder, Heidi; Metzger, Anne; Wigle, Patricia 07-01-2015 -06-30-2016 Centers for Medicare & Medicaid Services MEDTAPP-FY16 Role:Collaborator $251,010.00 Active Level:Federal
Grant: #ODHE sub MEDTAPP G-1617-05-0132 Investigators:Boone, Jill; Brewer, David; Brown, Bethanne; Cavanaugh, Teresa; Cluxton, Robert; Epplen, Kelly; Guo, Jianfei; Heaton, Pamela; Hein, Bradley; Hincapie Echeverri, Ana Lucia; Kelton, Christina; Luder, Heidi; Metzger, Anne; Wigle, Patricia 07-01-2016 -06-30-2017 Centers for Medicare & Medicaid Services MEDTAPP - FY17 Role:Collaborator $253,217.00 Awarded Level:Federal
Grant: #Check 5626 Investigators:Epplen, Kelly; Heaton, Pamela; Hincapie Echeverri, Ana Lucia 10-01-2018 -04-30-2019 National Association of Chain Drug Stores Transitions of Care in COPD: Patients, community pharmacists, and Care Coordinators' Perspectives Role:Collaborator $2,500.00 Awarded Level:Private Non-Profit
Peer Reviewed Publications
Kim KY, Frey RJ, Epplen K, Foruhari F. (2007. ) Interaction between warfarin and nafcillin: case report and review of the literature. Pharmacotherapy, , 27 (10 ) ,1467-70
Epplen KT, Dusing-Wiest M, Freedlund J, Harger N, Kathman S, Ivey M. (2007. ) Stepwise approach to implementing ambulatory clinical pharmacy services. .Am. J. Health Syst. Pharm., , 64 ,945-951
Kim KY, Epplen K, Foruhari F, Alexandropoulos H. (2007. ) Update on the interaction of rifampin and warfarin. .Prog. Cardiovascular Nursing, , 22 (2 ) ,97-100
Epplen, Kelly T (2010. ) Defining pharmacy.American journal of health-system pharmacy : AJHP : official journal of the American Society of Health-System Pharmacists, , 67 (18 ) ,1502 More Information
Epplen, Kelly; Marsden, Laurel M; Murphy, Christine (2008. ) Reimbursement for medication therapy management services.American journal of health-system pharmacy : AJHP : official journal of the American Society of Health-System Pharmacists, , 65 (10 ) ,906-8 More Information
Buxton, Jennifer Askew; Babbitt, RoseMarie; Clegg, Cyndy A; Durley, Sandra F; Epplen, Kelly T; Marsden, Laurel M; Thomas, Bridgette A; Thompson, Nathan S (2015. ) ASHP guidelines: Minimum standard for ambulatory care pharmacy practice.American journal of health-system pharmacy : AJHP : official journal of the American Society of Health-System Pharmacists, , 72 (14 ) ,1221-36 More Information
Kramer, Alicia D; Mitchell, Jessica; Epplen, Kelly (2004. ) Urgent care pharmacotherapy clinic. American journal of health-system pharmacy : AJHP : official journal of the American Society of Health-System Pharmacists, , 61 (17 ) ,1768
Luder, Heidi R; Frede, Stacey M; Kirby, James A; Epplen, Kelly; Cavanaugh, Teresa; Martin-Boone, Jill E; Conrad, Wayne F; Kuhlmann, Diane; Heaton, Pamela C TransitionRx: Impact of community pharmacy postdischarge medication therapy management on hospital readmission rate.Journal of the American Pharmacists Association : JAPhA, , 55 (3 ) ,246-54 More Information
Messinger NJ, Epplen KT. (2013. ) Revisiting the Polypill: Does it Improve Adherence and Cardiovascular Risk? .iforumrx.org , , (December 2013 ) ,
Epplen, Kelly T (2014. ) Patient care delivery and integration: stimulating advancement of ambulatory care pharmacy practice in an era of healthcare reform.American journal of health-system pharmacy : AJHP : official journal of the American Society of Health-System Pharmacists, , 71 (16 ) ,1357-65 More Information
Epplen, KT. and Armor, B. (2012. ) "Documenting, Billing, and Reimbursement for Pharmaceutical Care Services." .Remington: The Science and Practice of Pharmacy, , (22nd ed ) ,
Kim, Karissa Y; Frey, R J; Epplen, Kelly; Foruhari, Farzin (2007. ) Interaction between warfarin and nafcillin: case report and review of the literature.Pharmacotherapy, , 27 (10 ) ,1467-70 More Information
Epplen, KT. and Bush, P. (2012. ) "Developing a Business Plan for Ambulatory Practice" .Building a Successful Ambulatory Care Practice., ,
Epplen, Kelly; Dusing-Wiest, Michelle; Freedlund, Joanna; Harger, Nicole; Kathman, Susan; Ivey, Marianne F (2007. ) Stepwise approach to implementing ambulatory clinical pharmacy services.American journal of health-system pharmacy : AJHP : official journal of the American Society of Health-System Pharmacists, , 64 (9 ) ,945-51 More Information
Kim, Karissa Y; Epplen, Kelly; Foruhari, Farzin; Alexandropoulos, Hattie (2007. ) Update on the interaction of rifampin and warfarin. Progress in cardiovascular nursing, , 22 (2 ) ,97-100
Scott, Mollie Ashe; Butler, Kristy; Epplen, Kelly; Traynor, Laura; Shilliday, Betsy; Skelley, Jessica (2017. ) Rationale for postgraduate year 2 residencies in ambulatory care.American journal of health-system pharmacy : AJHP : official journal of the American Society of Health-System Pharmacists, , 74 (18 ) ,1402-1403 More Information
2014 -2014 Service Excellence Award Type:Recognition
2012 -2012 Faculty Excellence Award-Rho Chi Honor Society
2011 -2011 Recognition Award for Significant Contribution to the Family Medicine Residency of St. Elizabeth Healthcare Type:Recognition
2014 Fellowship of the American Society of Health-system Pharmacists Type:Fellowship
2009 -2009 Preceptor of the Year Award-Health Alliance Pharmacy Residency Type:Recognition
2006 -2006 Preceptor Excellence Award Type:Recognition
2015 Phi Lambda Sigma Faculty Advisor of the Year
ambulatory care, pharmaceutical care, reimbursement, cognitive services, service development, family medicine