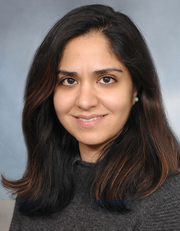 Leyla Esfandiari , PHD
Assoc Professor
Dr. Esfandiari is a distinguished associate professor of Biomedical Engineering at the University of Cincinnati and a faculty member of Cincinnati Children's Hospital Medical Center's Stem Cell and Organoid Medicine (CuSTOM) program. She is highly regarded for her work in developing miniaturized technologies for biomedical applications. Her research is mainly focused on developing micro- and nano-scale devices, such as sensors and actuators, that can be applied in liquid biopsy and regenerative medicine. Her research has been supported by the National Institute of Health (NIH), the National Science Foundation (NSF), and the Department of Defense (DoD). Dr. Esfandiari has won many awards, including the NIH Maximizing Investigator Research Award (MIRA), the NSF CAREER Award, the Engineering and Applied Sciences Distinguished Research Award, and the Restemeyer Teaching Excellent Award.
Dr. Esfandiari received her B.S. in Electrical Engineering from the California State University of Long Beach (CSULB) and her M.Sc. in Biomedical Engineering from the University of California Irvine (UCI). She completed her doctoral degree in Bioengineering from the University of California Los Angeles (UCLA). While at UCLA, Esfandiari also conducted research at the California Nano-System Institution (CNSI), School of Medicine Neuroscience and Orthopedic Surgery Departments. During her academic training, Dr. Esfandiari has given back by leading and training graduate and undergraduate students. Besides her academic experiences, she has 3 years of industrial experience working at the tech companies in southern California.
Ph.D.: University of California Los Angeles (UCLA) Los Angeles CA, 2014 (Bioengineering )
MS.c. : University of California Irvine (UCI) Irvine CA, 2008 (Biomedical Engineering )
B.S: California State University Long Beach CA, 2006 (Electrical Engineering )
Research and Practice Interests
Esfandiari Lab strives to develop new micro and nanotechnologies to promote a fundamental understanding of cellular communication in regenerative medicine and disease progression. The primary aim of the research is to investigate the biophysical properties of cells and extracellular vesicles (EVs) in diverse microenvironments.
Biosensors and smart biomimetic scaffolds are fabricated and characterized at the Esfandiari Lab. Their design enables highly accurate sensing and stimulation of cellular activities in situ. Knowledge obtained through these technologies can be used in diagnosing diseases, developing new therapies, and regenerating tissues.
Grant: #ODOT 27834 Investigators:Esfandiari, Leyla; Helmicki, Arthur; Hunt, Victor; Wendell, David 10-07-2016 -04-07-2017 Federal Highway Administration Noninvasive method to detect Eastern Hellbender in the state of Ohio using the environmental DNA Role:PI $98,541.11 Active Level:Federal
Grant: #30792 (FHWA), Hellbender Phase II Investigators:Esfandiari, Leyla; Wendell, David 03-20-2018 -03-20-2021 Ohio Department of Transportation Phase II: Non-Invasive Detection and Identification of Eastern Hellbender in Ohio Surface Waters Using Aquatic Environmental DNA Role:Collaborator $659,659.69 Active Level:State of Ohio
Grant: #URS Strategic Collaborative Grants AY2017-2018 Investigators:Esfandiari, Leyla 07-30-2015 -06-30-2017 UC's Research Support Non-invasive biosensing through skin: Integrated reverse iontophoresis extraction and electrochemical impendance spectroscopy detection Role:PI $125,000.00 Active Level:Internal UC
Grant: #307985_1R21CA240664-01 Investigators:Esfandiari, Leyla 07-01-2019 -06-30-2021 National Institutes of Health Detection and characterization of cell type-specific extracellular vesicles in obesity-driven hepatocellular carcinoma Role:PI $56,635.00 Active Level:Federal
Grant: #2020112 Investigators:Esfandiari, Leyla 05-15-2020 -04-30-2021 National Science Foundation EAGER: Characterization of nanovesicles based on their unique dielectric properties Role:PI $99,452.00 Awarded Level:Federal
Grant: #ECCS-2046037 Investigators:Esfandiari, Leyla 01-01-2021 -12-31-2025 National Science Foundation CAREER: An electrokinetically driven micro-device for rapid purification and characterization of exosomes Role:PI $393,745.00 Awarded Level:Federal
Grant: #W81XWH-21-1-0174 Investigators:Esfandiari, Leyla; Harris, Gregory 03-01-2021 -02-29-2024 Department of the Army Medical Research Acquisition Activity Next-Generation Smart Scaffolds for Regenerative Peripheral Nerve Therapeutics Role:Collaborator $115,145.00 Awarded Level:Federal
Grant: #DMR-2104639 Investigators:Esfandiari, Leyla; Harris, Gregory 06-15-2021 -05-31-2024 National Science Foundation Bioactive, piezoelectric materials for real time monitoring and stimulation of neural networks Role:Collaborator 450000.00 Awarded Level:Federal
Grant: #R01NS128425 Investigators:Esfandiari, Leyla; Langevin, Scott; Walsh, Kyle; Woo, Daniel 07-19-2022 -06-30-2027 National Institute of Neurological Disorders and Stroke CAPSTONE: Central And Peripheral STrOke inflammatioN with Exosomes Role:Collaborator 776333.00 Awarded Level:Federal
Grant: #R35GM150860 Investigators:Esfandiari, Leyla 08-01-2023 -05-31-2028 National Institute of General Medical Sciences Nanoelectronics to study exosome circuitry and their role in neuroregeneration Role:PI 401247.00 Awarded Level:Federal