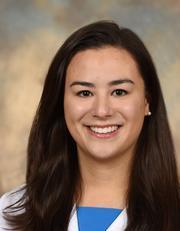 Christina Estes
Clinical Instructor
Personal Statement
"Want to go to the hospital?" Dad asked. These words may evoke feelings of apprehension for others, but to my eight-year-old self, these words got me excited and out the door in five minutes. Partly because the nurses fed me ice cream and the patients complimented my cuteness, but I also found it thrilling to see all the medical equipment and hospital staff at work. Those experiences, as well as my interest in the sciences, were enough to spark my interest to learn more about the medical field and the people who make it all possible. Fast forward several years to my internal medicine rotation in medical school. The sun is still hiding behind the tree line, and there is a faint orange glow in the sky while the rest of the city sleeps, but I am already at my computer in the team workroom. Thoughts of the day before and what lies ahead bounce around as I log into the EMR, excited to check up on my patients and come up with new plans to present and discuss with the team. I'm also eager to meet the new patients I'll be admitting that day, motivated to learn something new. What I love about internal medicine is the team approach applied to the often many and complex medical issues of a patient, the patient-doctor bond formed, and the ability to provide much more than just medicine for patients through patient-centered care.

Why I Chose Cincinnati
During interview season, I was pursuing a residency program that has teachers who can help me expand my knowledge base to best serve my patients and healthcare team, and also help me further develop my skills to teach and mentor others in the future. This residency program will challenge me, expose me to a wide variety of patients, and help me to think critically and efficiently. I believe that I found all of these characteristics within Cincinnati's Internal Medicine program. I knew this to be true on my interview day through talking with the welcoming residents and faculty. I really appreciated the program's commitment to resident education. The extensive evidence-based models for learning throughout the program show that the program is truly focused on helping residents be the best physicians they can be, while also keeping training patient-centered. I was also drawn to this program due to the opportunities in the Global Health and Community Health and Advocacy Pathways as I am looking forward to continuing my work for those in need while in Ohio. In addition, I have strong ties to the area as my husband and I have family both in and around the Cincinnati area. We are thrilled at the prospect of living in Cincinnati, which has the ideal mix of proximity to the many outdoor activities we enjoy, while also remaining a vibrant city.
MD: University of Florida College of Medicine
University of Cincinnati College of Medicine
231 Albert Sabin Way
Cincinnati  Ohio, 45267
ESTESCA@UCMAIL.UC.EDU