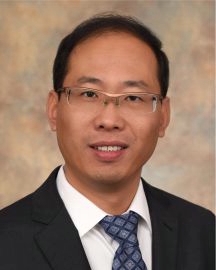 Yanbo Fan , MD,PhD
Associate Professor
Vontz Center for Molecular Studies
3125 Eden Avenue
Cincinnati, Ohio 45267-0521
Phone (513) 558-5343
Email fanyb@ucmail.uc.edu
The long-term goal of my research is to explore the molecular basis of vascular disease and the intersection of vascular disease and cancer. We aim to uncover novel therapeutic targets and approaches for prevention and treatment of cardiovascular disease and cancer. 

Recently, we demonstrated that transcription factor EB (TFEB), a master gene for autophagy and lysosome biogenesis, is critical to maitain vascular wall homeostasis. 
Bachelor's Degree: Hebei Medical University Shijiazhuang, CN, 2000 (Clinical Medicine)
Doctoral Degree: Peking University Beijing, CN, 2008 (Physiology)
Fellowship: University of Michigan Ann Arbor, MI, 2014
Research and Practice Interests
The main focuses of my laboratory are: 1) The roles of TFEB in angiogenesis, aortic aneurysm and tumor vascular biology. 2) Identification of novel molecular targets for the treatment of vascular diseases.
Positions and Work Experience
07-2008 -06-2014 Research Fellow, University of Michigan, Ann Arbor,
07-2014 -08-2017 Research Investigator, University of Michigan, Ann Arbor,
09-2017 -10-2019 Research Assistant Professor, University of Michigan, Ann Arbor,
Grant: #10POST3270008 Investigators:Yanbo Fan 07-01-2010 -06-30-2012 American Heart Association The protective role of KLF11 as a PPARgamma co-factor in vascular lesion formation. Role:PI Completed Type:Fellowship Level:National
Grant: #14SDG19880014 Investigators:Yanbo Fan 07-01-2014 -06-30-2018 American Heart Association Protective Role of KLF11 in Diabetic Vascular Lesion Formation Role:PI $70,000 annual Completed Type:Grant Level:National
Grant: #R01HL138094 Investigators:Yanbo Fan 09-01-2017 -05-31-2022 National Heart, Lung and Blood Institute Transcription Factor-EB and Postischemic Angiogenesis Role:PI $274,478 direct annual Active Type:Grant Level:National
Grant: #R01HL145176-01 Investigators:Yanbo Fan 06-03-2019 -05-31-2023 National Heart, Lung and Blood Institute The role of TFEB in aortic aneurysms Role:PI $353,336 direct annual Active Type:Grant Level:National
Grant: #R01HL068878-16 Investigators:Eugene Chen 01-01-2016 -11-30-2019 National Heart, Lung and Blood Institute PPAR-gamma and Vascular Disease Role:Co-investigator $250,000 direct annual Active Type:Grant
Grant: #R01HL138094 Investigators:Fan, Yanbo 06-01-2020 -05-31-2022 National Heart, Lung and Blood Institute Transcription Factor – EB and Postischemic Angiogenesis Role:PI $440,534.00 Awarded Level:Federal
Grant: #R01HL138094 Investigators:Fan, Yanbo 06-01-2020 -05-31-2023 National Heart, Lung and Blood Institute Transcription Factor – EB and Postischemic Angiogenesis Role:PI $440,534.00
Grant: #R01HL145176 Investigators:Fan, Yanbo 06-01-2020 -05-31-2024 National Heart, Lung and Blood Institute The role of TFEB in aortic aneurysms Role:PI $549,023.86 Active
Grant: #R01HL167024 Investigators:Fan, Yanbo 01-01-2023 -12-31-2026 National Heart, Lung and Blood Institute CCDC92 and cardiovascular disease Role:PI 539225.00 Active Level:Federal
Peer Reviewed Publications
Lu, Haocheng; Sun, Jinjian; Liang, Wenying; Zhang, Jifeng; Rom, Oren; Garcia-Barrio, Minerva T; Li, Shengdi; Villacorta, Luis; Schopfer, Francisco J; Freeman, Bruce A; Chen, Y Eugene; Fan, Yanbo (2019. ) Novel gene regulatory networks identified in response to nitro-conjugated linoleic acid in human endothelial cells. Physiological genomics, , 51 (6 ) ,224-233 More Information
Liang, Wenying*; Fan, Yanbo*,#; Lu, Haocheng; Chang, Ziyi; Hu, Wenting; Sun, Jinjian; Wang, Huilun; Zhu, Tianqing; Wang, Jintao; Adili, Reheman; Garcia-Barrio, Minerva T; Holinstat, Michael; Eitzman, Daniel; Zhang, Jifeng; Chen, Y Eugene (2019. ) KLF11 (Krüppel-Like Factor 11) Inhibits Arterial Thrombosis via Suppression of Tissue Factor in the Vascular Wall. Arteriosclerosis, thrombosis, and vascular biology, , 39 (3 ) ,402-412 More Information
Rom, Oren; Xu, Guan; Guo, Yanhong; Zhu, Yunhao; Wang, Huilun; Zhang, Jifeng; Fan, Yanbo; Liang, Wenying; Lu, Haocheng; Liu, Yuhao; Aviram, Michael; Liu, Zhipeng; Kim, Seongho; Liu, Wanqing; Wang, Xueding; Chen, Y Eugene; Villacorta, Luis (2019. ) Nitro-fatty acids protect against steatosis and fibrosis during development of nonalcoholic fatty liver disease in mice. EBioMedicine, , 41 ,62-72 More Information
Hu, Wenting; Lu, Haocheng; Zhang, Jifeng; Fan, Yanbo; Chang, Ziyi; Liang, Wenying; Wang, Huilun; Zhu, Tianqing; Garcia-Barrio, Minerva T; Peng, Daoquan; Chen, Y Eugene; Guo, Yanhong (2018. ) Krüppel-like factor 14, a coronary artery disease associated transcription factor, inhibits endothelial inflammation via NF-?B signaling pathway. Atherosclerosis, , 278 ,39-48 More Information
Xiong, Wenhao; Zhao, Xiangjie; Villacorta, Luis; Rom, Oren; Garcia-Barrio, Minerva T; Guo, Yanhong; Fan, Yanbo; Zhu, Tianqing; Zhang, Jifeng; Zeng, Rong; Chen, Y Eugene; Jiang, Zhisheng; Chang, Lin (2018. ) Brown Adipocyte-Specific PPAR? (Peroxisome Proliferator-Activated Receptor ?) Deletion Impairs Perivascular Adipose Tissue Development and Enhances Atherosclerosis in Mice. Arteriosclerosis, thrombosis, and vascular biology, , 38 (8 ) ,1738-1747 More Information
Chang, Lin; Xiong, Wenhao; Zhao, Xiangjie; Fan, Yanbo; Guo, Yanhong; Garcia-Barrio, Minerva; Zhang, Jifeng; Jiang, Zhisheng; Lin, Jiandie D; Chen, Y Eugene (2018. ) Bmal1 in Perivascular Adipose Tissue Regulates Resting-Phase Blood Pressure Through Transcriptional Regulation of Angiotensinogen. Circulation, , 138 (1 ) ,67-79 More Information
Fan, Yanbo#; Lu, Haocheng; Liang, Wenying; Garcia-Barrio, Minerva T; Guo, Yanhong; Zhang, Ji; Zhu, Tianqing; Hao, Yibai; Zhang, Jifeng; Chen, Y Eugene (2018. ) Endothelial TFEB (Transcription Factor EB) Positively Regulates Postischemic Angiogenesis. Circulation research, , 122 (7 ) ,945-957 More Information
Qiao, Congzhen; Li, Shengdi; Lu, Haocheng; Meng, Fan; Fan, Yanbo; Guo, Yanhong; Chen, Y Eugene; Zhang, Jifeng (2018. ) Laminar Flow Attenuates Macrophage Migration Inhibitory Factor Expression in Endothelial Cells. Scientific reports, , 8 (1 ) ,2360 More Information
Fan, Yanbo#; Lu, Haocheng; Liang, Wenying; Hu, Wenting; Zhang, Jifeng; Chen, Y Eugene (2017. ) Krüppel-like factors and vascular wall homeostasis. Journal of molecular cell biology, , 9 (5 ) ,352-363 More Information
Zhang, Jifeng; Niimi, Manabu; Yang, Dongshan; Liang, Jingyan; Xu, Jie; Kimura, Tokuhide; Mathew, Anna V; Guo, Yanhong; Fan, Yanbo; Zhu, Tianqing; Song, Jun; Ackermann, Rose; Koike, Yui; Schwendeman, Anna; Lai, Liangxue; Pennathur, Subramaniam; Garcia-Barrio, Minerva; Fan, Jianglin; Chen, Y Eugene (2017. ) Deficiency of Cholesteryl Ester Transfer Protein Protects Against Atherosclerosis in Rabbits. Arteriosclerosis, thrombosis, and vascular biology, , 37 (6 ) ,1068-1075 More Information
Lu, Haocheng*; Fan, Yanbo*,#; Qiao, Congzhen; Liang, Wenying; Hu, Wenting; Zhu, Tianqing; Zhang, Jifeng; Chen, Y Eugene (2017. ) TFEB inhibits endothelial cell inflammation and reduces atherosclerosis. Science signaling, , 10 (464 ) , More Information
Zhang, Ji; Qiao, Congzhen; Chang, Lin; Guo, Yanhong; Fan, Yanbo; Villacorta, Luis; Chen, Y Eugene; Zhang, Jifeng (2016. ) Cardiomyocyte Overexpression of FABP4 Aggravates Pressure Overload-Induced Heart Hypertrophy. PloS one, , 11 (6 ) ,e0157372 More Information
Fan, Yanbo; Lu, Haocheng; Guo, Yanhong; Zhu, Tianqing; Garcia-Barrio, Minerva T; Jiang, Zhisheng; Willer, Cristen J; Zhang, Jifeng; Chen, Y Eugene (2016. ) Hepatic Transmembrane 6 Superfamily Member 2 Regulates Cholesterol Metabolism in Mice. Gastroenterology, , 150 (5 ) ,1208-1218 More Information
Guo, Yanhong; Fan, Yanbo; Zhang, Jifeng; Lomberk, Gwen A; Zhou, Zhou; Sun, Lijie; Mathison, Angela J; Garcia-Barrio, Minerva T; Zhang, Ji; Zeng, Lixia; Li, Lei; Pennathur, Subramaniam; Willer, Cristen J; Rader, Daniel J; Urrutia, Raul; Chen, Y Eugene (2015. ) Perhexiline activates KLF14 and reduces atherosclerosis by modulating ApoA-I production. The Journal of clinical investigation, , 125 (10 ) ,3819-30 More Information
Yin, Ke-Jie; Hamblin, Milton; Fan, Yanbo; Zhang, Jifeng; Chen, Y Eugene (2015. ) Krüpple-like factors in the central nervous system: novel mediators in stroke. Metabolic brain disease, , 30 (2 ) ,401-10 More Information
Holmen, Oddgeir L*; Zhang, He*; Fan, Yanbo*; Hovelson, Daniel H; Schmidt, Ellen M; Zhou, Wei; Guo, Yanhong; Zhang, Ji; Langhammer, Arnulf; Løchen, Maja-Lisa; Ganesh, Santhi K; Vatten, Lars; Skorpen, Frank; Dalen, Håvard; Zhang, Jifeng; Pennathur, Subramaniam; Chen, Jin; Platou, Carl; Mathiesen, Ellisiv B; Wilsgaard, Tom; Njølstad, Inger; Boehnke, Michael; Chen, Y Eugene; Abecasis, Gonçalo R; Hveem, Kristian; Willer, Cristen J (2014. ) Systematic evaluation of coding variation identifies a candidate causal variant in TM6SF2 influencing total cholesterol and myocardial infarction risk. Nature genetics, , 46 (4 ) ,345-51 More Information
Yang, Dongshan; Zhang, Jifeng; Xu, Jie; Zhu, Tianqing; Fan, Yanbo; Fan, Jianglin; Chen, Y Eugene (2013. ) Production of apolipoprotein C-III knockout rabbits using zinc finger nucleases. Journal of visualized experiments : JoVE, , (81 ) ,e50957 More Information
Liu, Ling; Zhou, Zhou; Huang, Shengping; Guo, Yanhong; Fan, Yanbo; Zhang, Ji; Zhang, Jifeng; Fu, Mingui; Chen, Y Eugene (2013. ) Zc3h12c inhibits vascular inflammation by repressing NF-?B activation and pro-inflammatory gene expression in endothelial cells. The Biochemical journal, , 451 (1 ) ,55-60 More Information
Yin, Ke-Jie*; Fan, Yanbo*; Hamblin, Milton; Zhang, Jifeng; Zhu, Tainqing; Li, Siming; Hawse, John R; Subramaniam, Malayannan; Song, Chao-Zhong; Urrutia, Raul; Lin, Jiandie D; Chen, Y Eugene (2013. ) KLF11 mediates PPAR? cerebrovascular protection in ischaemic stroke. Brain : a journal of neurology, , 136 (Pt 4 ) ,1274-87 More Information
Guo, Yanhong; Fan, Yanbo; Zhang, Jifeng; Chang, Lin; Lin, Jiandie D; Chen, Y Eugene (2013. ) Peroxisome proliferator-activated receptor ? coactivator 1? (PGC-1?) protein attenuates vascular lesion formation by inhibition of chromatin loading of minichromosome maintenance complex in smooth muscle cells. The Journal of biological chemistry, , 288 (7 ) ,4625-36 More Information
Fan, Yanbo; Guo, Yanhong; Zhang, Jifeng; Subramaniam, Malayannan; Song, Chao-Zhong; Urrutia, Raul; Chen, Y Eugene (2012. ) Krüppel-like factor-11, a transcription factor involved in diabetes mellitus, suppresses endothelial cell activation via the nuclear factor-?B signaling pathway. Arteriosclerosis, thrombosis, and vascular biology, , 32 (12 ) ,2981-8 More Information
Fan, Yanbo; Guo, Yanhong; Hamblin, Milton; Chang, Lin; Zhang, Jifeng; Chen, Y Eugene (2011. ) Inhibition of gluconeogenic genes by calcium-regulated heat-stable protein 1 via repression of peroxisome proliferator-activated receptor ?. The Journal of biological chemistry, , 286 (47 ) ,40584-94 More Information
Fan, Yanbo; Chen, Y Eugene (2011. ) Combined therapeutic strategy to improve vascular endothelial function after implantation of sirolimus-eluting stents. Circulation journal : official journal of the Japanese Circulation Society, , 75 (5 ) ,1051-2 More Information
Hamblin, Milton; Chang, Lin; Fan, Yanbo; Zhang, Jifeng; Chen, Y Eugene (2009. ) PPARs and the cardiovascular system. Antioxidants & redox signaling, , 11 (6 ) ,1415-52 More Information
Zhang, Peng; Wang, Ying; Fan, Yanbo; Tang, Zhihui; Wang, Nanping (2009. ) Overexpression of adiponectin receptors potentiates the antiinflammatory action of subeffective dose of globular adiponectin in vascular endothelial cells. Arteriosclerosis, thrombosis, and vascular biology, , 29 (1 ) ,67-74 More Information
Zhou, Yunfeng; Zhang, Xiaoyan; Chen, Lihong; Wu, Jing; Dang, Huaixin; Wei, Mingfen; Fan, Yanbo; Zhang, Yahua; Zhu, Yi; Wang, Nanping; Breyer, Matthew D; Guan, Youfei (2008. ) Expression profiling of hepatic genes associated with lipid metabolism in nephrotic rats. American journal of physiology. Renal physiology, , 295 (3 ) ,F662-71 More Information
Zhang, Hong; Li, Yuanyuan; Fan, Yanbo; Wu, Jing; Zhao, Beilei; Guan, Youfei; Chien, Shu; Wang, Nanping (2008. ) Klotho is a target gene of PPAR-gamma. Kidney international, , 74 (6 ) ,732-9 More Information
Tang, Zhihui; Wang, Ying; Fan, Yanbo; Zhu, Yi; Chien, Shu; Wang, Nanping (2008. ) Suppression of c-Cbl tyrosine phosphorylation inhibits neointimal formation in balloon-injured rat arteries. Circulation, , 118 (7 ) ,764-72 More Information
Qin, Xiaomei; Xie, Xuefen; Fan, Yanbo; Tian, Jianwei; Guan, Youfei; Wang, Xian; Zhu, Yi; Wang, Nanping (2008. ) Peroxisome proliferator-activated receptor-delta induces insulin-induced gene-1 and suppresses hepatic lipogenesis in obese diabetic mice. Hepatology (Baltimore, Md.), , 48 (2 ) ,432-41 More Information
Fan, Yanbo; Wang, Ying; Tang, Zhihui; Zhang, Hong; Qin, Xiaomei; Zhu, Yi; Guan, Youfei; Wang, Xian; Staels, Bart; Chien, Shu; Wang, Nanping (2008. ) Suppression of pro-inflammatory adhesion molecules by PPAR-delta in human vascular endothelial cells. Arteriosclerosis, thrombosis, and vascular biology, , 28 (2 ) ,315-21 More Information
Qin, Xiaomei; Tian, Jianwei; Zhang, Peng; Fan, Yanbo; Chen, Li; Guan, Youfei; Fu, Yi; Zhu, Yi; Chien, Shu; Wang, Nanping (2007. ) Laminar shear stress up-regulates the expression of stearoyl-CoA desaturase-1 in vascular endothelial cells. Cardiovascular research, , 74 (3 ) ,506-14 More Information
Lu, Haocheng; Sun, Jinjian; Liang, Wenying; Chang, Ziyi; Rom, Oren; Zhao, Yang; Zhao, Guizhen; Xiong, Wenhao; Wang, Huilun; Zhu, Tianqing; Guo, Yanhong; Chang, Lin; Garcia-Barrio, Minerva T; Zhang, Jifeng; Chen, Y Eugene; Fan, Yanbo (2020. ) Cyclodextrin Prevents Abdominal Aortic Aneurysm via Activation of Vascular Smooth Muscle Cell TFEB. Circulation, , More Information
Zhao, Yang; Chang, Ziyi; Zhao, Guizhen; Lu, Haocheng; Xiong, Wenhao; Liang, Wenying; Wang, Huilun; Villacorta, Luis; Garcia-Barrio, Minerva T; Zhu, Tianqing; Guo, Yanhong; Fan, Yanbo; Chang, Lin; Schopfer, Francisco J; Freeman, Bruce A; Zhang, Jifeng; Chen, Y Eugene (2020. ) Suppression of Vascular Macrophage Activation by Nitro-Oleic Acid and its Implication for Abdominal Aortic Aneurysm Therapy. Cardiovascular drugs and therapy, , More Information
Sun, Yifang; Venugopal, Jessica; Guo, Chiao; Fan, Yanbo; Li, Jianping; Gong, Yanjun; Chen, Y Eugene; Zhang, Haoming; Eitzman, Daniel T (2020. ) Clopidogrel Resistance in a Murine Model of Diet-Induced Obesity Is Mediated by the Interleukin-1 Receptor and Overcome With DT-678. Arteriosclerosis, thrombosis, and vascular biology, , ATVBAHA120314146 More Information
Chang, Ziyi; Zhao, Guizhen; Zhao, Yang; Lu, Haocheng; Xiong, Wenhao; Liang, Wenying; Sun, Jinjian; Wang, Huilun; Zhu, Tianqing; Rom, Oren; Guo, Yanhong; Fan, Yanbo; Chang, Lin; Yang, Bo; Garcia-Barrio, Minerva T; Lin, Jiandie D; Chen, Y Eugene; Zhang, Jifeng (2020. ) BAF60a Deficiency in Vascular Smooth Muscle Cells Prevents Abdominal Aortic Aneurysm by Reducing Inflammation and Extracellular Matrix Degradation. Arteriosclerosis, thrombosis, and vascular biology, , 40 (10 ) ,2494-2507 More Information
Zhang, Xuejing; Tang, Xuelian; Ma, Feifei; Fan, Yanbo; Sun, Ping; Zhu, Tianqing; Zhang, Jifeng; Hamblin, Milton H; Chen, Y Eugene; Yin, Ke-Jie (2020. ) Endothelium-targeted overexpression of Krüppel-like factor 11 protects the blood-brain barrier function after ischemic brain injury. Brain pathology (Zurich, Switzerland), , More Information
Sun, Jinjian; Lu, Haocheng; Liang, Wenying; Zhao, Guizhen; Ren, Lu; Hu, Die; Chang, Ziyi; Liu, Yuhao; Garcia-Barrio, Minerva T; Zhang, Jifeng; Chen, Y Eugene; Fan, Yanbo (2020. ) Endothelial TFEB (Transcription Factor EB) Improves Glucose Tolerance via Upregulation of IRS (Insulin Receptor Substrate) 1 and IRS2. Arteriosclerosis, thrombosis, and vascular biology, , ATVBAHA120315310 More Information
Rom, Oren; Liu, Yuhao; Liu, Zhipeng; Zhao, Ying; Wu, Jianfeng; Ghrayeb, Alia; Villacorta, Luis; Fan, Yanbo; Chang, Lin; Wang, Lu; Liu, Cai; Yang, Dongshan; Song, Jun; Rech, Jason C; Guo, Yanhong; Wang, Huilun; Zhao, Guizhen; Liang, Wenying; Koike, Yui; Lu, Haocheng; Koike, Tomonari; Hayek, Tony; Pennathur, Subramaniam; Xi, Chuanwu; Wen, Bo; Sun, Duxin; Garcia-Barrio, Minerva T; Aviram, Michael; Gottlieb, Eyal; Mor, Inbal; Liu, Wanqing; Zhang, Jifeng; Chen, Y Eugene (2020. ) Glycine-based treatment ameliorates NAFLD by modulating fatty acid oxidation, glutathione synthesis, and the gut microbiome. Science translational medicine, , 12 (572 ) , More Information
Zhao, Guizhen; Chang, Ziyi; Zhao, Yang; Guo, Yanhong; Lu, Haocheng; Liang, Wenying; Rom, Oren; Wang, Huilun; Sun, Jinjian; Zhu, Tianqing; Fan, Yanbo; Chang, Lin; Yang, Bo; Garcia-Barrio, Minerva T; Chen, Y Eugene; Zhang, Jifeng (2021. ) KLF11 protects against abdominal aortic aneurysm through inhibition of endothelial cell dysfunction.JCI insight, , 6 (5 ) , More Information
Lu, Haocheng; Sun, Jinjian; Hamblin, Milton H; Chen, Y Eugene; Fan, Yanbo (2021. ) Transcription factor EB regulates cardiovascular homeostasis.EBioMedicine, , 63 ,103207 More Information
Liu, Yuhao; Zhao, Ying; Shukha, Yousef; Lu, Haocheng; Wang, Lu; Liu, Zhipeng; Liu, Cai; Zhao, Yang; Wang, Huilun; Zhao, Guizhen; Liang, Wenying; Fan, Yanbo; Chang, Lin; Yurdagul, Arif; Pattillo, Christopher B; Orr, A Wayne; Aviram, Michael; Wen, Bo; Garcia-Barrio, Minerva T; Zhang, Jifeng; Liu, Wanqing; Sun, Duxin; Hayek, Tony; Chen, Y Eugene; Rom, Oren (2021. ) Dysregulated oxalate metabolism is a driver and therapeutic target in atherosclerosis.Cell reports, , 36 (4 ) ,109420 More Information
Liang, Wenying; Lu, Haocheng; Sun, Jinjian; Zhao, Guizhen; Wang, Huilun; Guo, Yanhong; Eitzman, Daniel; Chen, Y Eugene; Fan, Yanbo#; Zhang, Jifeng (2021. ) KLF11 Protects against Venous Thrombosis via Suppressing Tissue Factor Expression.Thrombosis and haemostasis, , More Information
Du, Wa; Ren, Lu; Hamblin, Milton H; Fan, Yanbo (2021. ) Endothelial Cell Glucose Metabolism and Angiogenesis.Biomedicines, , 9 (2 ) , More Information
Fan, Yanbo; Willer, Cristen J; Chen, Y Eugene (2016. ) Reply.Gastroenterology, , 151 (5 ) ,1034-1035 More Information
Lu, Haocheng; Du, Wa; Ren, Lu; Hamblin, Milton H; Becker, Richard C; Chen, Y Eugene; Fan, Yanbo (2021. ) Vascular Smooth Muscle Cells in Aortic Aneurysm: From Genetics to Mechanisms.Journal of the American Heart Association, , e023601 More Information
Fan, Yanbo; Wolford, Brooke N; Lu, Haocheng; Liang, Wenying; Sun, Jinjian; Zhou, Wei; Rom, Oren; Mahajan, Anubha; Surakka, Ida; Graham, Sarah E; Liu, Zhipeng; Kim, Hyunbae; Ramdas, Shweta; Fritsche, Lars G; Nielsen, Jonas B; Gabrielsen, Maiken Elvestad; Hveem, Kristian; Yang, Dongshan; Song, Jun; Garcia-Barrio, Minerva T; Zhang, Jifeng; Liu, Wanqing; Zhang, Kezhong; Willer, Cristen J; Chen, Y Eugene (2021. ) Type 2 diabetes sex-specific effects associated with E167K coding variant in TM6SF2.iScience, , 24 (11 ) ,103196 More Information
Li, Qianqian; Li, Yutian; Huang, Wei; Wang, Xiaohong; Liu, Zhenling; Chen, Jing; Fan, Yanbo; Peng, Tianqing; Sadayappan, Sakthivel; Wang, Yigang; Fan, Guo-Chang (2022. ) Loss of Lipocalin 10 Exacerbates Diabetes-Induced Cardiomyopathy via Disruption of Nr4a1-Mediated Anti-Inflammatory Response in Macrophages.Frontiers in immunology, , 13 ,930397 More Information
Ren, Lu; Du, Wa; Song, Dan; Lu, Haocheng; Hamblin, Milton H; Wang, Chenran; Du, Chunying; Fan, Guo-Chang; Becker, Richard C; Fan, Yanbo (2023. ) Genetic ablation of diabetes-associated gene Ccdc92 reduces obesity and insulin resistance in mice.iScience, , 26 (1 ) ,105769 More Information
Liang, Wenying; Lu, Haocheng; Sun, Jinjian; Zhao, Guizhen; Wang, Huilun; Guo, Yanhong; Eitzman, Daniel; Chen, Y Eugene; Fan, Yanbo; Zhang, Jifeng (2021. ) KLF11 Protects against Venous Thrombosis via Suppressing Tissue Factor Expression.Thrombosis and haemostasis, , More Information
Zhao, Hongyan; Wang, Peng; Wang, Xiaohong; Du, Wa; Yang, Hui-Hui; Liu, Yueying; Cui, Shu-Nan; Huang, Wei; Peng, Tianqing; Chen, Jing; Gao, Chen; Wang, Yigang; Sadayappan, Sakthivel; Ma, Chengen; Fan, Yanbo; Wang, Chunting; Fan, Guo-Chang (2023. ) Lipocalin 10 is essential for protection against inflammation-triggered vascular leakage by activating LRP2-Ssh1 signaling pathway.Cardiovascular research, , More Information
Feng, Yuliang; Cai, Liuyang; Pook, Martin; Liu, Feng; Chang, Chao-Hui; Mouti, Mai Abdel; Nibhani, Reshma; Militi, Stefania; Dunford, James; Philpott, Martin; Fan, Yanbo; Fan, Guo-Chang; Liu, Qi; Qi, Jun; Wang, Cheng; Hong, Wanzi; Morgan, Hannah; Wang, Mingyang; Sadayappan, Sakthivel; Jegga, Anil G; Oppermann, Udo; Wang, Yigang; Huang, Wei; Jiang, Lei; Pauklin, Siim (2023. ) BRD9-SMAD2/3 orchestrates stemness and tumorigenesis in pancreatic ductal adenocarcinoma.Gastroenterology, , More Information
Zhao, Hongyan; Wang, Peng; Wang, Xiaohong; Du, Wa; Yang, Hui-Hui; Liu, Yueying; Cui, Shu-Nan; Huang, Wei; Peng, Tianqing; Chen, Jing; Gao, Chen; Wang, Yigang; Sadayappan, Sakthivel; Ma, Chengen; Fan, Yanbo; Wang, Chunting; Fan, Guo-Chang (2023. ) Lipocalin 10 is essential for protection against inflammation-triggered vascular leakage by activating LDL receptor-related protein 2-slingshot homologue 1 signalling pathway.Cardiovascular research, , 119 (10 ) ,1981-1996 More Information
Feng, Yuliang; Cai, Liuyang; Pook, Martin; Liu, Feng; Chang, Chao-Hui; Mouti, Mai Abdel; Nibhani, Reshma; Wu, Shihong; Deng, Siwei; Militi, Stefania; Dunford, James; Philpott, Martin; Fan, Yanbo; Fan, Guo-Chang; Liu, Qi; Qi, Jun; Sadayappan, Sakthivel; Jegga, Anil G; Oppermann, Udo; Wang, Yigang; Huang, Wei; Jiang, Lei; Pauklin, Siim (2023. ) BRD9-SMAD2/3 orchestrates stemness and tumorigenesis in pancreatic ductal adenocarcinoma.bioRxiv : the preprint server for biology, , More Information
Tang, Xin; Walter, Ellen; Wohleb, Eric; Fan, Yanbo; Wang, Chenran (2023. ) ATG5 (autophagy related 5) in microglia controls hippocampal neurogenesis in Alzheimer disease.Autophagy, , 1-16 More Information
2010 -2012 AHA Postdoc Fellowship Status:Recipient Level:National Type:Fellowship
2007 -2007 Guanghua Prize for Excellence in Graduate Study Status:Recipient Level:University
2014 -2018 Scientist Development Award, American Heart Association Status:Recipient Level:National Type:Grant
2017 -2018 McKay Award, Frankel Cardiovascular Center, University of Michigan Level:Department Type:Grant
cardiovascular disease angiogenesis aortic aneurysm atherosclerosis inflammation tumor vascular biology
Academic - Vontz Center for Molecular Studies
3125 Eden Avenue
Cincinnati  Ohio, 45267-0521
Phone: (513) 558-5343
fanyb@ucmail.uc.edu