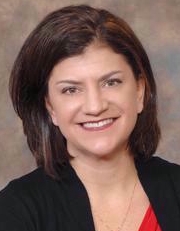 Amy Elizabeth Fathman , DNP, APRN, FNP-BC
Associate Professor of Clinical
Dr.
University of Cincinnati College of Nursing
3110 Vine Street
PO Box 210038
Cincinnati, Ohio 41017
Phone 513-558-7058
Fax 513-558-2142
Email amy.fathman@uc.edu
Dr. Amy Fathman has been a registered nurse since 1991, gaining experience as a critical care nurse and educator before completing her MSN and obtaining advanced practice licensure and American Nurses Credentialing Center certification as a Family Nurse Practitioner (FNP-BC) in 2001. Her advanced practice FNP clinical experience includes cardiology, allergy, asthma, immunology, student health, and primary care of families. She transitioned to a full time educator role at the University of Cincinnati (UC) College of Nursing (CoN) in 2013 and currently serves as Associate Professor of Clinical in the FNP program. She has a passion for natural, holistic models of reproductive healthcare and has completed the 15 month dual Creighton Model Practitioner and Naprotechnology Medical Consultant training program at the Pope Paul VI Institute for Reproductive Technology and Fertility Education Medical Management (FEMM) through the Reproductive Health Research Institute (RHRI). She maintains part time clinical practice with St. Elizabeth Physicians Primary Care in Taylor Mill, KY, providing fertility awareness based care across the reproductive health continuum. She is an active volunteer on committees at the CoN; and actively serves her community as health educator and elementary school volleyball coach.
Doctor of Nursing Practice: Frontier Nursing University Hyden, KY, 03-2016 (Family Nursing)
Master of Science in Nursing: Northern Kentucky University Highland Heights, KY, 2001 (Family Nurse Practitioner)
Bachelor of Science in Nursing: Northern Kentucky University Highland Heights, KY, 1995 (Nursing)
Diploma in Nursing: Good Samaritan Hospital School of Nursing Cincinnati, OH, 1991 (Nursing)
Research and Practice Interests
Natural, holistic, and integrative models of women's reproductive healthcare, including Creighton Model and Naprotechnology.
Positions and Work Experience
11-2015 -01-2019 Family Nurse Practitioner, Primary care across the lifespan of underserved and at risk populations., Cincinnati Health Department School Based Health Centers, Cincinnati, OH
08-2014 -08-2016 Adjunct Clinical Instructor, Instructor in graduate programs, family nurse practitioner program and clinical liaison for graduate preceptorships., Universtiy of Cincinnati College of Nursing, Cincinnati, OH
10-2014 -09-2015 Family Nurse Practitioner, Outpatient care across lifespan of patients with asthma, allergy and immunologic disorders., Cincinnati Allergy and Asthma Center, Cincinnati, OH
05-2014 -08-2014 Adjunct Clinical Instructor, Part time instructor, graduate programs, family nurse practitioner track., Universtiy of Cincinnati College of Nursing, Cincinnati, OH
06-2014 -06-2015 Family Nurse Practitioner, Prn coverage in the health, counseling, and student wellness department., Northern Kentucky University, Highland Heights, KY
09-2010 -05-2014 Associate Director/Nurse Practitioner, Dual role as health services administrator/RN supervisor and NP, providing diagnostic and treatment services for acute and chronic illnesses to NKU students, faculty, and staff., Northern Kentucky University, Highland Heights, KY
09-2012 -08-2014 Associate Graduate Faculty, Adjunct clinical faculty providing clinical practicum instruction and evaluation of FNP students., Northern Kentucky University, Highland Heights, KY
05-2011 -06-2015 Owner/Director/Fertility Care Practitioner, Client instruction and collaborative management of the Creighton Model Fertility Care (CrMS) charting system. Collaboration with Naprotechnology providers across US., Creighton Fertility Care Services of Northern KY, LLC, Edgewood, KY
02-2004 -09-2010 Family Nurse Practitioner, Outpatient care of patients with asthma, allergy, and immunologic disorders., Cincinnati Allergy and Asthma Center, Cincinnati, OH
09-2001 -08-2003 Nurse Practitioner, Acute inpatient and outpatient follow up of patients with cardiovascular disorders., Cardiology Associates of Northern Kentucky, Edgewood, KY
08-1998 -11-2012 Adjunct Faculty, Medical - surgical nursing clinical instruction., Good Samaritan Hospital College of Nursing , Cincinnati, OH
01-1997 -08-1998 Staff Nurse, Critical care float RN- medical-surgical ICU, coronary care, neurosurgery intensive care, and cardiac telemetry., Good Samaritan Hospital, Cincinnati, OH
06-1994 -01-1997 Staff Nurse, Coronary Care Unit, CCRN Certified, Good Samaritan Hospital, Cincinnati, OH
05-1991 -06-1994 Staff Nurse, Neurosurgical Intensive Care, Good Samaritan Hospital, Cincinnati, OH
08-2016 -08-2020 Assistant Professor Clinical, University of Cincinnati College of Nursing, Cincinnati, OH
06-2020 -To Present Family Nurse Practitioner, Fertility awareness based care across the reproductive health continuum, adolescence through menopause., St. Elizabeth Physicians, Taylor Mill Primary Care
08-2020 -To Present Associate Professor Clinical, Graduate Faculty- FNP Programs, University of Cincinnati, College of Nursing
Grant: #OSU 60062166 sub OMD G-1819-05-0094 / OMD201807 Investigators:Acquavita, Shauna; Bankston, Karen; Bernheisel, Christopher; Brammer, Susan; Donnelly, John; Elder, Nancy; Fathman, Amy; Gillespie, Gordon; Kiesler, H. Joseph; Kroger-Jarvis, Melanie; Lewis, Christopher; Mount, Hillary; Nandyal, Lauri; O'Dea, Christine; Perraud, Suzanne; Shomo, Anisasattara; Tobias, Barbara; Tyson, Ronald; Weinstock, Keri; White, Christopher; Wilder, Christine 10-01-2017 -06-30-2018 Ohio Department of Medicaid Training an Interprofessional Workforce Prepared to Care for the Medicaid Population through Community-Academic Partnerships Role:Collaborator $119,953.00 Active Level:State of Ohio
Grant: #CVS ImPACT Investigators:Davis, Lindsay; Fathman, Amy; Trees, William 01-01-2018 -12-31-2018 CVS Health Foundation UCVS Increasing Patient Access to Care for Tomorrow (ImPACT) Scholarship Role:PI $4,000.00 Active Level:Private Non-Profit
Grant: #Check 016187 Investigators:Davis, Lindsay; Fathman, Amy; Trees, William 01-01-2019 -04-30-2019 CVS Health Foundation UCVS Increasing Patient Access to Care for Tomorrow (ImPACT) Scholarship 2019 Role:PI $3,000.00 Awarded Level:Private Non-Profit
Grant: #2019 Scholarships Investigators:Davis, Lindsay; Donaworth, Sherry; Fathman, Amy; Trees, William 01-01-2020 -12-31-2020 CVS Health Foundation UCVS Increasing Patient Access to Care for Tomorrow (ImPACT) Scholarship FY20 Role:PI $4,000.00 Awarded Level:Private Non-Profit
Grant: #2020-2021 FNP-PA Scholarship Investigators:Davis, Lindsay; Donaworth, Sherry; Fathman, Amy; Trees, William 01-01-2021 -12-31-2021 CVS Health Foundation UCVS Increasing Patient Access to Care for Tomorrow (ImPACT) Scholarship 2021 Role:PI $3,000.00 Awarded Level:Private Non-Profit
Grant: #70095781 Investigators:Davis, Lindsay; Donaworth, Sherry; Fathman, Amy; Trees, William 01-01-2022 -12-31-2022 CVS Health Foundation UCVS Increasing Patient Access to Care for Tomorrow (ImPACT) Scholarship 2022 Role:PI 3000.00 Awarded Level:Non Profit
Grant: #76907673 Investigators:Davis, Lindsay; Donaworth, Sherry; Fathman, Amy; Trees, William 01-01-2023 -12-31-2023 CVS Health Foundation UCVS Increasing Patient Access to Care for Tomorrow (ImPACT) Scholarship 2023 Role:PI 5000.00 Awarded Level:Non Profit
Grant: #89992101 Investigators:Davis, Lindsay; Donaworth, Sherry; Fathman, Amy; Trees, William 10-11-2023 -05-31-2024 CVS Health Foundation UCVS Increasing Patient Access to Care for Tomorrow (ImPACT) Scholarship FY24 Role:PI 5000.00 Hold Level:Non Profit
Peer Reviewed Publications
Davis, L & Fathman, A. (2018. ) Clinical education of nurse practitioner students: Identifying incentives, barriers, and working models to develop sustainable preceptorships.Journal of Nursing Education and Practice, , 8 (9 ) ,18-24 More Information
Davis, L., Fathman, A. & Colella, C. (2019. ) An immersive clinical experience to create sustainable clinical learning opportunities for nurse practitioner students.Journal of the American Association of Nurse Practitioners, , 1 -2-11
An immersive clinical experience to create sustainable clinical learning opportunities for nurse practitioner students
More Information
Harris, A. & Fathman. A. (2020. ) Diabetes education mobile APP prototype or Hispanic communities .Journal of Nursing Education and Practice, , 10 (7 ) ,1 -2-11
Davis, L., Mullins, K., Fathman, A., & Donaworth, S. (2022. ) Mentoring Novice Nurse Practitioners: Navigating the Transition to Autonomous Practice.The Nurse Practitioner, , 48 (2 ) ,41 -47
Mentoring novice NPs Recommendations for navigating the transition to autonomous practice
More Information
Other Publications
Fathman, A. (2017. ) Naprotechnology: A natural and effective treatment for family planning and infertility .Messenger, September 29, 2017 ,13 -26
Book Chapter
Fathman, A. (2018 ) Peritonsillar Abscess APEA Clinical Guidelines in Primary Care .Lafayette, LA, Advanced Practice Education Associates (APEA) (Author)
Fathman, A. (2020 ) Peritonsillar Abscess Clinical Guidelines in Primary Care .Advanced Practice Education Associates (Author)
Invited Presentations
Amy Fathman, Denise Gormley (02-24-2017. ) Closing the Primary Care Workforce Gap with Innovative NP Educational Partnerships .AACN 2017 Masters Education Conference, Atlanta. GA. Professional Meeting. . Level:National
Amy Fathman, DNP, FNP-BC, Mike Manhart, PhD (02-23-2018. ) Natural Fertility Care: Applying Evidence to Practice .St. Elizabeth Healthcare, Edgewood, KY. Other Institution. . Level:Regional
Amy Fathman (06-04-2021. ) FEMM Med Management- Case and Breakout Session Facilitator, Group Leader .Online/Zoom, Professional Meeting. . Level:International
Fathman, Amy (09-24-2019. ) Talking to Teens about Sexuality .Crossroad Health Center Provider Meeting, 5 E. Liberty Street, Cincinnati, OH 45202. Other Institution. . Level:Regional
Fathman, Amy (03-04-2020. ) Fertility Awareness: a physiologic approach to reproductive health .Covington Latin High School, Covington, KY. Other Institution. . Level:Local
Fathman, Amy (02-26-2021. ) Fertility Awareness and Reproductive Health .Covington Latin High School, Covington, KY. Other Institution. . Level:Local
Fathman, Amy (03-30-2021. ) Gynecologic Ultrasound to Evaluate Ovulatory Function .St. Elizabeth Healthcare Radiology Dept, Edgewood, KY. Other Institution. . Level:Regional
Fathman, Amy (05-03-2022. ) Ovulation: a sign of health .Notre Dame Academy, Park Hills, KY. Other Institution. . Level:Local
Fathman, Amy (10-2022. ) Ovulation: a sign of health .Undergraduate Guest lecture- Theology of Woman Course, Thomas More University . Other Institution. . Level:University
Fathman, Amy (10-2022. ) TeenFEMM Fertility Awareness Course .Notre Dame Academy, Park Hills, KY. Level:Regional
Fathman, Amy (02-24-2022. ) Ovulation: a sign of health .Thomas More University, Crestview Hills, KY. Level:University
Fathman, Amy (05-15-2023. ) Ovulation: a sign of health .Notre Dame Academy, Park Hills, KY. Level:Regional
Poster Presentations
Davis, L. & Fathman.A. (10-2018. ) An Immersive Clinical Education Program to Create Sustainable Academic Practice Partnerships .Ohio Association of Advanced Practice Nurses, Columbus, OH. . Conference. . Level:State
Davis, L. & Fathman.A. (04-2019. ) An Immersive Clinical Education Program to Create Sustainable Academic Practice Partnerships .National Organization of Nurse Practitioner Faculties, Atlanta, GA. . Conference. . Level:National
05-2001 Outstanding MSN Student award Northern Kentucky University Status:Recipient Level:Department Type:Recognition
01-01-2018 -12-31-2018 UCVS Increasing Patient Access to Care for Tomorrow (ImPACT) Scholarship Grant CVS Health Foundation awarded $4000 scholarship grant which will cover four, $1000 scholarships for FNP students in the 2018 calendar year. Lindsay Davis and Jeff Trees were collaborators on the project. CVS Health Foundation Status:Recipient Level:National Type:Grant
01-01-2019 -12-31-2019 CVS Health Foundation Scholarship Grant- UCVS Increasing Patient Access to Care for Tomorrow (ImPACT) Funded: CVS Health Foundation Scholarship Grant, PI: Amy Fathman, Contributors: Lindsay Davis and Jeff Trees. UCVS Increasing Patient Access to Care for Tomorrow (ImPACT). Funding awarded $3000 for three, $1000 FNP student scholarships CVS Health Foundation Status:Recipient Level:National Type:Grant
01-01-2020 -12-31-2020 CVS Health Foundation Scholarship Grant- UCVS Increasing Patient Access to Care for Tomorrow (ImPACT) Funded: CVS Health Foundation Scholarship Grant, PI: Amy Fathman, Contributors: Lindsay Davis, Jeff Trees, and Sherry Donaworth. UCVS Increasing Patient Access to Care for Tomorrow (ImPACT). Funding awarded $4000 for four, $1000 FNP student scholarships CVS Health Foundation Status:Recipient Level:National Type:Grant
01-01-2021 -12-31-2021 CVS Health Foundation Scholarship Grant- UCVS Increasing Patient Access to Care for Tomorrow (ImPACT) Funded: CVS Health Foundation Scholarship Grant, PI: Amy Fathman, Contributors: Lindsay Davis, Jeff Trees, and Sherry Donaworth. UCVS Increasing Patient Access to Care for Tomorrow (ImPACT). Funding awarded $3000 for three, $1000 FNP student scholarships CVS Health Foundation Status:Recipient Level:National Type:Grant
01-01-2022 -12-31-2022 CVS Health Foundation Scholarship Grant- UCVS Increasing Patient Access to Care for Tomorrow (ImPACT) Funded: CVS Health Foundation Scholarship Grant, PI: Amy Fathman, Contributors: Lindsay Davis, Jeff Trees, and Sherry Donaworth. UCVS Increasing Patient Access to Care for Tomorrow (ImPACT). Funding awarded $3000 for three, $1000 FNP student scholarships CVS Health Foundation Status:Recipient Level:National Type:Grant
01-01-2023 -12-31-2023 CVS Health Foundation Scholarship Grant- UCVS Increasing Patient Access to Care for Tomorrow (ImPACT) Funded: CVS Health Foundation Scholarship Grant, PI: Amy Fathman, Contributors: Lindsay Davis, Jeff Trees, and Sherry Donaworth. UCVS Increasing Patient Access to Care for Tomorrow (ImPACT). Funding awarded $5000 for five, $1000 FNP student scholarships CVS Health Foundation Status:Recipient Level:National Type:Grant
01-01-2022 -12-31-2022 2022 Service Excellence Award Natural Restorative Reproductive Health St. Elizabeth Physicians Taylor Mill, KY, 41015 St. Elizabeth Physicians Status:Recipient Level:Regional
St. Pius X (Athletic Association ) Other Type:Community Service Level:Local 08-01-2016 -BAD DATE
Rose Garden Home Mission Other Type:Community Service Level:Local 05-17-2017 -BAD DATE
University of Cincinnati (Graduate Council ) Committee Member Type:University/College Service Level:University 08-01-2017 -BAD DATE
Post Graduate Training and Education
10-2010-11-2011 Creighton Model FertilityCare System and Naprotechnology, Successful completion 13 month curriculum of the Creighton Model FertilityCare System and Naprotechnology accredited by the AAFCP; Dual certification, Fertility Care Practitioner and NFP Nurse Practitioner, Pope Paul VI Institute for Reproductive Technology/Creighton University Medical Center School of Medicine., , Omaha,NE
06-07-2019-06-09-2019 Fertility Education Medical Management (FEMM), FEMM collaborates with the Reproductive Health Research Institute (RHRI), which has developed groundbreaking protocols. RHRI continues to conduct women's health research, which FEMM uses to provide the most current and effective treatment. The 3-day course covers: Review and assessment of patient cases discussed by returning RHRI certified physicians, in-depth examination of reproductive physiology and endocrinology, overview of RHRI diagnostic & treatment protocols and patient case study models. Following the course Participants are pProvided with RHRI's protocols for the management of ovarian dysfunction, menopause and infertility. RHRI Fellows and receive ongoing support and information from FEMM and RHRI., Reproductive Health Research Institute, , New York, NY
06-03-2016 -06-03-2016: Tomorrow's Coordinated Health Care System-Today Symposium focused on efforts to transform healthcare delivery to a culture of interprofessional collaboration that meets the Triple Aim goals to enhance the patient's experience and improve health outcomes at lower costs, and best practices. Xavier University, Cincinnati, OH
03-02-2018 -03-02-2018: Tomorrow's Coordinated Health Care System-Today XU School of Nursing IPC and Population Health Conference. 6 Contact hours Xavier University, Cincinnati, OH
03-29-2017 -03-29-2017: 2017 Tomorrow's Coordinated Healthcare-Today XU College of Nursing IPC, IPE, and Population health conference. Xavier University, Cincinnati, OH
04-19-2017 -04-22-2017: 29th Regional COnference Toward Excellence in Advanced Practice Nursing Annual primary care conference of the Kentucky Coalition of Nurse Practitioners and Nurse Midwives. University of KY Continuing Ed, Lexington, KY
09-09-2017 -09-09-2017: 1st Annual UC General IM Conference: Updates Every General Practitioner Needs to Know 5.75 AMA PRA Category 1 credits. University of Cincinnati, Cincinnati, OH
01-26-2018 -01-26-2018: Youth Mental Health First Aid 8 hour training course to provide initial help to young people experiencing problems such as depression, anxiety disorders, psychosis, and substance use disorders. National Council for Behavioral Helath , Cincinnati, OH
01-02-2018 -01-10-2018: Spirometry 360 Spirometry 360 is an interactive and comprehensive training and feedback system delivered by distance learning methods. Its objective is to enable test administrators and interpreters to master spirometry in nine hours or less of training, spread over four months. Overall Objectives for Full Spirometry 360 Course: 1. Demonstrate sustained improvement or achievement in the benchmark measure for the number of spirometry tests submitted per month (minimum of 10 tests per month). 2. Demonstrate sustained improvement or achievement in the benchmark measures in the quality of spirometry tests as compared to baseline data for practices so that at least two-thirds of tests will be acceptable according to American Thoracic Society (ATS) quality criteria. 3. Interpret spirometry for common respiratory conditions, including COPD and asthma. 4. Incorporate and utilize office spirometry in a busy primary care setting, with an emphasis on efficiency and return on investment. 5. Identify when referrals are necessary based on spirometry results. 8.1 Contact Hours University of Washington School of Nursing, Seattle, WA
09-28-2017 -09-28-2017: MMI Rater Training Training to participate in interview process to ensure mission of admitting the best nursing students who will help CoN achieve vision of educating nurse leaders. University of Cincinnati, Cincinnati, OH
02-01-2018 -01-01-2018: Finding Common Ground Office of Equity and Inclusion sponsored workshop to train in discussing challenging topics and addressing differences in perspectives among those from different backgrounds. University of Cincinnati, Cincinnati, OH
11-01-2017 -11-01-2017: ECRI Institute HRSA Level 1 and 2: Ambulatory Care Risk Management Certificate Program Ambulatory RM program for FQHC providers. HRSA,
Faculty Development Activities
01-2016 -04-2016 CET&L Junior Faculty Learning Community The Junior Faculty Learning Community (JRFLC) is a one semester collaborative program to help faculty enhance their teaching as they become acquainted with the university. The goals of the new Junior Faculty Learning Community include: Creating an interdisciplinary community of support that fosters collaboration and personal development. Promoting a standard of continuous growth in teaching and learning at UC. Helping scholars identify, develop, and document effective teaching practices and evidence for possible inclusion in a dossier. University of Cincinnati Cincinnati, OH 16SS , University of Cincinnati Cincinnati, OH Type:Other
06-14-2016 -06-16-2016 General Course Design Institute 3 day workshop review of backwards course design, UC's course design model, create draft syllabus, assessments, and activities, articulate action plan to continue course design process, University of Cincinnati, CET&L Cincinnati, OH Type:Workshop
02-23-2017 -02-25-2017 Masters Education Conference Preparing nurse educators and leaders to embrace change and improve practice., AACN Atlanta, GA Type:Conference Attendance
04-19-2017 -04-22-2017 29th Annual Coalition Conference Primary care conference to promote clinical excellence and improve quality of care. , KY Coalition Nurse Practitioners and Nurse Midwives Covington, KY Type:Conference Attendance
11-02-2016 -11-02-2016 Nursing Research Spotlights 2016 Presentation of research and scholarly works by CON faculty and staff promoting collaborative partnerships across the University. , UC College of Nursing Cincinnati, OH Type:Workshop
06-13-2018 -06-13-2018 eAccessibility: An Introduction Online educational training on rules, laws and guidelines related to improving Electronic and Information Technology (EIT) access for all students with disabilities., University of Cincinnati Cincinnati, OH Type:Self-Study Program
Academic - University of Cincinnati College of Nursing
3110 Vine Street
Cincinnati  Ohio, 41017
Phone: 513-558-7058
Fax: 513-558-2142
amy.fathman@uc.edu