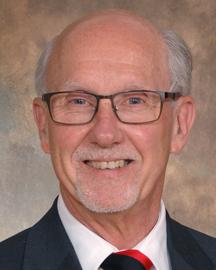 Andrew T. Filak, Jr. , MD
Senior Vice President of Health Affairs & Dean
Christian R. Holmes Professor
College of Medicine
E870 CARE/Crawley Building
231 Albert Sabin Way
Cincinnati, Ohio 45267-0555
Phone 513-558-7342
Fax 513-558-3512
Email andrew.filak@uc.edu
Andrew T. Filak, Jr., M.D. is Senior Associate Dean for Academic Affairs at the University of Cincinnati College of Medicine and Vice President for Education for UC Health. From August 2010 through June 2011 he served as Interim Dean of the College of Medicine and Vice President for Health Affairs for the University. In his capacity as Senior Associate Dean his responsibilities include oversight of the Offices of Medical Education, Student Affairs and Admissions, Graduate Medical Education, Continuous Professional Development (CME), , and Diversity. Dr. Filak serves as the Designated Institutional Official for GME for University Hospital/UCCOM where he is Vice President for Medical Education and Associate Chief of Staff.
 
In January 2009 Dr. Filak was appointed as the founding Chair of the College of Medicine's Department of Medical Education.  He holds academic appointments as Professor of Family Medicine and of Medical Education.
 
Dr. Filak received his M.D. degree from George Washington University and his training in Family Medicine at the University of Cincinnati where he served as Chief Resident. He is board certified in Family Medicine.  Prior to returning to UC to join the Family Medicine faculty, he was in practice in a rural community in Ohio and served as medical director of a network of health centers. Upon his return, he served as Director of the Family Medicine Residency Training Program.
 
Dr. Filak continues to practice Family Medicine, teach medical students and residents, and serve on many national, state, and university committees. In 2011 he was appointed to the Advisory Panel on Medical Education of the Association of Medical Colleges.  In April 2011 he was installed as president of the Association for Hospital Medical Education. Dr. Filak is an alumnus of the Harvard Macy Program for Leaders in Medical Education. He serves on the board of directors of the Education Commission for Foreign Medical Graduates (ECFMG) and has been appointed as a member of the ACGME Institutional Review Committee.  He was the recipient of the Educator of the Year Award from the Ohio Academy of Family Medicine in 2003 and the Parker J. Palmer Courage to Lead Award from the Accreditation Council for Graduate Medical Education in 2009. In 2012 he was presented with the Award for Excellence by the University of Cincinnati.
Bachelor's Degree: St. Peter's University Jersey City, NJ, 1974 (Biology)
Medical Degree: George Washington University Washington, DC, 1978
Residency: University of Cincinnati Cincinnati, OH, 1981 (Family Medicine)
Family Medicine
Preventive Health
Primary Care
Telehealth
Family Medicine
Positions and Work Experience
07-01-1987 - Associate Dean for Graduate Medical Education, Oversight of all graduate medical education programs, University of Cincinnati, Cincinnati, OH
07-01-1991 - Associate Dean for Medical Education, Oversight of medical student education and graduate medical education, University of Cincinnati, Cincinnati, OH
07-01-2011 - Senior Associate Dean for Academic Affairs, Oversight and management of medical student, education, graduate medical education, continuing medical education, diversity and inclusion, and student affairs and admissions., University of Cincinnati, Cincinnati, OH
Grant: #SRS 001059 Investigators:Diller, Philip; Filak Jr., Andrew; Warm, Eric 06-01-2006 -11-30-2008 Association of American Medical Colleges Enhancing Education for Chronic Illness Care Role:PI $250,000.00 Active Level:Private Non-Profit
Grant: #F2007-7 Investigators:Burket, Robert; Cluxton, Robert; Cochran, Bonnie; Filak Jr., Andrew; Stewart-Hamblen, Jennifer 09-01-2006 -08-31-2007 Health Resources and Services Administration Model State Supported AHEC (FY 07) Role:Collaborator $82,528.00 Active Level:Federal
Grant: #72594-5373-05-A0-S0-E0 Investigators:Filak Jr., Andrew 07-01-1994 -08-31-2001 Howard Hughes Medical Institute Precollege Science Education Initiative for Biomedical Research Institutes Role:PI $179,099.00 Closed Level:Private Non-Profit
Grant: #CRIT Investigators:Davis, Susan; Filak Jr., Andrew; Moore, Judy; Sehgal, Mandi; Warshaw, Gregg 05-01-2008 -06-30-2010 John A. Hartford Foundation Chief Resident Immersion Training in Care of Older Adults Role:Collaborator $114,000.00 Closed Level:Private Non-Profit
Grant: #Training Program Investigators:Boat, Thomas; Filak Jr., Andrew; Glazer, Greer; Perraud, Suzanne 01-01-2014 -07-31-2014 The HealthPath Foundation of Ohio Academic Health Center Pathways Program Role:Collaborator $75,000.00 Awarded Level:Private Non-Profit
Grant: #F2015-89/U77HP23072 Investigators:Burket, Robert; Filak Jr., Andrew 09-01-2014 -08-31-2015 Health Resources and Services Administration AHEC Point of Service Maintenance & Enhancement Awards Role:PI $98,659.00 Awarded Level:Federal
Grant: #205366/U77HP23072 Investigators:Filak Jr., Andrew 09-01-2015 -08-31-2016 Health Resources and Services Administration AHEC Point of Service Maintenance & Enhancement Awards Role:PI $98,659.00 Awarded Level:Federal
Grant: #F2017-118/U77HP23072 Investigators:Filak Jr., Andrew 09-01-2016 -08-31-2017 Health Resources and Services Administration AHEC Point of Service Maintenance & Enhancement Awards Role:PI $98,659.00 Awarded Level:Federal
Grant: #F-2018-19/U77HP23072 Investigators:DiMario, Sharron; Filak Jr., Andrew 09-01-2017 -08-31-2018 Health Resources and Services Administration Area Health Education Centers Point of Service Maintenance and Enhancement Role:PI $79,609.00 Awarded Level:Federal
Grant: #F-2019-26 / U77HP230720800 Investigators:Diller, Philip; DiMario, Sharron; Filak Jr., Andrew 09-01-2018 -08-31-2019 Health Resources and Services Administration Area Health Education Centers Point of Service Maintenance and Enhancement Role:Collaborator $74,472.00 Active Level:Federal
Peer Reviewed Publications
Gunderson, Anne; Filak, Andrew T (2010. ) University of Cincinnati College of Medicine.Academic medicine : journal of the Association of American Medical Colleges, , 85 (9 Suppl ) ,S460-3 More Information
Ricer, Rick E; Filak, Andrew T; Short, James (2005. ) Does a high tech (computerized, animated, PowerPoint) presentation increase retention of material compared to a low tech (black on clear overheads) presentation?.Teaching and learning in medicine, , 17 (2 ) ,107-11 More Information
Filak, A T (2000. ) University of Cincinnati College of Medicine. Academic medicine : journal of the Association of American Medical Colleges, , 75 (9 Suppl ) ,S287-90
Short, G J; Ricer, R E; Filak, A T (1999. ) Overcoming barriers to creating a tobacco-use curriculum. Academic medicine : journal of the Association of American Medical Colleges, , 74 (11 ) ,1158-60
Filak, A T; Ricer, J S; Ricer, R E (1999. ) Lifetime costs for preventive medical services: a model. The Journal of family practice, , 48 (9 ) ,706-10
Ricer, R E; Filak, A T; David, A K (1998. ) Determining the costs of a required third-year family medicine clerkship in an ambulatory setting. Academic medicine : journal of the Association of American Medical Colleges, , 73 (7 ) ,809-11
Ricer, R E; Van Horne, A; Filak, A T (1997. ) Costs of preceptors' time spent teaching during a third-year family medicine outpatient rotation. Academic medicine : journal of the Association of American Medical Colleges, , 72 (6 ) ,547-51
Gillette, R D; Filak, A; Thorne, C First name or last name: which do patients prefer? .The Journal of the American Board of Family Practice / American Board of Family Practice, , 5 (5 ) ,517-22
Black, D M; Filak, A T (1989. ) Hyperglycemia with non-insulin-dependent diabetes following intraarticular steroid injection. The Journal of family practice, , 28 (4 ) ,462-3
Kaiser, Heather E; Barnett, Daniel J; Hayanga, Awori J; Brown, Meghan E; Filak, Andrew T (2011. ) Medical students' participation in the 2009 Novel H1N1 influenza vaccination administration: policy alternatives for effective student utilization to enhance surge capacity in disasters.Disaster medicine and public health preparedness, , 5 (2 ) ,150-3 More Information
Graduate Medical Education, Medical Education
Academic - College of Medicine
E870 CARE/Crawley Building
Cincinnati  Ohio, 45267-0555
Phone: 513-558-7342
Fax: 513-558-3512
andrew.filak@uc.edu