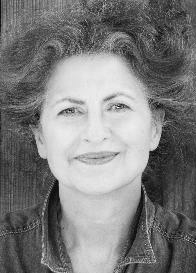 Maureen France , MA
Professor
Professor
Aronoff Center
6487
DAAP School of Design - 0016
Maureen France has exhibited her photographs both nationally and internationally in more than 135 exhibitions. Her mid-career retrospective exhibition," Positively Alive: The Photographs of Maureen France" was held at the Cincinnati Art Museum in 2002. Her photographs have appeared in numerous publications, including Communication Arts Photography Annual, Photo District News, Fortune Magazine and the books, Ten Thousand Eyes: ASMP's Celebration of the 150th Anniversary of Photography, Portrait of Humanity Volume 2 and the upcoming Double Vision. France has been the recipient of grants from the Ohio Arts Council, the Cincinnati Arts Allocation Program, the University Research Council, Faculty Development Council, a Third Century Research grant and an Aid to Individual Artist grant from Summerfair. Her work is represented in corporate and museum collections, including Eastman Kodak, the Cincinnati Art Museum, Traditional Arts Indiana, Scripps-Howard Foundation, Ethicon Inc., Fidelity Investments and Ashland Inc. 

She worked with the UC Classics Department on two Bronze Age archaeology sites in Greece (Midea) and Cyprus (Bamboula) documenting the finds for publications and exhibitions. In 2016, France participated in an artists residency program in Raghurajpur, India and presented her work at a symposium in Bhubaneswar and a lecture at the National Institute of Design. 
 
France has received several awards for her civic involvement, including the 1997 Just Community Award from the University of Cincinnati and the 2018 Woman of the Year Award from the Greater Cincinnati Foundation and The Enquirer for her contribution of outstanding community service. France serves as Board President of FOTOFOCUS, a photography organization that presents a Photography Biennial with more than 100 venues. She is a Professor of Design and served 10 years as Program Chair of the Graphic Design program in DAAP at the University of Cincinnati.
 
 
BSJ: Ohio University Athens, Ohio, (Journalism)
MA: Ohio University Athens, Ohio, (Photography)
Research and Practice Interests