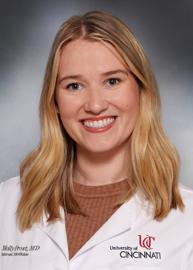 Molly Elizabeth Frost
Clinical Instructor
Personal Statement
"I'm going home," she told me as her icteric eyes fluttered open. Did she really think she was going home? Was she confused? Encephalopathic? How much of the recent conversations held in this room had she understood? I'd been taking care of her for weeks, but today her skin appeared more jaundiced, her blood pressure was lower, and her belly more distended. I knelt down beside her, holding her hand as I wondered if she knew she was dying. It had been weeks since we first met, and I could see her disease was killing her. A few weeks earlier, I asked her if she could tell me why she was in the hospital. Each morning, she would reply, "I'm sick". Today, her answer turned into, "I'm dying". Today was different than most. She was going to a hospice facility, and after weeks on this inpatient unit, leaving the hospital meant going "home" to her. Holding back the emotions I felt washing over me, I reminded her that going to hospice allowed her final moments to be more peaceful than inside these hospital walls: she would be able to clean up, wear her favorite clothes, and cherish her final moments with her nine year-old son in a room much more comfortable than this fluorescently lit hospital. She glanced at me, attempted a smile as tears welled in her eyes, and gave my hand a squeeze. As challenging as this encounter was, it was one that solidified my desire to pursue a career in Internal Medicine.

Why I Chose Cincinnati
As a third-year medical student here at UC, I didn't exactly know what specialty I wanted for my career until my IM rotation. I immediately felt drawn to both the subject matter and the way UC's program devoted itself to patient-centered care and resident education. Academic half day was always a highlight of the week for me and I loved the emphasis placed on bedside rounding. I also noticed that no matter how stressed or busy the residents were, there was always room to have some fun together while at work. Throughout the interview process, I knew no other program came close to the high bar that UC had set when it came to resident education, patient-centered care and a sense of community within the program. That's why I'm so thankful to be staying right here at home for residency!
MD: University of Cincinnati College of Medicine
University of Cincinnati College of Medicine
231 Albert Sabin Way
Cincinnati  Ohio, 45267
FROSTMY@UCMAIL.UC.EDU