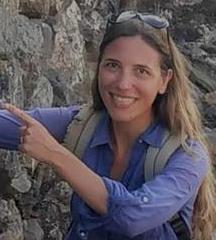 Florence Gaignerot-Driessen
Asst Professor
Assistant Professor
Blegen Library
A&S Classics - 0226
Florence Gaignerot-Driessen (PhD Paris-Sorbonne, 2013) is an archaeologist specializing in the Aegean world during the Late Bronze Age, Early Iron Age and Archaic period. Her current research interest focuses on state and social group formation and transformation in Early Greece and more specifically on the emergence of the Cretan cities (see publications).

Before moving to Cincinnati, she has taught Classics in France (Amiens, Paris and Lille) and in Belgium (Brussels and Louvain) and has stayed at the universities of Heidelberg and Ca'Foscari in Venice, respectively as Humboldt postdoctoral researcher and F.M. Carinci fellow in Aegean Prehistory. She remains an associate researcher at the CNRS UMR 5133 Archéorient, Lyon; the French School at Athens; and the Aegis group, UCLouvain.

Florence has a long and extensive experience of fieldwork in Crete. Since 2017, she directs excavations in the Early Iron Age settlement, necropolis and sanctuaries of Anavlochos, in Eastern Crete, under the auspices of the French School at Athens. For this project she was awarded several grants, notably from the Institute for Aegean Prehistory (INSTAP), the INSTAP-Study Center for East Crete, the Loeb Classical Library Foundation, the American Institute of America (Richard C. MacDonald Iliad Endowment for Archaeological Research), Archéologie et Patrimoine en Méditerranée, Prix Clio and the Mediterranean Archaeological Trust. In the next few years, one of her priorities will be to complete the final publication of the results with her team. Florence is also currently involved in the excavations conducted in the Late Bronze Age settlement of Pyla-Kokkinokremos on Cyprus (UGent & UCLouvain).

On leave, Fall semester 2023.
PhD: Paris-Sorbonne University 2013 (Greek archaeology)
MA: Paris-Sorbonne University 2002 (Ancient history)
MA: Paris-Sorbonne University 1997 (Classical philology)
BA: Paris-Sorbonne University 1996 (Classical philology)
Research and Practice Interests
Formation processes of the Greek city-states in the Aegean (Late Bronze Age-Archaic)
Settlement patterns in the Late Bronze Age-Archaic Aegean
Upland settlements in the Mediterranean (Late Bronze Age-Archaic)
Early Iron Age funerary tumuli in the Aegean
Aegean sanctuaries (Late Bronze Age-Archaic)
Mediterranean coroplastic studies (Late Bronze Age-Classical)
Homeric studies
 
Positions and Work Experience
2013 -2015 Visiting Assistant Professor (ATER), Université de Picardie, Amiens
2020 -2021 Visiting Assistant Professor (ATER), Université de Lille,
2016 -2018 Humboldt postdoctoral researcher, Universität Heidelberg,
2019 -2019 F.M. Carinci fellow in Aegean prehistory, Università Ca'Foscari, Venice
2018 -2021 Temporary lecturer (part-time), Institut catholique de Paris,