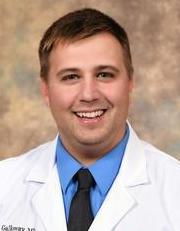 Jared Galloway
Clinical Instructor
Personal Statement
I began my journey in the field of medicine without a concrete idea on what, exactly, I wanted to do for the rest of my life. I knew that I wanted to be in a position to care for and help others, but was unsure of how to accomplish that. I grew up and attended college around Huntington, West Virginia. This city is known as the epicenter of the opioid epidemic and was once infamous for being the most obese city in the United States. Throughout my life here, I have been exposed to many people suffering from a variety of illness. These experiences left me inspired, wondering if and how I could be of service to such individuals. This inspiration was deepened while working in an emergency department in Huntington as a scribe. As I began to encounter my first taste of actual medicine, I was learning just how rewarding a career in the field could be. By the end of my first year of working as scribe, I was certain: I was going to become a physician.

Why I Chose Cincinnati
Simply put, it was the people in this program that led me to choosing University of Cincinnati Internal Medicine for my residency. Throughout the interview season, the pre‐interview dinners were stressful, rarely fun, and always filled with awkward conversation that always tended to be boring. This was not the case when I had my pre‐interview dinner with University of Cincinnati. It was actually fun and after I met some of the current residents, it soon became stress free. The residents I met at the dinner made the experience fun. I felt that I clicked with the residents here at Cincinnati. The next morning during the interview, I met Dr. Warm and listened to him speak passionately about resident education and the unique spot that University of Cincinnati Internal Medicine has in education. The focus on resident education coupled with the people that I had met led me to decide that University of Cincinnati Internal Medicine was the right fit for me.