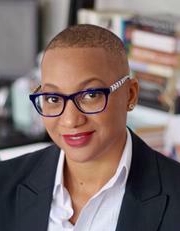 Tia Sheree Gaynor
Founding Director, Center for Truth, Racial Healing and Transformation & Associate Professor of Political Science
Tia Sherèe Gaynor, Ph.D. (she/her/hers) is founding director for the Center for Truth, Racial Healing, and Transformation and an associate professor in the Department of Political Science. Her research focuses on issues related to social (in)justice, cultural competency, and social equity within a U.S. and global context, particularly as it relates to underrepresented and marginalized populations. Specifically, her work explores intersectionality in public management and policy.
 
Dr. Gaynor's research examining the perceptions people of color who identify as lesbian, gay and transgender hold of the New Orleans Police Department is currently supported by the U.S. Department of Justice, Office of Justice Programs. Under the W.E.B. DuBois Program of Research on Race and Crime, Dr. Gaynor (along with research colleague Brandi Blessett, Ph.D.) was awarded $150,000 for her project titled "Intersectional Subjection and Law Enforcement: Examining Perceptions Held by LGBTQ People of Color in New Orleans, LA". This research project tests the theory of intersectional subjection and empirically evaluates how policing has been used to ostracize and subjugate individuals with intersecting identities in New Orleans.
 
As an inaugural recipient of the Social Equity Fellowship offered by the American Society for Public Administration's Center for Accountability and Performance and the National Academy of Public Administration's (NAPA) Standing Panel on Social Equity in Governance, Dr. Gaynor was charged with developing strategies to measure and advance the performance measurement of social equity. The CAP Fellowship was designed to provide a balance between academic and practitioner perspectives by drawing from academic literature and empirical operational experiences. Dr. Gaynor's work, ultimately, offers the field of public administration strategies to meaningfully develop and implement social social equity performance measures.
 
Dr. Gaynor recognizes that the scholarship and practice of public administrators can either serve as promoters of equity and justice or facilitators of injustice for underrepresented and marginalized populations. Her work is committed to not only recognizing this juxtaposition but offering strategies to foster justice and equity in the field.

She holds a Ph.D. and MPA from the School of Public Affairs and Administration, at Rutgers University – Newark.  She received her BA in Psychology from Rutgers University – New Brunswick.  Additionally, Dr. Gaynor holds a Diversity Management Certification from the University of Houston's International Institute for Diversity.
Grant: #R40210 Investigators:Gaynor, Tia; Houh, Emily 07-01-2019 -12-31-2020 UC's Collaborative Research Advancement Grant Program - Track 1: Pilot Teams (Inter)SEX/SHUN/ALL: Intersectional • Sex & Gender • Marginalization & Oppression • Equity & Inclusion Role:PI $25,000.00 Active Level:Internal UC
Grant: #Cincinnati Project Investigators:Bankston, Karen; Blessett, Brandi; Conger, Kimberly; Gaynor, Tia; Williams, Rina 08-15-2019 -10-31-2020 United Way of Greater Cincinnati The Cincinnati Project, University of Cincinnati Team - United Way Greater Cincinnati Role:PI $102,990.00 Awarded Level:Private Non-Profit
Grant: #R40528 Investigators:Blessett, Brandi; Conger, Kimberly; Gaynor, Tia; Houh, Emily; Jenkins, Laura; Williams, Rina 10-01-2019 -03-31-2020 UC's Urban Futures Digital Futures Anchor Development Program Admin, Law, & Justice Lab Role:Collaborator $10,000.00 Active Level:Internal UC
Grant: #1286 / 2016-R2-CX-0046 Investigators:Blessett, Brandi; Gaynor, Tia 12-01-2018 -11-30-2019 National Institute of Justice Intersectional Subjection and Law Enforcement: Examining Perceptions Held by LGBTQ People of Color in New Orleans, LA (Rutgers) Role:Collaborator $22,110.00 Active Level:Federal
Investigators:Gaynor, Tia 09-03-2021 -09-02-2022 Association of Children's Museums Aspen Truth & Reconciliation Equity Leader Development Program Role:PI 2000.00 Awarded Level:Non Profit
Investigators:Gaynor, Tia 09-02-2021 -09-01-2022 George Washington University Cincinnati Truth & Reconciliation Initiative: Equity Champions Program Role:PI 8000.00 Awarded Level:Higher Education
Grant: #TRHT-Focused Campus Climate Assessment Toolkit Investigators:Gaynor, Tia 01-26-2022 -06-30-2023 American Association of Colleges and Universities TRHT-Focused Campus Climate Assessment Toolkit CFP (backdoor) Role:PI 10000.00 Awarded Level:Non Profit
Peer Reviewed Publications
Gaynor, T.S. (2018. ) Social Construction and the Criminalization of Identity: State Sanctioned Oppression and an Unethical Administration.Public Integrity, , 20 (4 ) ,358 More Information
Gaynor, T.S. & Carrizales, T. (2018. ) Are We Really Teaching Democracy: An Evaluation of Introduction Public Administration Courses.Journal of Public Affairs Education, , 24 (1 ) ,66 More Information
Blessett, B., Gaynor, T.S., Witt, M. & Alkadry, M.G. (2016. ) Counternarratives as critical perspectives in public administration curricula.Administrative Theory and Praxis, , 38 (4 ) ,267 More Information
Love, J.M., Gaynor, T.S., & Blessett, B. (2016. ) Facilitating difficult dialogues in the classroom: A pedagogical imperative.Administrative Theory and Praxis, , 38 (4 ) ,227 More Information
Gaynor, T.S. (2014. ) Vampires suck: Parallel narratives in the marginalization of the other. .Administrative Theory & Praxis, , 36 (3 ) ,348 More Information
Gaynor, T.S. & Schachter, H.L (2014. ) Revising the theory of justice .Public Administration Quarterly, , 38 (4 ) ,440
Kasymova, J. & Gaynor, T.S. (2014. ) Effective citizen participation in environmental issues: What can local governments learn?.State & Local Government Review, , 46 (2 ) ,138 More Information
Gaynor, T.S. & Blessett, B. (2014. ) Inequality at the intersection of DOMA and VRA: A review of the 2013 supreme court decisions.Administrative Theory and Praxis, , 36 (2 ) ,261 More Information
Gaynor, T.S. (2014. ) Through 'The Wire': Training culturally competent leaders for a new era". .Journal of Public Affairs Education, , 20 (3 ) , More Information
Carrizales, T. & Gaynor, T.S. (2013. ) Diversity in public administration research: A review of journal publications.Public Administration Quarterly, , 37 (3 ) ,8 More Information
Gaynor, T.S. (2013. ) Building democracy: Community development corporations' influence on democratic participation, the case of Newark, NJ (USA) .Operant Subjectivity: The International Journal of Q Methodolog, , 36 (2 ) ,93
Published Books
Gaynor, T.S. & DeVance Taliaferro, J. (2016. ) Teaching the wire: Frameworks, theories, and strategies for the classroom .Jefferson, NC , McFarland (Co-Editor)
Editorial
Tia Sheree Gaynor, PhD (2018. ) Huffington Post, (Author)
2017 H. George Frederickson Award PA Times Best Article Award American Society for Public Administration American Society for Public Administration Status:Recipient Level:National Type:Recognition
2016 Social Justice Curriculum Award This award promotes the incorporation of a social justice lens into the core curriculum of a NASPAA school; a faculty member or faculty team will show how social justice principles have been incorporated into the syllabus and teaching activities of at least one core course Network of Schools of Public Policy, Affairs, and Administration Status:Recipient Level:National
2017 NASPAA NEXT NASPAA NEXT provides emerging leaders in their departments or programs practical tools that will enable them to become more engaged members of their campuses and communities. Participation in NASPAA NEXT is by invitation only and invitations are based on recommendations from deans and other senior faculty, professional reputation and scholarly research, as well as participation in NASPAA activities Network of Schools of Public Policy, Affairs, and Administration Status:Recipient Level:Professional Org. Type:Recognition
01-2015 -06-2016 Social Equity Fellow The CAP Fellowship is intended to provide a balance between academic and practitioner perspectives by drawing from academic literature and empirical operational experiences. Fellows will identify promising approaches for measuring and advancing the performance measurement of social equity. Fellowships were awarded through a competitive selection process. Center for Accountability and Performance Status:Recipient Level:National Type:Fellowship
public administration, government, social equity, culture, cultural competence, cultural awareness, social equity, public management, social justice, LGBT, LGBTQ, transgender, public policy, decision making
Phone: 5135563395
tiasheree.gaynor@uc.edu