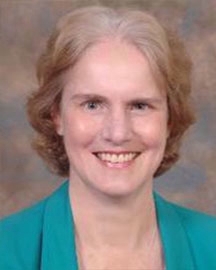 Mary Beth Genter , PhD
Professor
Kettering 144 (lab); 158 (lab)
160 Panzeca Way
Cincinnati, Ohio 45267-0056
Phone (513)558-6266
Fax (513)558-4397
Email marybeth.genter@uc.edu
My laboratory focuses on the olfactory system, both with regard to toxic responses of the olfactory mucosa and to the plasticity of olfactory neurons. Techniques include genomics, immunohistochemistry, enzymatic activity and knock out models. We are also interested in more general aspects of neurotoxicology and neurodegenerative diseases, including drug-induced memory loss and therapeutic interventions in neurological diseases.
Doctoral Degree: Duke University Durham, NC, 1988 (Pathology, toxicology)
Bachelor's Degree: St. Lawrence University Canton, NY, 1984 (chemistry, biology)
Postdoctoral Fellowship: Chemical Institute of Toxicology, Research Triangle Park, NC, 1990
Research and Practice Interests
The Genter lab studies the olfactory from a number of perspectives, including:
as a site of toxicant-induced damage
as a model for neurogenesis; and, most recently, 
as a route of drug delivery.
Current projects include intranasal administration of two different drugs, namely nilotinib and carnosine, as potential means to slow or stop the progression of symptoms in a mouse model of Parkinson's disease.
Positions and Work Experience
1990 -1995 Assistant Professor, Assistant Professor and North Carolina Cooperative Extension Service Toxicologist., North Carolina State University, Raleigh, NC
1995 -1995 Associate Professor, Assistant Professor and North Carolina Cooperative Extension Service Toxicologist., North Carolina State University, Raleigh, NC
1995 -1998 Associate Professor, Department of Molecular and Cellular Physiology, University of Cincinnati, Cincinnati, OH
1999 -To Present Associate Professor, Department of Environmental Health, University of Cincinnati, Cincinnati, OH
Grant: #5-R03-CA-102944-02-A0-S0-E0 07-01-2003 -06-30-2006 National Cancer Institute Extracellular Matrix in Chloracetanilide Carcenogenesis Role:PI $153,500.00 Closed Level:Federal
Grant: #1-R21-DC-006505-01-A0-S0-E0 09-26-2003 -08-31-2006 National Institute on Deafness and Other Communication Disor Sphingolipid signaling in olfactory mucosa Role:PI $307,000.00 Closed Level:Federal
Grant: #1-R25-RR-16301-01-A1-S0-E0 09-30-2002 -08-31-2005 National Center for Research Resources HealthRICH: Health Risks Information and Choices Phase I Role:PI $35,532.00 Closed Level:Federal
Grant: #5-R01-AG-13837-03-A0-S0-E0 09-15-1995 -08-31-1999 National Institute on Aging Impact of Environmental Toxicants on the Olfactory System Role:PI $255,921.00 Closed Level:Federal
Grant: #5-R01-ES-08799-05-A0-S0-E0 04-01-1999 -03-31-2005 National Institute of Environmental Health Sciences Mechanisms of Induction of Olfactory Tumors by Alachlor Role:PI $1,286,167.00 Closed Level:Federal
Grant: #470423 / R25 RR01601 07-01-2007 -04-30-2009 National Center for Research Resources Phase II HealthRICH: Health Risks Role:PI $26,218.00 Closed Level:Federal
Grant: #IRUSQUET0467 07-15-2008 -11-14-2010 AstraZeneca, PLC. (United Kingdom) Beyond Dopamine and Serotonin: Regulation of Neurotophins, Neurogenesis, and Neuroplasticity by Quietiapine/Norquetiapine as a Marker of Antidepressa Role:Collaborator $119,960.00 Closed Level:Foreign Industry
Grant: #SRS 005851 09-15-2008 -09-14-2011 National Alliance for Research on Schizophrenia and Depression Acetaminophen vs. Metformin and Rosiglitazone: Can an OTC Replace Prescription Drugs in the Reversal of Antipsychotic Drug-Induced Metabolic Complicat Role:PI $100,000.00 Closed Level:Private Non-Profit
Grant: #5 U45 ES06162-17 08-01-2008 -07-31-2009 National Institute of Environmental Health Sciences ICWUC Worker Health and Safety Training Cooperative Role:Collaborator $55,215.00 Closed Level:Federal
Grant: #U45 ES061162 08-01-2009 -07-31-2010 National Institute of Environmental Health Sciences Worker Health and Safety Training Cooperative Agreement HWWT Role:Collaborator $53,741.00 Closed Level:Federal
Grant: #Sarquis-ARRA-NCRR-G70530 / R25 RR016301 09-09-2009 -09-08-2010 National Center for Research Resources HealthRICH: Health Risks, Information, and Choices, Phase II Role:PI $5,400.00 Closed Level:Federal
Grant: #U45 ES06162-19 08-01-2010 -07-31-2012 National Institute of Environmental Health Sciences Hazardous Material Worker Health and Safety Training Role:Collaborator $107,482.00 Closed Level:Federal
Grant: #T42 OH008432 07-01-2011 -06-30-2016 National Institute for Occupational Safety and Health Education and Research Center Role:Collaborator $6,006,722.00 Active Level:Federal
Grant: #HWWT / U45 ES06162-20 08-01-2011 -07-31-2012 National Institute of Environmental Health Sciences Worker Health and Safety Training Cooperative Agreement HWWT Role:Collaborator $53,741.00 Closed Level:Federal
Grant: #Hershberger-NIH-UC/ R23RR032208 07-01-2011 -03-31-2016 National Center for Research Resources Fighting with Food: Battling Chemical Toxicity with Good Nutrition Role:PI $41,781.00 Active Level:Federal
Grant: #Study ILO522DUSNC05T 07-15-2012 -04-30-2014 Novartis AG Effects of Iloperidone on Neuron Mitochondrial Function Role:Collaborator $138,090.00 Closed Level:Industry
Grant: #U45 ES06162 08-01-2012 -07-31-2013 National Institute of Environmental Health Sciences Worker Health and Safety Training Cooperative Agreement ICWUC(HWWT) Role:Collaborator $53,741.00 Closed Level:Federal
Grant: #HWWT \ U45ES0612-22 08-01-2013 -07-31-2014 National Institute of Environmental Health Sciences Worker Health and Safety Training Cooperative Agreement-HWWT Role:Collaborator $48,914.00 Closed Level:Federal
Grant: #Sub to 5U45ES0978-23 09-01-2014 -08-31-2015 National Institute of Environmental Health Sciences Worker Health and Safety Training for DOE Nuclear Weapons Workers Role:Collaborator $4,000.00 Active Level:Federal
Grant: #SUB 5U45ES06162-23 08-01-2014 -07-31-2015 National Institute of Environmental Health Sciences Hazardous Materials Worker Health and Safety Training Cooperative (U45) HWWT ES06162 Role:Collaborator $53,741.00 Active Level:Federal
Grant: #ICWUC HWWT/ 5U45ES06162-25 Investigators:Freeman, Andrew; Genter, Mary Beth; Rice, Carol; Talaska, Glenn 08-01-2016 -07-31-2017 National Institute of Environmental Health Sciences Hazardous Materials Worker Health and Safety Training (U45) (HWWT) Role:Collaborator $50,053.00 Awarded Level:Federal
Grant: #W81XWH-17-1-0699 Investigators:Genter, Mary Beth 09-30-2017 -09-29-2019 Department of the Army Medical Research Acquisition Activity Neuroprotective effects of carnosine in the olfactory system in the Thy1-aSyn mouse model of parkinsonism Role:PI $510,093.00 Awarded Level:Federal
Grant: #ICWUC HWWT_U45ES06162-26 Investigators:Freeman, Andrew; Genter, Mary Beth; Rice, Carol; Talaska, Glenn 08-01-2017 -07-31-2018 National Institute of Environmental Health Sciences Hazardous Materials Worker Health and Safety Training (U45) (HWWT) Role:Collaborator $50,053.00 Active Level:Federal
Grant: #HWWT / U45ES06162 Investigators:Freeman, Andrew; Genter, Mary Beth; Rice, Carol; Talaska, Glenn 08-01-2018 -07-31-2019 National Institute of Environmental Health Sciences Hazardous Materials Worker Health and Safety Training (U45) (HWWT) Role:Collaborator $43,040.00 Awarded Level:Federal
Grant: #HWWT / U45ES06162 Investigators:Freeman, Andrew; Genter, Mary Beth; Rice, Carol; Talaska, Glenn 08-01-2019 -07-31-2020 National Institute of Environmental Health Sciences Hazardous Materials Worker Health and Safety Training (U45) (HWWT) Role:Collaborator $43,040.00 Awarded Level:Federal
Grant: #HWWT / UH4ES009758 Investigators:Freeman, Andrew; Genter, Mary Beth; Rice, Carol; Talaska, Glenn 08-01-2020 -05-31-2021 National Institute of Environmental Health Sciences Hazardous Materials Worker Health and Safety Training (U45) (HWWT) Role:Collaborator $43,040.00 Awarded Level:Federal
Grant: #ICWUC HWWT/ 5U45ES06162-24 Investigators:Freeman, Andrew; Genter, Mary Beth; Rice, Carol; Talaska, Glenn 08-01-2015 -07-31-2020 National Institute of Environmental Health Sciences Hazardous Materials Worker Health and Safety Training (U45) (HWWT) Role:Collaborator $50,053.00 Active Level:Federal
Grant: #HWWT / UH4ES009758 Investigators:Freeman, Andrew; Genter, Mary Beth; Rice, Carol; Talaska, Glenn 06-01-2021 -05-31-2022 International Chemical Workers Union Council Hazardous Materials Worker Health and Safety Training (U45) (HWWT) Role:Collaborator 45040.00 Hold Level:Other
Peer Reviewed Publications
Genter, Mary Beth (2014. ) Editor's Note.International journal of toxicology, , 33 (4 ) ,267 More Information
Hsieh, H; Amlal, H; Genter, Mb (2014. ) Evaluation of the toxicity of zinc in the rat olfactory neuronal cell line, Odora.Human & experimental toxicology, , More Information
Shertzer, Howard G; Krishan, Mansi; Genter, Mary Beth (2013. ) Dietary whey protein stimulates mitochondrial activity and decreases oxidative stress in mouse female brain.Neuroscience letters, , 548 ,159-64 More Information
Dong, Hongbin; Shertzer, Howard G; Genter, Mary Beth; Gonzalez, Frank J; Vasiliou, Vasilis; Jefcoate, Colin; Nebert, Daniel W (2013. ) Mitochondrial targeting of mouse NQO1 and CYP1B1 proteins.Biochemical and biophysical research communications, , 435 (4 ) ,727-32 More Information
Sasso, Alan F; Schlosser, Paul M; Kedderis, Gregory L; Genter, Mary Beth; Snawder, John E; Li, Zheng; Rieth, Susan; Lipscomb, John C (2013. ) Application of an updated physiologically based pharmacokinetic model for chloroform to evaluate CYP2E1-mediated renal toxicity in rats and mice.Toxicological sciences : an official journal of the Society of Toxicology, , 131 (2 ) ,360-74 More Information
Barchowsky, Aaron; Buckley, Lorrene A; Carlson, Gary P; Fitsanakis, Vanessa A; Ford, Sue M; Genter, Mary Beth; Germolec, Dori R; Leavens, Teresa L; Lehman-McKeeman, Lois D; Safe, Stephen H; Sulentic, Courtney E W; Eidemiller, Betty J (2012. ) The Toxicology Education Summit: building the future of toxicology through education.Toxicological sciences : an official journal of the Society of Toxicology, , 127 (2 ) ,331-8 More Information
Genter, Mary Beth (2011. ) Editor's Note.International journal of toxicology, , 30 (4 ) ,383 More Information
Shertzer, Howard G; Woods, Sally E; Krishan, Mansi; Genter, Mary Beth; Pearson, Kevin J (2011. ) Dietary whey protein lowers the risk for metabolic disease in mice fed a high-fat diet.The Journal of nutrition, , 141 (4 ) ,582-7 More Information
Curran, Christine P; Vorhees, Charles V; Williams, Michael T; Genter, Mary Beth; Miller, Marian L; Nebert, Daniel W (2011. ) In utero and lactational exposure to a complex mixture of polychlorinated biphenyls: toxicity in pups dependent on the Cyp1a2 and Ahr genotypes.Toxicological sciences : an official journal of the Society of Toxicology, , 119 (1 ) ,189-208 More Information
Genter, Mary Beth; Krishan, Mansi; Augustine, Lisa M; Cherrington, Nathan J (2010. ) Drug transporter expression and localization in rat nasal respiratory and olfactory mucosa and olfactory bulb.Drug metabolism and disposition: the biological fate of chemicals, , 38 (10 ) ,1644-7 More Information
Hopf, Nancy Brenna; Kirkeleit, Jorunn; Kramer, Stacy L; Moen, Bente; Succop, Paul; Genter, Mary Beth; Carreón, Tania; Mack, James; Talaska, Glenn (2010. ) Urinary 1-hydroxypyrene levels in offshore workers.International archives of occupational and environmental health, , 83 (1 ) ,55-9 More Information
Genter, Mary Beth I am amazed at how time flies, and that we are now reading the fifth issue of International Journal of Toxicology for 2009!.International journal of toxicology, , 28 (5 ) ,339-40 More Information
Genter, Mary Beth; Kendig, Eric L; Knutson, Mitchell D (2009. ) Uptake of materials from the nasal cavity into the blood and brain: are we finally beginning to understand these processes at the molecular level?.Annals of the New York Academy of Sciences, , 1170 ,623-8 More Information
Genter, M B; Warner, B M; Medvedovic, M; Sartor, M A (2009. ) Comparison of rat olfactory mucosal responses to carcinogenic and non-carcinogenic chloracetanilides.Food and chemical toxicology : an international journal published for the British Industrial Biological Research Association, , 47 (6 ) ,1051-7 More Information
Shertzer, Howard G; Schneider, Scott N; Kendig, Eric L; Clegg, Deborah J; D'Alessio, David A; Johansson, Elisabet; Genter, Mary Beth (2009. ) Tetrahydroindenoindole inhibits the progression of diabetes in mice.Chemico-biological interactions, , 177 (1 ) ,71-80 More Information
Kendig, Eric L; Schneider, Scott N; Clegg, Deborah J; Genter, Mary Beth; Shertzer, Howard G (2008. ) Over-the-counter analgesics normalize blood glucose and body composition in mice fed a high fat diet.Biochemical pharmacology, , 76 (2 ) ,216-24 More Information
Shertzer, Howard G; Genter, Mary B; Talaska, Glenn; Curran, Christine P; Nebert, Daniel W; Dalton, Timothy P (2007. ) 7H-dibenzo[c,g]carbazole metabolism by the mouse and human CYP1 family of enzymes.Carcinogenesis, , 28 (6 ) ,1371-8 More Information
Shertzer, Howard G; Genter, Mary Beth; Shen, Dongxiao; Nebert, Daniel W; Chen, Ying; Dalton, Timothy P (2006. ) TCDD decreases ATP levels and increases reactive oxygen production through changes in mitochondrial F(0)F(1)-ATP synthase and ubiquinone.Toxicology and applied pharmacology, , 217 (3 ) ,363-74 More Information
Genter, Mary Beth; Marlowe, Jennifer; Kevin Kerzee, J; Dragin, Nadine; Puga, Alvaro; Dalton, Timothy P; Nebert, Daniel W (2006. ) Naphthalene toxicity in mice and aryl hydrocarbon receptor-mediated CYPs.Biochemical and biophysical research communications, , 348 (1 ) ,120-3 More Information
Genter, Mary Beth; Clay, Corey D; Dalton, Timothy P; Dong, Hongbin; Nebert, Daniel W; Shertzer, Howard G (2006. ) Comparison of mouse hepatic mitochondrial versus microsomal cytochromes P450 following TCDD treatment.Biochemical and biophysical research communications, , 342 (4 ) ,1375-81 More Information
Genter, Mary Beth; Warner, Blake M; Krell, Hans-Willi; Bolon, Brad (2005. ) Reduction of alachlor-induced olfactory mucosal neoplasms by the matrix metalloproteinase inhibitor Ro 28-2653. Toxicologic pathology, , 33 (5 ) ,593-9
Genter, Mary Beth; Goss, Kathleen H; Groden, Joanna Strain-specific of alachlor on murine olfactory mucosal responses. Toxicologic pathology, , 32 (6 ) ,719-25
Zhang, Jianhua; Moseley, Amy; Jegga, Anil G; Gupta, Ashima; Witte, David P; Sartor, Maureen; Medvedovic, Mario; Williams, Sarah S; Ley-Ebert, Cathy; Coolen, Lique M; Egnaczyk, Gregory; Genter, Mary Beth; Lehman, Michael; Lingrel, Jerry; Maggio, John; Parysek, Linda; Walsh, Ryan; Xu, Ming; Aronow, Bruce J (2004. ) Neural system-enriched gene expression: relationship to biological pathways and neurological diseases.Physiological genomics, , 18 (2 ) ,167-83 More Information
Ling, Guoyu; Gu, Jun; Genter, Mary Beth; Zhuo, Xiaoliang; Ding, Xinxin (2004. ) Regulation of cytochrome P450 gene expression in the olfactory mucosa.Chemico-biological interactions, , 147 (3 ) ,247-58 More Information
Shertzer, Howard G; Clay, Corey D; Genter, Mary Beth; Chames, Mark C; Schneider, Scott N; Oakley, Greg G; Nebert, Daniel W; Dalton, Timothy P (2004. ) Uncoupling-mediated generation of reactive oxygen by halogenated aromatic hydrocarbons in mouse liver microsomes.Free radical biology & medicine, , 36 (5 ) ,618-31 More Information
Genter, Mary Beth (2004. ) Update on olfactory mucosal metabolic enzymes: age-related changes and N-acetyltransferase activities.Journal of biochemical and molecular toxicology, , 18 (4 ) ,239-44 More Information
Genter, Mary Beth; Burman, Dawn M; Vijayakumar, Soundarapandian; Ebert, Cathy L; Aronow, Bruce J (2002. ) Genomic analysis of alachlor-induced oncogenesis in rat olfactory mucosa.Physiological genomics, , 12 (1 ) ,35-45 More Information
Senft, Albert P; Dalton, Timothy P; Nebert, Daniel W; Genter, Mary Beth; Puga, Alvaro; Hutchinson, Richard J; Kerzee, J Kevin; Uno, Shigeyuki; Shertzer, Howard G (2002. ) Mitochondrial reactive oxygen production is dependent on the aromatic hydrocarbon receptor. Free radical biology & medicine, , 33 (9 ) ,1268-78
Genter, Mary Beth; Apparaju, Sandhya; Desai, Pankaj B (2002. ) Induction of olfactory mucosal and liver metabolism of lidocaine by 2,3,7,8-tetrachlorodibenzo-p-dioxin.Journal of biochemical and molecular toxicology, , 16 (3 ) ,128-34 More Information
Uno, S; Dalton, T P; Shertzer, H G; Genter, M B; Warshawsky, D; Talaska, G; Nebert, D W (2001. ) Benzo[a]pyrene-induced toxicity: paradoxical protection in Cyp1a1(-/-) knockout mice having increased hepatic BaP-DNA adduct levels.Biochemical and biophysical research communications, , 289 (5 ) ,1049-56 More Information
Dalton, T P; Dieter, M Z; Matlib, R S; Childs, N L; Shertzer, H G; Genter, M B; Nebert, D W (2000. ) Targeted knockout of Cyp1a1 gene does not alter hepatic constitutive expression of other genes in the mouse [Ah] battery.Biochemical and biophysical research communications, , 267 (1 ) ,184-9 More Information
Wetmore, B A; Mitchell, A D; Meyer, S A; Genter, M B (1999. ) Evidence for site-specific bioactivation of alachlor in the olfactory mucosa of the Long-Evans rat. Toxicological sciences : an official journal of the Society of Toxicology, , 49 (2 ) ,202-12
Deshpande, V S; Genter, M B; Jung, C; Desai, P B Characterization of lidocaine metabolism by rat nasal microsomes: implications for nasal drug delivery. European journal of drug metabolism and pharmacokinetics, , 24 (2 ) ,177-82
Genter, M B; Liang, H C; Gu, J; Ding, X; Negishi, M; McKinnon, R A; Nebert, D W (1998. ) Role of CYP2A5 and 2G1 in acetaminophen metabolism and toxicity in the olfactory mucosa of the Cyp1a2(-/-) mouse. Biochemical pharmacology, , 55 (11 ) ,1819-26
Gu, J; Zhang, Q Y; Genter, M B; Lipinskas, T W; Negishi, M; Nebert, D W; Ding, X (1998. ) Purification and characterization of heterologously expressed mouse CYP2A5 and CYP2G1: role in metabolic activation of acetaminophen and 2,6-dichlorobenzonitrile in mouse olfactory mucosal microsomes. The Journal of pharmacology and experimental therapeutics, , 285 (3 ) ,1287-95
Crofton, K M; Zhao, X; Sayre, L M; Genter, M B Characterization of the effects of N-hydroxy-IDPN on the auditory, vestibular, and olfactory systems in rats. Neurotoxicology and teratology, , 18 (3 ) ,297-303
Millhorn, D E; Conforti, L; Beitner-Johnson, D; Zhu, W; Raymond, R; Filisko, T; Kobayashi, S; Peng, M; Genter, M B (1996. ) Regulation of ionic conductances and gene expression by hypoxia in an oxygen sensitive cell line. Advances in experimental medicine and biology, , 410 ,135-42
Genter, M B; Owens, D M; Deamer, N J (1995. ) Distribution of microsomal epoxide hydrolase and glutathione S-transferase in the rat olfactory mucosa: relevance to distribution of lesions caused by systemically-administered olfactory toxicants. Chemical senses, , 20 (4 ) ,385-92
Genter, M B; Deamer, N J; Blake, B L; Wesley, D S; Levi, P E Olfactory toxicity of methimazole: dose-response and structure-activity studies and characterization of flavin-containing monooxygenase activity in the Long-Evans rat olfactory mucosa. Toxicologic pathology, , 23 (4 ) ,477-86
Deamer, N J; O'Callaghan, J P; Genter, M B (1994. ) Olfactory toxicity resulting from dermal application of 2,6-dichlorobenzonitrile (dichlobenil) in the C57Bl mouse. Neurotoxicology, , 15 (2 ) ,287-93
Genter, M B; Recio, L (1994. ) Absence of detectable P450 2E1 in bone marrow of B6C3F1 mice: relevance to butadiene-induced bone marrow toxicity. Fundamental and applied toxicology : official journal of the Society of Toxicology, , 22 (3 ) ,469-73
Genter, M B; Deamer, N J; Cao, Y; Levi, P E (1994. ) Effects of P450 inhibition and induction on the olfactory toxicity of beta,beta'-iminodipropionitrile (IDPN) in the rat. Journal of biochemical toxicology, , 9 (1 ) ,31-9
Rosenberg, C K; Genter, M B; Szakál-Quin, G; Anthony, D C; Graham, D G (1987. ) dl- versus meso-3,4-dimethyl-2,5-hexanedione: a morphometric study of the proximo-distal distribution of axonal swellings in the anterior root of the rat. Toxicology and applied pharmacology, , 87 (2 ) ,363-73
Genter, M B; Szakál-Quin, G; Anderson, C W; Anthony, D C; Graham, D G (1987. ) Evidence that pyrrole formation is a pathogenetic step in gamma-diketone neuropathy. Toxicology and applied pharmacology, , 87 (2 ) ,351-62
Krishan M, Gudelsky GA, Desai PB, Genter MB. (2014. ) Manipulation of olfactory tight junctions using papaverine to enhance intranasal delivery of gemcitabine to the brain. Drug Deliv , , 21 (1 ) ,8-16
Hsieh H, Amlal H, Genter MB (2015. ) Evaluation of the toxicity of zinc in the rat olfactory neuronal cell Line, Odora .Hum Exp Toxicol , , 34 (3 ) ,308-14
Davenport LL, Hsieh H, Eppert BL, Carriera VS, Krishan M, Ingle T, Howard PC, Williams MT, Vorhees CV, Genter MB (2015. ) Systemic and behavioral effects of intranasal administration of silver nanoparticles. Neurotoxicol Teratol. , , 51 ,68-76
Miller DL, Yu IL, Genter MB (2016. ) Use of autometallography in studies of nanosilver distribution and toxicity. .Int J Toxicol. , , 35 (1 ) ,47-51
Hsieh H, Vignesh KS, Deepe GS Jr, Choubey D, Shertzer HG, Genter MB (2016. ) Mechanistic studies of the toxicity of zinc gluconate in the olfactory neuronal cell line Odora. Toxicol In Vitro , , 35 ,24-30
Hsieh H, Horwath M, Genter MB (2017. ) Zinc gluconate toxicity in wild-type vs. MT1/2-deficient mice. .NeuroToxicology, , 58 ,130-36
Academic - Kettering 144 (lab); 158 (lab)
160 Panzeca Way
Cincinnati  Ohio, 45267-0056
Phone: (513)558-6266
Fax: (513)558-4397
marybeth.genter@uc.edu