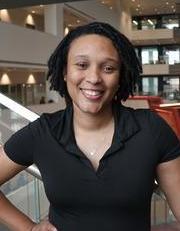 Arin Ashley Gentry
Sr Academic Advisor
French Hall
A&S Advising - 0037
Born and raised in Cincinnati, Arin graduated from the University of Cincinnati with a Bachelor of Arts in Communication in 2019 and Master of Arts in Educational Studies – Higher Education Administration in 2021. During undergrad she served as a Peer Career Coach, Academic Coach, and Teaching Assistant for multiple classes. And while in grad school, she served as a Graduate Assistant for Student Athlete Support Services.

Arin always knew she wanted to support students holistically through their college journey. That coupled with her love for UC has led her to her current role as an Academic Advisor with the College of Arts & Sciences. Her priority is always her students – you can always count on her to advocate, support and uplift her students as they matriculate through college.

When Arin is not working, you can find her spending time with her one-year old son, reading a book, and/or donating Black literature to the youth through her nonprofit organization, As Told By Foundation.
Master of Arts: University of Cincinnati Cincinnati, 2021 (Educational Studies: Higher Education Administration)
Bachelor of Arts: University of Cincinnati Cincinnati, 2019 (Communication)