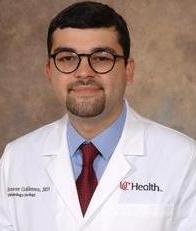 Sencer Goklemez
Medical Resident/Fellow
Personal Statement
Everyone has a passion. Some want to become a movie star, some are keen on space exploration, while others enjoy cooking all day. From early childhood, my desire was to discover an explanation as to why and how incidents in nature affect all aspects of life on our planet. Why are bugs so small and yet so durable? Why do some people outlive others, as my grandfather had a stroke despite his healthy lifestyle? All these questions and my search for answers directed me to the life sciences and particularly to medicine in my youth. As time passed, I have come to realize that the field of internal medicine embodies my ideal career path and will allow me to pursue my passions for finding answers through diligent research to form a complete understanding of medicine. My future goal is to become an independent investigator in hematology and oncology, as I am truly amazed and challenged by the complexities of the immune system leading to malignancies. My strong clinical and research background have made internal medicine the most suitable pathway to gain the tools needed for my future career goal as a clinician scientist. I am eager to bring my enthusiastic commitment to excellence and scholarship to the success of my future training in internal medicine.

Why I Chose Cincinnati
Everything from the pre‐interview dinner to Dr. Warm's presentation on the interview day pointed me to the direction of Cincinnati. The superb learning and teaching atmosphere based on patient focused rounds combined with the friendliness and enthusiasm of the residents made Cincinnati the optimal choice for me and my career. In addition, as a physician coming from Turkey, I could sense the hospitality and warm environment in the hospital and city, all of which made me feel at home.
MD: Koç Üniversitesi Tip Fakültesi
University of Cincinnati College of Medicine
231 Albert Sabin Way
Cincinnati  Ohio, 45267
GOKLEMSR@UCMAIL.UC.EDU