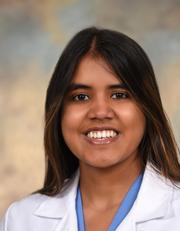 Rinki Goswami
Resident- PGY 1
Personal Statement
In 2014 the world saw the worst Ebola outbreak in history, affecting communities with few medical resources and highlighting the critical role of cultural competence in patient care. Being a public health professional working on this epidemic shaped my perspective for a career in medicine- I entered medical school wanting to focus on global health and infectious disease (ID), integrating my past experiences in engineering and public health. In my fourth year as a medical student, I will be rotating at both the Centers for Disease Control and the National Institutes of Health, learning about the intersection of research, policy, and medicine. This pairs well with the work I do with a nongovernmental organization in Greece for refugee empowerment. This augments my position on the Trainee Advisory Committee within the Consortium of Universities in Global Health. On the Advocacy committee, I work with multidisciplinary teams to create educational materials to influence global health policy. This unique position values trainee perspectives and lasts through 2021. Currently, I am researching refugee health access by working directly with refugees. Based on our findings, the team opened a global health clinic which provides translators, cultural competency, and transportation.

Why I Chose Cincinnati
Having lived in Dayton most of my life I have always been familiar with Cincinnati's program. After the interview day, I loved the residents I met, and the evidence based structure of the program. I appreciated that resident feedback is a big part of how the program structures itself, and I was interested in the different tracks available for residents. The faculty I interviewed with were also so enthusiastic that it was hard to resist!
MD, Wright State University Boonshoft School of Med
University of Cincinnati College of Medicine
231 Albert Sabin Way
Cincinnati  Ohio, 45267
GOSWAMRI@UCMAIL.UC.EDU