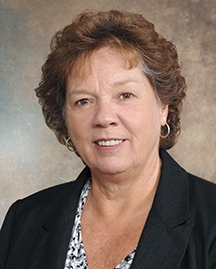 Pat M Graman
Professor-Emeritus
Professor- Athletic Training
273 French Hall East
3202 Eden Avenue
Cincinnati, Ohio 45267-0394
Phone 513-558-3730
Email pat.graman@uc.edu
Pat began her tenure at the University of Cincinnati in 1980. She has served as the Director of the Athletic Training Program since 1996. Pat serves as an accreditation site visitor and committee chair with the Commission on Accrediting Athletic Training Education (CAATE)tic Training, as well as local, state, and national committees.
Prior to 1996, she served as an assistant athletic trainer in the Department of Athletics servicing the health care needs of 19 varsity sports and directing the long rehabilitation programs. She has also provided athletic training services at the United States Olympic Training Center in San Diego , CA .

BS: University of Cincinnati Cincinnati, OH, 1979 (Physical Education & Health)
MA: Ball State University Muncie, IN, 1980 (Exercise and Fitness)
Peer Reviewed Publications
Graman, Patricia (2012. ) High Performance Vision Training Improves Batting Statistics for University of Cincinnati Baseball Players.PLoS ONE, , 7(1):e29109 , More Information
Book Chapter
Graman,P. (2006 ) Perspectives in athletic training Chapter 12: The Hip .Elsiever
Invited Presentations
Graman, P. (02-2007. ) Diabetes recognition & management .Student SEATA, Atlanta, GA.
Graman, P. (05-2006. ) Managing athletic training education programs .Ohio Athletic Trainer's Assoc Anual Meeting, Kings Island, OH.
Graman, P. (02-06-2010. ) Best practices in athletic training accreditation .SEATA Educators Conference, Atlanta, GA. Level:Regional
Paper Presentations
Graman, Patricia (07-23-2011. ) Influence of Vision on Sports Performance .Cincinnati, OH. Conference.
CAATE (Commission on Accrediting Athletic Training Programs) (Annual Report Committee ) Committee Chair Type:Service to Professional Associations Level:National 2009 -To Present
OATA College and University Committee Committee Member Type:Other Educational Service 2009 -To Present
10-2011: Site Visitor CAATE (Commission on Accreditation of Athletic Training Education). I served in the capacity as the Chair, of an accreditation site visit team for our national accrediting body (CAATE) at Longwood University.
Academic - 273 French Hall East
3202 Eden Avenue
Cincinnati  Ohio, 45267-0394
Phone: 513-558-3730
pat.graman@uc.edu