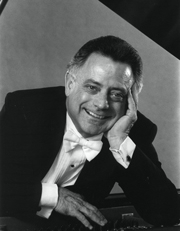 Kenneth R. Griffiths
Professor
Director of Collaborative Piano Activities; Professor of Collaborative Piano
Dieterle Vocal Arts Cntr
211
CCM Collaborative Piano - 0003
Before arriving at CCM, Kenneth Griffiths taught at Indiana University and the University of Tennessee and has held numerous master classes throughout the U.S. and Australia. He has accompanied professional recitals in Australia, Japan, England, Germany, Russia and the U.S. for such artists as Kathleen Battle, Susan Dunn, John Garrison, Ben Matthews, Susanne Mentzer, Jessye Norman, Stanford Olsen, David Shifrin, Benita Valente, Sarah Walker and Delores Ziegler. He has appeared as concert narrator in Schoenberg's Ode to Napoleon with the Arditti, LaSalle and Vermeer Quartets and is also featured on the Deutsche Grammophone recording of the same work with the LaSalle Quartet.

Since 1992, he has been a faculty member of the Tanglewood Music Festival vocal/accompanying program where he teaches master classes and "Russian For Singers" and also prepares recital and chamber music ensembles. In 1995 and 2000, he was a jury member for the Robert Schumann International Vocal Competition in Zwickau, Germany. He studied piano in Australia and Europe and accompanying with Gerhard Hüsch in Munich and at Indiana University.

In the spring of 2004 he served on the jury of the prestigious International Lieder Duo Competition sponsored by Hugo Wolf Society in Stuttgart, Germany. This tri-annual competition is devoted to the lieder repertoire of specific composers and this year it focused on the songs of Brahms, Schoenberg and his pupils. During the summer of 2004 he served for the third time on the jury of the International Robert Schumann Lieder Competition in Zwickau, Germany.
MM: University of Tennessee
BA: Dipl. Ed. University of Melbourne (Australia)