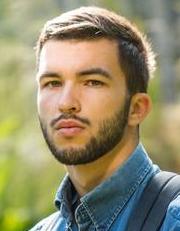 Florian Griffon
Graduate Assistant
I am a graduate student enrolled in a French and francophone studies & pedagogy M.A at the University of Cincinnati. I also teach Intensive Basic French as a Graduate Teaching Assistant at UC.

I have graduated from the Université Toulouse Jean Jaurès (FRA), with a B.A in English studies (US Civilization major) and a M.A in American Civilization from Université Bordeaux Montaigne (FRA).

I have written a thesis for the Université Bordeaux Montaigne (FRA) on the link between knowledge production, lobbying, and firearm regulation in Ohio.
B.A Anglophone Studies: Université Toulouse Jean Jaurès Toulouse, FRANCE, 2020 (Literature, linguistics, translation, civilization of English speaking countries)
M.A Anglophone Studies: Université Bordeaux Montaigne Bordeaux, FRANCE, 2023 (Major in American Civilisation Thesis on knowledge making about gun violence in the US)
M.A Francophone Studies (Ongoing): University of Cincinnati Cincinnati, OH, USA, 2024 (Francophone studies and pedagogy track: classes taken include foreign language teaching, computer-assisted second language teaching, resisting the French national narratives.)
Research and Practice Interests
My research focuses on the production of (non) knowledge around firearms in the US.
Over the last 20 years, publicly-funded research on firearms has been banned by the US government. Various types of knowledge emerged from different sources: privately-funded researcher, advocacy groups, associations, etc.
The goal is to understand the role, the impact and the involvment of each actor in such a controversial field.
Positions and Work Experience
08-2022 -To Present Graduate Teaching Assistant, I am in charge of teaching Basic French Language (FREN1001-FREN1002)., University of Cincinnati,
Paper Presentations
Griffon, F. (04-2023. ) Repenser le Canon Littéraire Français - Les Occultés du Post-Colonialisme .University of Cincinnati. UC. Level:International
Griffon, F. (11-2022. ) Decolonizing the Curriculum: Enseigner l'Imparfait au Travers de la Marche pour l'Égalité .Online. Workshop. Level:International