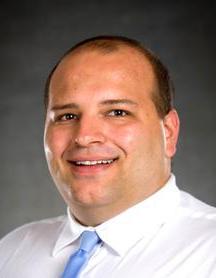 Anthony Steven Grillo
Asst Professor
Assistant Professor, Chemistry
Phone 5135561034
Email grilloas@ucmail.uc.edu
Group Website
www.GrilloLabUC.com

Anthony Grillo joined the University of Cincinnati in the Department of Chemistry as an Assistant Professor in 2022 with research interests in understanding the molecular underpinnings of the role of mitochondrial dysfunction in disease with an emphasis on micronutrient (e.g. metals, oxygen, vitamins, etc.) metabolism.

Dr. Grillo obtained a B.S. in Biochemistry and B.S. in Chemistry from the University of Michigan in 2011. He obtained his Ph.D. in Chemistry (Organic Chemistry focus) in 2017 at the University of Illinois at Urbana-Champaign under the mentorship of Martin Burke as an NSF predoctoral fellow (NSF GRFP). His thesis centered on the discovery, development, and mechanistic understanding of small molecules that mimic protein function to restore physiology to organisms missing iron transport proteins, thereby acting as prostheses on the molecular scale. As an NRSA postdoctoral fellow and Alzheimer's Disease Research Center Trainee in Matt Kaeberlein's Lab at the University of Washington, Dr. Grillo elucidated the mechanistic role of protein kinace C in promoting neuroinflammation in mitochondrial disease mice and the influence of iron status on disease progression.

Dr. Grillo's background in biochemistry, chemical biology, and metabolic physiology make him excited to perform interdisciplinary research centered on revealing how mitochondrial dysfunction alters micronutrient metabolism (e.g. metals, oxygen, vitamins, etc.) to elicit neurodegeneration in age-related, genetic, or environmental-induced disease in multiple in vitro and in vivo models.
Ph.D. Chemistry: University of Illinois at Urbana-Champaign 2017 (Organic Chemistry)
B.S. Chemistry: University of Michigan 2011
B.S. Biochemistry: University of Michigan 2011
Research and Practice Interests
The Grillo Lab's interests include:

     1) Elucidating the etiology of mitochondrial Complex I deficiencies and oxygen dyshomeostasis in neurodegeneration.
     2) Uncovering the role of transition metals in age-related diseases.
     3) Discovering novel interventions to treat mitochondrial inborn errors of metabolism.
Positions and Work Experience
2018 -2022 Senior Fellow, Postdoctorate Researcher in the Kaeberlein Lab., University of Washington, Seattle, WA
2022 - Assistant Professor, University of Cincinnati, Cincinnati, OH
Book Chapter
Invited Presentations
AS Grillo (03-28-2023. ) Iron Status Influences Mitochondrial Disease Progression in Complex I-Deficient Mice .University of Cincinnati - Department of Biochemistry and Molecular Genetics. UC. . Level:University
AS Grillo (04-21-2023. ) Iron Status Influences Mitochondrial Disease Progression in Complex I-Deficient Mice .Cleveland State Department of Chemistry, Cleveland, OH. Other Institution. . Level:State
2022 OEPT Training Workshop
2022 Graduate Admissions Committee
2022 Diversity, Equity, and Inclusion Taskforce
2023 Global Research Experience in Chemistry Program
(2023 Co-Lead, UC ACS SEED Program for High School Students )
2022 CHEM 8039: Transition Metals in Biochemistry, Biology, and Medicine
Academic - Phone: 5135561034
grilloas@ucmail.uc.edu