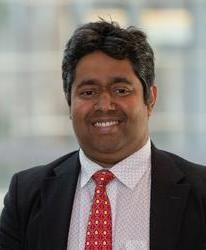 Prakash Gudsoorkar , MD
Assistant Professor of Clinical
Medical Sciences Building
231 Albert Sabin Way
Room 6213A, ML0585
Cincinnati, Ohio 45267
Phone 513-558-5471
Fax 513-558-4309
Email prakash.gudsoorkar@uc.edu
I am Dr. Prakash Gudsoorkar, MD, FASN, FNKF, and I serve as an Assistant Professor of Medicine in the Division of Nephrology and the Kidney C.A.R.E. (Clinical, Advancement, Research & Education) Program at the University of Cincinnati, Ohio, USA. Following my Internal Medicine and Nephrology training in India, I pursued advanced fellowships in Nephrology and Transplantation at the University of Toronto, Canada, where I collaborated with leading institutions such as the University Health Network, Toronto General Hospital, St. Michael's Hospital, and Sunnybrook Health Sciences Center. In February 2020, I had the privilege of joining the faculty at the University of Cincinnati.
My clinical and research interests are multifaceted, focusing primarily on quality improvement in acute kidney injury, exploring home dialysis options, and contributing to the emerging field of onconephrology.
I am honored to be actively involved in several esteemed professional organizations and initiatives.
Currently, I serve on the Editorial Board for the Advances in Kidney Disease and Health (AKDH) [previously Advances in Chronic Kidney Disease (ACKD)] Journal, Editorial board member for American Society of Nephrology (ASN) Kidney News, and am a member of the Position Statement and Education Committee for the American Society of Onconephrology (ASON). I also provide mentorship through the International Society of Nephrology's (ISN) mentorship program and act as a Faculty Mentor for NephSim Nephrons. Additionally, I am part of the Medical Advisory Board for the National Kidney Foundation's Ohio Chapter.
Through these roles and my clinical practice, I aim to contribute to advancing nephrology as a science and a means to improve patient care. I invite you to explore this website to learn more about my work, research, and contributions to the field.
MBBS: Seth G.S. Medical College and K.E.M. Hospital India, 2004
Residency: PD Hinduja National Hospital and MRC India, 2013 (Nephrology)
Residency: Kerala Institute of Medical Sciences India, 2009 (Internal Medicine)
Nephrology
Acute Kidney Injury (AKI)
Acute Renal failure (Acute kidney failure)
Nephrology
As the Medical Lead for the Onconephrology Clinic, I oversee a specialized service addressing renal complications commonly encountered in cancer patients. Our clinic provides expert care for various kidney-related issues arising from cancer treatments and conditions, including chemotherapy and immunotherapy-induced nephrotoxicity, electrolyte imbalances, hypertension due to targeted therapies, proteinuric conditions, and chronic kidney disease in cancer survivors. Moreover, the clinic extends its care to more specialized renal complications such as amyloid-related kidney diseases, paraproteinemia disorders, post-bone marrow transplantation and nephrectomy complications, radiation-induced kidney injuries, and sickle cell nephropathy. Beyond delivering patient care, the clinic serves as an invaluable educational platform for our nephrology fellows, offering hands-on experience and comprehensive learning opportunities in the intricate field of onconephrology. I have been instrumental in setting up this clinic at UC Health
Investigators:Gudsoorkar, Prakash 04-01-2022 -03-31-2025 AstraZeneca Pharmaceuticals LP A Phase 3, International, Randomised, Double-blind, Placebo-controlled Study to Evaluate the Effect of Sodium Zirconium Cyclosilicate on Chronic Kidney Disease (CKD) Progression in Participants with C Role:PI 0.00 Hold Level:Industry
Peer Reviewed Publications
Gudsoorkar, Prakash; Anand, Manish; Abu Jawdeh, Bassam G (2020. ) APOL1 Genotyping in Potential African American Living Kidney Donors: Utility and Cost-Effectiveness.American journal of nephrology, , 51 (2 ) ,116-118 More Information
Gudsoorkar, Prakash S; Asa, Sylvia L; Silverman, Melvin (2020. ) Syndrome of Inappropriate Antidiuresis in a Young Adult-Searching for the Causative Needle in the Proverbial Haystack.Kidney international reports, , 5 (2 ) ,231-234 More Information
Gudsoorkar, Prakash S; Thakar, Charuhas V (2019. ) Acute Kidney Injury, Heart Failure, and Health Outcomes.Cardiology clinics, , 37 (3 ) ,297-305 More Information
Gudsoorkar, P S; Tobe, S W (2017. ) Changing concepts in hypertension management.Journal of human hypertension, , 31 (12 ) ,763-767 More Information
Gudsoorkar, Prakash S; Penner, Todd; Jassal, S Vanita; Bargman, Joanne M The Enigmatic Fallopian Tube: A More Common Cause of Catheter Malfunction than Previously Recognized.Peritoneal dialysis international : journal of the International Society for Peritoneal Dialysis, , 36 (4 ) ,459-61 More Information
Meraz-Munoz, Alejandro; Langote, Amit; D Jhaveri, Kenar; Izzedine, Hassane; Gudsoorkar, Prakash (2021. ) Acute Kidney Injury in the Patient with Cancer.Diagnostics (Basel, Switzerland), , 11 (4 ) , More Information
Meraz-Munoz A.; Langote A.; Jhaveri K.D.; Izzedine H.; Gudsoorkar P. (04-01-2021. ) Acute kidney injury in the patient with cancer.Diagnostics, , 11 (4 ) , More Information
Gudsoorkar P.; Asa S.; Silverman M. (02-01-2020. ) Syndrome of Inappropriate Antidiuresis in a Young Adult—Searching for the Causative Needle in the Pr.Kidney International Reports, , 5 (2 ) ,231-234 More Information
Gupta, Shruti; Gudsoorkar, Prakash; Jhaveri, Kenar D (2022. ) Acute Kidney Injury in Critically Ill Patients with Cancer.Clinical journal of the American Society of Nephrology : CJASN, , 17 (9 ) ,1385-1398 More Information
Khashu, Simoni; Wanchoo, Nitya; Finuf, Kayla D; Lapman, Sebastian; Gudsoorkar, Prakash; Jhaveri, Kenar D (2022. ) Utility of semi-private messaging application (WhatsApp®) for Onconephrology education: a qualitative analysis of a 'mastermind' chat.Clinical kidney journal, , 15 (4 ) ,834-838 More Information
Gudsoorkar, Prakash; Jhaveri, Kenar D; Sise, Meghan E (2022. ) Onconephrology: The Growth of Cancer-Kidney Connection, Part 2.Advances in chronic kidney disease, , 29 (2 ) ,83-85 More Information
Gudsoorkar, Prakash; Ruf, Rebecca; Adnani, Harsha; Safdar, Komal; Sparks, Matthew A (2021. ) Onco-hypertension: An Emerging Specialty.Advances in chronic kidney disease, , 28 (5 ) ,477-489.e1 More Information
Gudsoorkar, Prakash; Langote, Amit; Vaidya, Palavi; Meraz-Muñoz, Alejandro Y (2021. ) Acute Kidney Injury in Patients With Cancer: A Review of Onconephrology.Advances in chronic kidney disease, , 28 (5 ) ,394-401.e1 More Information
Gudsoorkar, Prakash; Sise, Meghan E; Jhaveri, Kenar D (2021. ) Onconephrology: The Growth of Cancer-Kidney Connection.Advances in chronic kidney disease, , 28 (5 ) ,391-393 More Information
Khashu S.; Wanchoo N.; Finuf K.D.; Lapman S.; Gudsoorkar P.; Jhaveri K.D. (04-01-2022. ) Utility of semi-private messaging application (WhatsApp®) for Onconephrology education: A qualitativ.Clinical Kidney Journal, , 15 (4 ) ,834-838 More Information
Gudsoorkar, Prakash S; Nysather, Jacob; Thakar, Charuhas V (2023. ) Definition, Staging, and Role of Biomarkers in Acute Kidney Injury in the Context of Cardiovascular Interventions.Interventional cardiology clinics, , 12 (4 ) ,469-487 More Information
Nysather, Jacob; Kaya, Eda; Manka, Paul; Gudsoorkar, Prakash; Syn, Wing-Kin (2023. ) Nonalcoholic Fatty Liver Disease and Chronic Kidney Disease Cross Talk.Advances in kidney disease and health, , 30 (4 ) ,315-335 More Information
Gudsoorkar, Prakash S; Maddukuri, Geetha; Velez, Juan Carlos Q (2023. ) Entwined Fates: Decoding the Parallel yet Intersecting Pathways of Liver and Kidney Disease.Advances in kidney disease and health, , 30 (4 ) ,305-306 More Information
Gudsoorkar, Prakash; Wanchoo, Rimda; Jhaveri, Kenar D (2023. ) Nirogacestat and Hypophosphatemia.Kidney international reports, , 8 (7 ) ,1478 More Information
Al Qa'qa', Shifaa'; Al-Fatani, Rehab; Rodriguez-Ramirez, Sonia; Gudsoorkar, Prakash; Geldenhuys, Laurette; Avila-Casado, Carmen (2023. ) Establishing an effective clinical data collecting tool for optimal evaluation of native and allograft renal biopsies.Heliyon, , 9 (3 ) ,e14264 More Information
Bonilla, Marco; Gudsoorkar, Prakash; Wanchoo, Rimda; Herrmann, Sandra M; Jhaveri, Kenar D (2023. ) Onconephrology 2022: An Update.Kidney360, , 4 (2 ) ,258-271 More Information
Gudsoorkar, Prakash; Abudayyeh, Ala; Tchakarov, Amanda; Hanna, Ramy (2022. ) Onconephrology and Thrombotic Microangiopathy: Looking Beyond the Horizon.Seminars in nephrology, , 42 (6 ) ,151345 More Information
Gudsoorkar P.; Wanchoo R.; Jhaveri K.D. (07-01-2023. ) Nirogacestat and Hypophosphatemia.Kidney International Reports, , 8 (7 ) ,1478 More Information
Al Qa'qa' S.; Al-Fatani R.; Rodriguez-Ramirez S.; Gudsoorkar P.; Geldenhuys L.; Avila-Casado C. (03-01-2023. ) Establishing an effective clinical data collecting tool for optimal evaluation of native and allogra.Heliyon, , 9 (3 ) , More Information
Academic - Medical Sciences Building
231 Albert Sabin Way
Cincinnati  Ohio, 45267
Phone: 513-558-5471
Fax: 513-558-4309
prakash.gudsoorkar@uc.edu