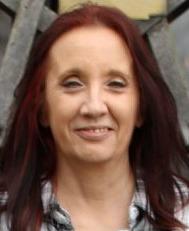 Kristi Jo Hall
Assistant Professor
Ms.
Univeristy of Cincinnati, Clermont College
4200 Clermont College Drive
Batavia, Ohio 45103
Phone 513-558-4807
Email kristi.hall@uc.edu
Kristi Hall is an Assistant Professor of Information Technology at the University of Cincinnati, Clermont College. She has a Master's degree in instructional technology and design and has taught information technology and computer science for several institutions over the past 25 years. She teaches courses in IT fundamentals, programming, networking, digital media and IT ethics,  She has also served as an instructional designer and coordinator of distance learning for a small private college in Southern Ohio and has worked in the information technology field.
Post Graduate Training and Education
01-2003-05-2004 Masters in Education, Completed the M.Ed. in Instructional Technology and Design, Viginia Polytechnic Institute, , Blacksburg, VA
Academic - Univeristy of Cincinnati, Clermont College
4200 Clermont College Drive
Batavia  Ohio, 45103
Phone: 513-558-4807
kristi.hall@uc.edu