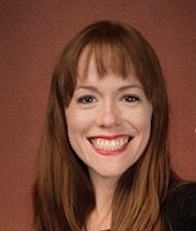 Sarah Hamilton Dugan , Ph.D.
Post Doc Fellow
Edwards Center
EDWARDS 4
CAHS Communication Sciences & Disorders - 0394
I am a postdoctoral fellow, a licensed speech-language pathologist, and an early career investigator. I have BAs in English and Linguistics, MA degrees in English, Speech Language Pathology, and Linguistics, and a doctorate in Speech Language Pathology. I am currently in the Psychology department at University of Cincinnati where I am learning methods for investigating motor control from an ecological theory perspective. My clinical fellowship was in the University of Cincinnati Speech, Language, and Hearing Clinic, where I worked mainly with children with residual sound errors using ultrasound for biofeedback. My experimental research has focused on auditory perceptual evaluation and articulatory characteristics of /r/ speech errors. I am closely connected with clinical training, both of students and current SLP professionals. I have given research presentations about ultrasound biofeedback therapy at national conferences and been invited to give talks about our work in seminars, both local and national. Evidence of my commitment to teaching and training can be seen in the two teaching awards given to me by my college during my doctoral degree. I also have a strong dedication to translational clinical research. I won a national award for my clinical research record, given by the Association of Schools of Allied Health Professions, and I have taken coursework to earn a certificate in Clinical and Translational Research from University of Cincinnati's Center for Clinical and Translational Studies. Most recently as a postdoctoral fellow, I have managed two grants (NIH Translational R01 Grant 1R01DC013668-01, "Improving clinical speech remediation with ultrasound technology," and the University of Cincinnati Strategic Collaborative Initiative Grant "Improving speech motor performance with simplified visual targets from ultrasound"). For both projects, I have recruited patients, conducted experimental clinical research using ultrasound, successfully trained laboratory personnel, and collaborated with interdisciplinary professionals at multiple sites.
Bachelor's degree: University of Toronto Toronto, Ontario, Canada, 2005 (Linguistics, English)
Masters degree: West Virginia University Morgantown, WV, 2007 (English)
Masters degree: York University York, Ontario, Canada, 2008 (Linguistics)
Masters degree: University of Cincinnati Cincinnati, Ohio, 2014 (Speech Language Pathology)
PhD: University of Cincinnati Cincinnati, Ohio, 2016 (Speech language pathology)
Research and Practice Interests
I have worked with my research team to describe a common articulatory characteristic for rhotics in the world's languages: pharyngeal constriction using the tongue root. This study was important in uncovering a potential reason for why rhotics in the world's languages are later-developing and is clinically very important for multilingual populations. Over the past seven years, I have collaborated extensively with Dr. Suzanne Boyce (my PhD mentor) to recruit speakers, review literature, and analyze the ultrasound data we obtained from the clinic. I have trained many students in laboratory techniques as the lab manager. With Michael A. Riley (PI) and T. Douglas Mast (PI ), I have developed a new quantitative method of measuring tongue part displacement from the ultrasound image using real-time image processing techniques. This non-invasive, safe, and real-time process can drive gamified feedback on tongue movement, which will simultaneously simplify the image and give goal-based feedback on performance. This work has generated much interest during conference presentations. This work has led to two main outcomes that relate to improved clinical and research methods in ultrasound: (1) articulation data that can used in non-English speaking situations to remediate challenging sounds like /r/, (2) faster quantitative data collection on tongue movement from ultrasound, which can increase the number of speakers who can be enrolled and processed in a speech articulation study.
I have seen over 100 patients using ultrasound technology, and am among the most experienced clinicians using this technology in the United States. My clinical practicum, CFY, and clinical research has focused mainly on these patients and I have collaborated with other major names in this field (Suzanne E. Boyce (PI), Tara McAllister, and Jon Preston to create training seminars for clinicians. I am very active in local and national conferences for speech-language pathologists and have given multiple presentations on best practices in using this technology. In the University of Cincinnati Speech, Language, and Hearing Clinic, I have worked for the past four years to mentor or train students to do this type of therapy. My work in clinical training has a direct impact on the field of speech-language pathology by preparing students and other clinicians in articulatory learning principles that are applicable in or out of an ultrasound clinic.
In my work on the perceptual response of listeners to rhotics, I have described factors affecting the performance of children and adults when making category goodness judgments of rhotic errors (collaboration with Dr. Boyce). I have also compared different acoustic measures (F3-F2, and F3 ratio) to determine which acoustic measure would more accurately predict performance in adult listeners (again a collaboration with Dr. Boyce). My speech perception work has extended to an investigation of a novel method for separating noise from signal using hypotheses about the source. As a part of that team, I was a liaison in the multi-site study and performed experiment administration, randomization of participants, and data processing. These projects have a wide range of implications for understanding task variables that affect within-subject variation in perceptual response.
Positions and Work Experience
2011 -2016 Lab manager, Lab manager of Speech Lab, Dr. Suzanne Boyce., University of Cincinnati, Cincinnati, Ohio
2014 -2015 Clinical Fellow, University of Cincinnati Speech Language and Hearing Clinic, University of Cincinnati, Cincinnati, Ohio
2015 - Clinical researcher, Clinical researcher in the UC Speech Language and Hearing Clinic. Specializing in ultrasound biofeedback for persistent speech errors., University of Cincinnati, Cincinnati, Ohio
2016 - Postdoctoral fellow, Funded through NIH Translational R01 Grant. #1R01DC013668-01 and Strategic Collaborative Initiative at UC,grant title: "Improving speech motor performance with simplified visual targets from ultrasound." Department: Psychology, University of Cincinnati, Cincinnati, Ohio
Grant: #R01 DC017301 Investigators:Boyce, Suzanne; Hamilton, Sarah; Mast, T. Douglas; Riley, Michael; Seward, Renee; Silbert, Noah 08-10-2018 -07-31-2023 National Institute on Deafness and Other Communication Disor Simplified Ultrasound Biofeedback for Speech Remediation Role:Collaborator $509,304.00 Active Level:Federal
Investigators:Sarah Dugan 2013 -2013 Ohio Speech Language and Hearing Association Doctoral Research Grand Award. Role:Primary investigator $1,000.00 Completed Type:Grant Level:State
Investigators:Sarah Dugan 2014 -2014 International Council on Phonetic Sciences Gösta Bruce Scholarship Role:Awardee $510.00 Completed Type:Grant
Investigators:Sarah Dugan 2015 -2015 Acoustical Society of America Raymond H. Stetson Scholarship in Phonetics and Speech Production. Role:Awardee Completed Type:Grant Level:National
Investigators:Sarah Dugan 2014 -2014 University of Cincinnati University Research Council (URC) Graduate Research Award Role:Primary investigator $1,500.00 Completed Type:Grant Level:University
Investigators:Sarah Dugan 2015 -2015 University of Cincinnati Graduate Summer Undergraduate Mentoring (GSUM) Award Role:Awardee $3,000.00 Completed Type:Grant Level:University
Peer Reviewed Publications
Boyce, Suzanne E; Hamilton, Sarah M; Rivera-Campos, Ahmed (2016. ) Acquiring rhoticity across languages: An ultrasound study of differentiating tongue movements.Clinical linguistics & phonetics, , 30 (3-5 ) ,174-201 More Information
-2005 Rebecca Mason Perry Award for the Outstanding First-Year Master's Student in English Status:Recipient Level:Department Type:Recognition
-2007 York University Graduate Merit Scholarship York University Status:Recipient Level:University Type:Fellowship
-2011 ASHA Merit Award Poster Presentation, "Experiential Learning of Research Methods by Graduate Students" given by American Speech Language and Hearing Association ASHA Status:Recipient Level:National Type:Recognition
-2014 Second Place Best Student Paper Award in Speech Communication Award given by the Acoustical Society of America Acoustical Society of America Status:Recipient Level:National Type:Recognition
-2015 Excellence in Teaching Award for Graduate Students Chosen awardee of the University of Cincinnati College of Allied Health Sciences Status:Recipient Level:College Type:Recognition
-2015 Second Place Best Student Paper Award in Speech Communication Given by the Acoustical Society of America Acoustical Society of America Status:Recipient Level:National Type:Recognition
-2016 Excellence in Teaching Award for Graduate Students Chosen awardee of the University of Cincinnati College of Allied Health Sciences Status:Recipient Level:College Type:Recognition
-2016 Raymond H. Stetson Award in Phonetics and Speech Science Given by the Acoustical Society of America, Honorable Mention. Level:National Type:Recognition
-2016 ASAHP Scholarship of Excellence Award Given by the Association of Schools of Allied Health Professions Status:Recipient Level:National Type:Recognition
Post Graduate Training and Education
2016Postdoctoral fellow, Funded through NIH Translational R01 Grant #R01DC013668-01 and UC Strategic Collaborative Initiative. Grant title: "Improving speech motor performance with simplified visual targets from ultrasound." Department: Psychology, University of Cincinnati, , Cincinnati, Ohio
Research - hamilsm@ucmail.uc.edu