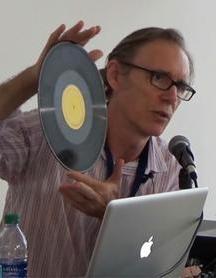 Mark Harris
Professor
Daa Addition
6439
DAAP School of Art - 0016
Mark Harris is an artist, writer, and curator.

Recent exhibitions include 'Morning Star', Country Club Gallery, Cincinnati (2010), 'London Open', Whitechapel Gallery, London, 2012), 'High Times', Wellcome Collection, London, (2011), 'Mao Songs', Baltimore Contemporary Museum (2011), 'Dial Collect' at SOMArts, San Francisco (2013), 'Sparrow Come Back Home', Delaware Center for the Contemporary Arts (2014), Cherry & Lucic,Portland, OR, (2015), Contemporary Arts Center, Cincinnati (2015). He has been performing his 'Bad Music Seminars' at various venues in London and America from 2014-15, and has upcoming exhibitions in 2016 at Root Division, San Francisco, and ICA, London.

In 2009 he received a Warhol Foundation/Creative Capital Art Writers Grant. Published essays include 'Pipilotti Rist's Music' (2009), for the Contemporary Arts Museum, Houston; 'Chelsea Hotel, March 14, 2008' (2009), on Marcia Farquhar's performance work; 'The City Sings' (2008), on Heather Phillipson's video work; 'A Local Culture: tradition and risk in Cincinnati', (2011), Philadelphia Academy of Fine Art; 'Marcia Hafif: Glaze Paintings' (2011); he contributed an essay to West of Center: Art and The Counterculture Experiment in America, 1965-1977, University of Minnesota Press (2011); "Theresa Chong' (2013), Holly Johnson Gallery, Dallas; 'Cinema, Studio, Tools' (2014), Event Media Projects Ltd.; 'Mighty Sparrow's Calypsos' (2015), Delaware Center for Contemporary Arts. He has also been a reviewer to Art Monthly and Artforum.com.
Grant: #Nam June Paik Investigators:Harris, Mark 01-01-2009 -08-01-2011 Getty Foundation Nam June Paik Sculpture Conservation Role:PI $75,000.00 Closed Level:Private Non-Profit
Grant: #R40750 Investigators:Bicknaver, Britni; Harris, Mark; Trusty, Susan 07-01-2019 -12-31-2020 UC's AHSS Faculty Research Summer Stipend Program Songs the Plants Taught Us Role:PI $9,667.98 Active Level:Internal UC