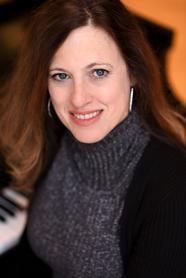 Lisa Sarah Hasson
Instructor - Adjunct
Corbett Cntr Perform Arts
CCM TAPAA - 0003
Opera coach, chorus master and young artist program director, Lisa Sarah Hasson has garnered wide ranging experience and expertise working for opera companies and universities throughout the United States. In 2004, Ms. Hasson began a long and successful career with the Des Moines Metro Opera. In 2007 she became what is now the Irene Graether Director of of the Apprentice Artist Program and Chorus Master. She has prepared well over 40 productions with the company, to great national and international critical acclaim. In 2022, the festival celebrated its fiftieth anniversary, with one of the offerings being the Gershwins' Porgy and Bess. James Sohre of Opera Today enthusiastically wrote: Lisa Hasson's polished choral forces were simply awesome. Every year she works closely with general director Michael Egel, and the artistic staff to audition and cast the 40 members of the apprentice artist program in choruses, comprimario roles, mainstage covers and opera scenes. Chosen from national auditions, this prestigious training program will celebrate its 50th anniversary in 2024.
A member of the Kentucky Opera music staff since 2008, the following year Ms. Hasson was made principal coach and music director of company's Sanford Studio Artist Program: a high level training program for emerging artists selected from national auditions. In 2011, Ms. Hasson was appointed Chorus Master of the Kentucky Opera. In this role she has prepared close to 30 productions with the company. The reputation of the ensemble as a high quality regional chorus has grown exponentially under her leadership. She actively recruits singers from the universities and conservatoires around Louisville, as well as employing many professional singers in the region. During her tenure, she has worked closely with general directors David Roth, Ian Derrer and Barbara Lynne Jamison. In recognition of her work with the company, she was named a Kentucky Colonel, the highest honor awarded by the Commonwealth.
In 2016 and 2017 she was a guest chorus master for the Atlanta Opera. A review of Turandot from the Atlanta Journal-Constitution stated, " the Atlanta Opera Chorus is up to the task, producing a lush sound and dramatic intensity under the strong direction of guest chorus master Lisa Hasson".
Since the fall of 2017, she has been on the opera faculty at the Cincinnati College-Conservatory of Music. She works closely with the first year masters singers in Opera Workshop, and coaches singers pursuing masters, doctorates and artist diplomas. Additionally, she prepares the mainstage season along with
members of the rest of the opera faculty. In the spring of 2023, she was principal coach for Opera Fusion: New Works Robeson in Moscow. Prior to her time at CCM, she was adjunct opera faculty at the University of Miami (OH) from 2013-2017. She is a regular member of Opera America's Performer Development Forum as well as a judge for the Metropolitan Opera's Laffont Competition.
From 2001 to 2006 Ms. Hasson served on the music staff of the Sarasota Opera. During that time, she assisted guest conductors such as Yannick Nézet-Séguin and Valery Ryvkin, as well as the artistic director, Victor DeRenzi. Her many duties included preparing principals and covers, playing rehearsals and concerts, and various orchestral and backstage tasks. Early in her career she was a guest at the Cincinnati Opera, Indianapolis Opera, Dayton Opera, Opera North, Opera Nevada, Utah Festival Opera, Berkshire Opera, Opera Birmingham, Knoxville Opera, and Ash-Lawn Highland Summer Festival. From 2001 to 2003 she was the music director for Opera Theatre of St. Louis' winter Artists in Residence program. She has been a guest coach and given masterclasses at FGO, the University of Kentucky, McGill University,  and others.