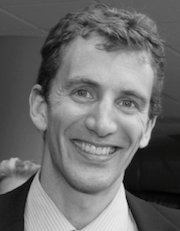 Jason C. Heikenfeld
Professor
VP of Operations, UC Office of Innovation
Rhodes Hall
CEAS - Elec Eng & Computer Science - 0030
More info: www.noveldevicelab.com / www.eccrine.com / www.uc1819.com

See Prof. Heikenfeld in a 2015 UC Faces Video.
Ph.D: University of Cincinnati 2001 (Electrical Engineering)
B.S.E.E. with Minors in Photonics and in Physics: University of Cincinnati 1998 (Electrical Engineering)
Research and Practice Interests
Wearable and flexible electronics, rapid prototyping, electronic materials, electrowetting, biosensors, microfluidics, and optics.
Grant: #CBET-2125056 Investigators:Heikenfeld, Jason 07-01-2021 -06-30-2023 National Science Foundation EAGER: Demonstrating the Physics of Novel Solution-Phase Electrochemcial Aptamer Sensors Role:PI $250,999.00 Awarded Level:Federal
Grant: #013607 / IIP-2052219 Investigators:Heikenfeld, Jason 02-15-2021 -10-31-2021 MFB Fertility, Inc. Development of an ovulation biosensor to increase conception rates in the US Role:PI 65000.00 Active Level:Industry
Grant: #FA9550-20-1-0117 Investigators:Heikenfeld, Jason; Zhang, Tongli 08-15-2020 -08-14-2023 Air Force Office of Scientific Research In-Vivo Validation of Analyte Partitioning Mechanisms for Peripheral Biochemical Monitoring Role:PI $289,771.00 Awarded Level:Federal
Grant: #ECCS-2025720 Investigators:Heikenfeld, Jason 08-15-2020 -07-31-2023 National Science Foundation Biosensing Systems for Individualized Pharmacokinetics and Improved Drug Efficacy and Safety Role:PI $105,260.00 Awarded Level:Federal
Grant: #2020 NDSEG Fellowship Program Investigators:Heikenfeld, Jason 08-01-2020 -07-31-2021 Department of Defense Department of Defense (DoD) National Defense Science and Engineering Graduate (NDSEG) Fellowship Program Role:PI $.00 Awarded Level:Federal
Grant: #KK2111 / N00014-20-1-2764 Investigators:Heikenfeld, Jason 07-20-2020 -07-19-2023 Office of Naval Research A wearable platform supporting high-frequency, in-vivo molecular measurements Role:PI $200,000.00 Awarded Level:Federal
Grant: #2020 PM Research Agreement Investigators:Heikenfeld, Jason 07-01-2020 -11-30-2020 Philip Morris International Sweat Cortisol Sensor Role:PI $45,539.00 Active Level:Industry
Grant: #2020 Facility Use Agreement Investigators:Heikenfeld, Jason 07-01-2020 -06-30-2021 Adroit R&D, LLC FY2021 Facility Use Agreement with Adroit R&D, LLC Role:PI $4,494.00 Awarded Level:Industry
Grant: #012686 ISRA_Diamond Foun Investigators:Heikenfeld, Jason; White, Ryan 02-01-2020 -04-30-2020 Diamond Foundry, Inc. Diamond Electrode Biosensors Role:PI $37,000.00 Awarded Level:Industry
Grant: #Facility Use Agreement Investigators:Heikenfeld, Jason 11-01-2019 -10-31-2020 Eccrine Systems, Inc. Facility Use Agreement with Eccrine Systems, Inc. Role:PI $3,501.00 Awarded Level:Industry
Grant: #2019 Facility Use Agreement Investigators:Heikenfeld, Jason 07-01-2019 -06-30-2020 Adroit R&D, LLC Facility Use Agreement for Adroit R&D, LLC Role:PI $3,501.00 Active Level:Industry
Grant: #SOCHE RH1-UC-19-4 (ODHE) Investigators:Heikenfeld, Jason 06-01-2019 -05-31-2020 Ohio Department of Higher Education Breakthrough biosensing capability for sweat biosensing enabled by hydrophobic membrane encapsulation Role:PI $52,259.00 Awarded Level:State of Ohio
Grant: #S-977-07B-003 / FA8650-14-D-6516; Task FA8650-18-F-6926 (TO-07) Investigators:Heikenfeld, Jason 05-21-2019 -11-22-2019 Air Force Research Laboratory Development of Biofluid Fatigue Sensors Role:PI $38,000.00 Awarded Level:Federal
Grant: #UES Teaming Agreement Investigators:Heikenfeld, Jason 03-01-2019 -02-29-2020 UES, Inc. Teaming Agreement Role:PI $.00 Active Level:Industry
Grant: #TECG20190160 TVSF Phase I (Round 17) Investigators:Heikenfeld, Jason; Hoffman, Grant 11-18-2018 -11-30-2020 Ohio Development Services Agency University of Cincinnati TVSF Phase 1 Role:Collaborator $500,000.00 Awarded Level:State of Ohio
Grant: #Kroger_UC Ofc of Innovation_Master Svcs Agmt Investigators:Heikenfeld, Jason 08-13-2018 -08-12-2023 Kroger Company Kroger Master Sponsored Agreement Role:PI $.00 Active Level:Industry
Grant: #2018 Coloplast FUA Investigators:Heikenfeld, Jason 08-06-2018 -09-01-2018 Coloplast Facility Use Agreement (FUA) with Coloplast A/S Role:PI $1,778.00 Awarded Level:Industry
Grant: #S-977-022-003 / FA8650-14-D-6516 Task 0002 Investigators:Heikenfeld, Jason 05-28-2018 -11-21-2018 Air Force Research Laboratory Physiological Marker Sensing Materials and Devices Role:PI $38,000.00 Active Level:Federal
Grant: #2018 Collaboration Agreement Investigators:Heikenfeld, Jason 05-01-2018 -12-31-2018 Eccrine Systems, Inc. ISF Sensing Discovery Project Role:PI $38,756.00 Active Level:Industry
Grant: #RX23-UC-15-3-AFRL Investigators:Heikenfeld, Jason 06-16-2017 -06-15-2018 Air Force Research Laboratory Organic Materials for Robust Electronic Interfaces with Gallium Liquid Metal Alloys Role:PI $2,778.00 Active Level:Federal
Grant: #010818 Adroit FUA Investigators:Heikenfeld, Jason 03-01-2017 -02-28-2018 Adroit R&D, LLC Facility Use Agreement for University of Cincinnati's Novel Devices Laboratory Role:PI $1,779.00 Active Level:Industry
Grant: #Eccrine Systems UC FUA Investigators:Heikenfeld, Jason 01-01-2017 -12-31-2017 Eccrine Systems, Inc. Facility Use Agreement for University of Cincinnati's Novel Devices Laboratory Role:PI $3,557.00 Active Level:Industry
Grant: #Sub 200 / FA8650-16-C-6760 Investigators:Heikenfeld, Jason 01-01-2017 -11-02-2018 Air Force Research Laboratory HPS BAA Phase II Sweat Biosensing Research Role:PI $344,225.00 Active Level:Federal
Grant: #WSU 670364-1 sub WSARC-1077-700 sub ODHE/OFRN Investigators:Heikenfeld, Jason; Kasting, Gerald 09-16-2016 -09-18-2018 Ohio Department of Higher Education Sweat Biosensing Role:PI $516,867.00 Active Level:State of Ohio
Grant: #ECCS-1608275 Investigators:Gaillard, Trudy; Heikenfeld, Jason; Kasting, Gerald 07-01-2016 -06-30-2019 National Science Foundation Chronologically Correlated Sweat Biosensing Role:PI $375,000.00 Awarded Level:Federal
Grant: #NCRADA-NSWCCD-16-186 Investigators:Heikenfeld, Jason 06-15-2016 -06-14-2017 Naval Surface Warfare Center APPLICATION OF ARRAYED ELECTROWETTING PRISMS AND SWITCHABLE RETRO-REFLECTORS Role:PI $.00 Active Level:Federal
Grant: #Sub 100 / AFRL FA 8650-15-C-6625 Investigators:Beyette, Fred; Heikenfeld, Jason 12-04-2015 -09-21-2017 Air Force Research Laboratory Research and Development of a Gen 3 Sweat Sensing Patch: Sweat Stimulation, Impedance Spectroscopy Sensors, Impedance Spectroscopy Electronics Role:PI $479,808.00 Awarded Level:Federal
Grant: #SRA / Pre-award 009965 Investigators:Heikenfeld, Jason 09-01-2015 -12-03-2015 Eccrine Systems, Inc. Research and Development of a Gen 3 Sweat Sensing Patch: Sweat Stimulation, Impedance Spectroscopy Sensors, Impedance Spectroscopy Electronics Role:PI $11,376.50 Active Level:Industry
Grant: #S-926-013-004 / FA8650-11-D-5801 Investigators:Heikenfeld, Jason 06-16-2015 -09-30-2016 Air Force Research Laboratory TOPS IV ? Effort BH, Optical Interaction with Materials Role:PI $47,200.00 Awarded Level:Federal
Grant: #DAGSI # RX23-UC-15-3 Investigators:Heikenfeld, Jason 06-16-2015 -06-15-2016 Air Force Research Laboratory Organic Materials for Robust Electronic Interfaces with Gallium Liquid Metal Alloys Role:PI $51,000.00 Active Level:Federal
Grant: #NCRADA -NSWCCD-12-143 Investigators:Heikenfeld, Jason 10-17-2014 -10-16-2015 Department of the Navy APPLICATION OF ARRAYED ELECTROWETTING PRISMS AND SWITCHABLE RETRO-REFLECTORS Role:PI $.00 Active Level:Federal
Grant: #UES S-875-040-014 / AFRL FA8650-09-D-5037 0004 Investigators:Heikenfeld, Jason; Mast, David 05-06-2014 -08-05-2015 Air Force Research Laboratory Advanced Liquid Metal Reconfiguration Materials, Devices, and Sub-Systems Role:PI $200,000.00 Awarded Level:Federal
Grant: #Subaward #14-008053-B00 Investigators:Heikenfeld, Jason 12-29-2013 -12-28-2014 Nano-Bio Manufacturing Consortium Nano-Bio Manufacturing Consortium 'NBMC Microfluidics and Sensing Support - Specifically for University of Massachusetts Amherst' Role:PI $50,000.00 Active Level:Private Non-Profit
Grant: #Std Industry Sponsored Research Agreement Investigators:Heikenfeld, Jason 10-01-2013 -06-30-2014 Sun Chemical Corporation Inks for Electronic Optical Shutters Role:PI $15,000.00 Awarded Level:Industry
Grant: #ECCS-1347725 Investigators:Heikenfeld, Jason 09-01-2013 -08-31-2015 National Science Foundation EAGER: Sweat, Sense, and Signal (S3) - Demonstration of fM to pM Electrical Sensing of BioMarkers in Sweat Role:PI $160,000.00 Awarded Level:Federal
Grant: #Heikenfeld - MOU Investigators:Heikenfeld, Jason 04-18-2013 -04-17-2014 FlexTech Alliance Nano-Bio Manufacturing Consortium (NBMC) Role:PI $.00 Active Level:Other
Grant: #S-923-401-003 \ FA8650-10-C-6152 Investigators:Heikenfeld, Jason 02-01-2013 -01-31-2014 Department of the Air Force Sweat Collecting Systems and Radio-frequency identification Patch Integration Role:PI $79,717.00 Active Level:Federal
Grant: #APL Contract No. 110960 Investigators:Heikenfeld, Jason 11-01-2012 -08-31-2013 Johns Hopkins University Applied Physics Laboratory Electrofluidic Energy Harvesting Role:PI $15,000.00 Active Level:Private Non-Profit
Grant: #Material Evaluation Agreement Investigators:Heikenfeld, Jason 11-01-2012 -04-30-2013 Industrial Technology Research Institute International, Inc. Electrowetting Materials and Displays Role:PI $6,400.00 Active Level:Foreign Other
Grant: #ECCS-1231668 Investigators:Heikenfeld, Jason 10-01-2012 -09-30-2015 National Science Foundation GOALI: Bi-Primary Electrokinetic Displays - Electronic Paper with Color Performance Approaching Printed Media Role:PI $357,526.00 Active Level:Federal
Grant: #109900 \ W15P7T-12-D-CT01 Investigators:Heikenfeld, Jason 09-01-2012 -09-30-2013 Department of the Army Research Laboratory Advanced Functionality and Technology Development of Display Technology Role:PI $48,847.00 Active Level:Federal
Grant: #PO# KM3471260E Amend 0001 Investigators:Heikenfeld, Jason 09-01-2012 -12-12-2012 Lockheed Martin Aeronautics Company Conformal Ink via Vacuum Press Role:PI $80,429.00 Closed Level:Industry
Grant: #226-6273-NDL \ FA8650-12-C-6273 Investigators:Beyette, Fred; Choi, Seokheun; Heikenfeld, Jason; Papautsky, Ian; Wilsey, Philip 06-01-2012 -06-10-2013 Air Force Research Laboratory Arrayed Volatile Organic Sensors: System-Level Proof of Concept Role:PI $51,500.00 Active Level:Federal
Grant: #Sub Cont 875-060-020 \ FA8650-09-D-5037/6 Investigators:Heikenfeld, Jason 05-01-2012 -10-31-2012 Air Force Research Laboratory Fully Electromagnetically Adaptive Surfaces and Apertures (FEASA) Role:PI $80,000.00 Closed Level:Federal
Grant: #PO 106864 Investigators:Heikenfeld, Jason 04-02-2012 -08-31-2012 Johns Hopkins University Applied Physics Laboratory Electrofluidic Skins Role:PI $2,000.00 Closed Level:Private Non-Profit
Grant: #Prime IIP-1143160 Investigators:Heikenfeld, Jason 01-01-2012 -06-30-2012 National Science Foundation Chemically Vapor Deposited Hydrophobic Dielectric Coatings for Electrowetting Devices Role:PI $36,760.00 Active Level:Federal
Grant: #982633 Investigators:Heikenfeld, Jason 05-04-2011 -02-01-2013 Other Federal Electrofluidic Films Research Role:PI $105,000.00 Active Level:Federal
Grant: #979770 Investigators:Heikenfeld, Jason 02-16-2011 -08-31-2011 Johns Hopkins University Applied Physics Laboratory Electrofluidic Skins Role:PI $75,000.00 Closed Level:Private Non-Profit
Grant: #S-875-130-002 \ FA8650-09-D-5037 Investigators:Heikenfeld, Jason 10-14-2010 -10-13-2013 Department of the Air Force Bimimetic Electrofluidic Chromatophores for Adaptive Concealment Role:PI $402,772.00 Active Level:Federal
Grant: #TECH 11-016 Investigators:Ahn, Chong; Heikenfeld, Jason; Iyer, Suri; Papautsky, Ian; Son, Sang Young; Steckl, Andrew 07-19-2010 -06-30-2014 Ohio Department of Development The Ohio Center for Microfluidic Innovation Role:PI $2,956,675.00 Active Level:State of Ohio
Grant: #ECCS-1001141 Investigators:Heikenfeld, Jason; Papautsky, Ian 07-01-2010 -06-30-2014 National Science Foundation Collaborative Research: Guided Electrowetting for Agile Channel Formation in Reconfigurable Lab-on-a-Chip Role:PI $269,978.00 Active Level:Federal
Grant: #SRS 006807 Investigators:Heikenfeld, Jason 04-01-2010 -03-31-2011 LG Display Co., Ltd. Light Emitting/Transmitting Electrowetting Displays Role:PI $90,000.00 Active Level:Foreign Industry
Grant: #966340 Investigators:Heikenfeld, Jason 02-12-2010 -08-31-2010 Johns Hopkins University Electrofluidic Skins Role:PI $74,938.00 Closed Level:Institution of Higher Education
Grant: #W911NF-09-2-0034 Investigators:Heikenfeld, Jason 09-29-2009 -09-28-2012 Department of the Army Research Laboratory Flexible Electrofluidic Chromatophore Laminates and Displays Role:PI $1,502,000.00 Closed Level:Federal
Grant: #OBR AF925 Investigators:Ahn, Chong; Boyd, Joseph; Halsall, H Brian; Heikenfeld, Jason; Heineman, William; Jackson, Howard; Kogan, Andrei; Mantei, Thomas; Papautsky, Ian; Schaefer, Dale; Schulz, Mark; Shanov, Vesselin; Smith, Leigh; Yarrison-Rice, Jan 09-01-2009 -08-31-2010 Ohio Board of Regents MRI: Acquisition of a Nanoscale Imprint Lithography System Role:Collaborator $180,234.00 Closed Level:State of Ohio
Grant: #ECCS-0922682 Investigators:Ahn, Chong; Boyd, Joseph; Halsall, H Brian; Heikenfeld, Jason; Heineman, William; Jackson, Howard; Kogan, Andrei; Mantei, Thomas; Papautsky, Ian; Schaefer, Dale; Schulz, Mark; Shanov, Vesselin; Smith, Leigh; Yarrison-Rice, Jan 09-01-2009 -08-31-2010 National Science Foundation MRI: Acquisition of a Nanoscale Imprint Lithography System Role:Collaborator $360,468.00 Closed Level:Federal
Grant: #SRS 006388 Investigators:Heikenfeld, Jason 09-01-2009 -10-31-2009 Procter & Gamble Company Development of a Prototype that utilizes Electrowetting for Controlled Pumping of Fragrance Fluids Role:PI $4,000.00 Closed Level:Industry
Grant: #09-S568-077-01-C1 / AFRL FA8650-05-D-5807 Investigators:Heikenfeld, Jason 08-03-2009 -01-09-2013 Department of the Air Force Universal Retroflector Role:PI $401,318.00 Active Level:Federal
Grant: #USAF-5408-25-SC-0003 Investigators:Heikenfeld, Jason 05-12-2008 -07-14-2009 Air Force Office of Scientific Research Biomaterials for Advanced Electrofluidic Devices Role:PI $144,999.00 Closed Level:Federal
Grant: #SRS 005653 Investigators:Heikenfeld, Jason 05-01-2008 -07-01-2009 Polymer Vision Ltd. Rollable Electrofluidic Displays Role:PI $111,465.00 Closed Level:Foreign Industry
Grant: #SRS 005252 Investigators:Heikenfeld, Jason 11-01-2007 -05-30-2012 SeeReal Technologies S.A. Electrowetting Microprism Arrays for Wide View Angel 3D Displays Role:PI $173,727.00 Closed Level:Foreign Industry
Grant: #CBET-0729250 Investigators:Heikenfeld, Jason 09-01-2007 -02-28-2011 National Science Foundation Collaborative Research: Electrofluidic Carbon Nanofiber Arrays for Multi-Dimensional Separations Role:PI $113,509.00 Closed Level:Federal
Grant: #ECCS-0640964 Investigators:Heikenfeld, Jason 07-01-2007 -06-30-2012 National Science Foundation CAREER: Electrowetting Microprisms from Agile Fresnel Optics to Wide-Angle Phased Arrays Role:PI $400,000.00 Closed Level:Federal
Grant: #UDRI RSC 07028-ODOD W944SR-06-C-0043 Investigators:Cuppoletti, John; Heikenfeld, Jason; Heineman, William; Steckl, Andrew 02-26-2007 -02-26-2014 Ohio Department of Development Institute for Development Commercialization of Advanced Sensor Role:Collaborator $1,000,000.00 Active Level:State of Ohio
Grant: #SRS 05122 Investigators:Heikenfeld, Jason 01-02-2007 -12-31-2007 Prime View International High Transmissivity Electrowetting Display Module Role:PI $76,799.00 Active Level:Foreign Industry
Grant: #FA95500710073 Investigators:Heikenfeld, Jason 01-01-2007 -11-30-2009 Air Force Office of Scientific Research Fundamental Understanding of Materials and Operational Issues for Electrowetting Optics in Extreme Environment and High-Accuracy Air Force Application Role:PI $344,882.00 Closed Level:Federal
Grant: #000007 Investigators:Heikenfeld, Jason 09-01-2006 -08-30-2009 Motorola, Incorporated Electrostatic Conformal Color Changing Surfaces Role:PI $87,631.00 Closed Level:Industry
Grant: #SRS 004855 Investigators:Heikenfeld, Jason 07-01-2006 -03-31-2012 Sun Chemical Corporation Dispersed Nanopigments for High Performance Electrowetting Displays Role:PI $301,363.00 Active Level:Industry
Investigators:Heikenfeld, Jason 07-01-2021 -06-30-2022 Adroit R&D, LLC FY2022 Facility Use Agreement for Adroit R&D LLC Role:PI 5250.00 Hold Level:Industry
Peer Reviewed Publications
Heikenfeld J.;Jajack A.;Feldman B.;Granger S.;Gaitonde S.;Begtrup G.;Katchman B. (04-01-2019. ) Accessing analytes in biofluids for peripheral biochemical monitoring.Nature Biotechnology, , 37 (4 ) ,407-419 More Information
Francis J.;Stamper I.;Heikenfeld J.;Gomez E.F. (01-01-2019. ) Digital nanoliter to milliliter flow rate sensor with in vivo demonstration for continuous sweat rat.Lab on a Chip, , 19 (1 ) ,178-185 More Information
Hauke A.;Ehrlich S.;Levine L.;Heikenfeld J. (01-01-2019. ) An Improved Design and Versatile New Lamination Fabrication Method for Twin Electrode Thin Layer Cel.Electroanalysis, , 31 (1 ) ,58-65 More Information
La Count T.;Jajack A.;Heikenfeld J.;Kasting G. (01-01-2019. ) Modeling Glucose Transport From Systemic Circulation to Sweat.Journal of Pharmaceutical Sciences, , 108 (1 ) ,364-371 More Information
Jajack A.;Stamper I.;Gomez E.;Brothers M.;Begtrup G.;Heikenfeld J. (01-01-2019. ) Continuous, quantifiable, and simple osmotic preconcentration and sensing within microfluidic device.PLoS ONE, , 14 (1 ) , More Information
Brothers M.C.;Debrosse M.;Grigsby C.C.;Naik R.R.;Hussain S.M.;Heikenfeld J.;Kim S.S. (01-01-2019. ) Achievements and Challenges for Real-Time Sensing of Analytes in Sweat within Wearable Platforms.Accounts of Chemical Research, , More Information
Jajack A.;Brothers M.;Kasting G.;Heikenfeld J. (07-01-2018. ) Enhancing glucose flux into sweat by increasing paracellular permeability of the sweat gland.PLoS ONE, , 13 (7 ) , More Information
Simmers P.;Yuan Y.;Sonner Z.;Heikenfeld J. (05-01-2018. ) Membrane isolation of repeated-use sweat stimulants for mitigating both direct dermal contact and sw.Biomicrofluidics, , 12 (3 ) , More Information
Simmers P.;Li S.;Kasting G.;Heikenfeld J. (01-01-2018. ) Prolonged and localized sweat stimulation by iontophoretic delivery of the slowly-metabolized cholin.Journal of Dermatological Science, , 89 (1 ) ,40-51 More Information
Twine N.B.;Norton R.M.;Brothers M.C.;Hauke A.;Gomez E.F.;Heikenfeld J. (01-01-2018. ) Open nanofluidic films with rapid transport and no analyte exchange for ultra-low sample volumes.Lab on a Chip, , 18 (18 ) ,2816-2825 More Information
Hauke A.;Simmers P.;Ojha Y.R.;Cameron B.D.;Ballweg R.;Zhang T.;Twine N.;Brothers M.;Gomez E.;Heikenfeld J. (01-01-2018. ) Complete validation of a continuous and blood-correlated sweat biosensing device with integrated swe.Lab on a Chip, , 18 (24 ) ,3750-3759 More Information
Heikenfeld J.;Jajack A.;Rogers J.;Gutruf P.;Tian L.;Pan T.;Li R.;Khine M.;Kim J.;Wang J.;Kim J. (01-01-2018. ) Wearable sensors: Modalities, challenges, and prospects.Lab on a Chip, , 18 (2 ) ,217-248 More Information
Hauke A.;Kumar L.;Kim M.;Pegan J.;Khine M.;Li H.;Plaxco K.;Heikenfeld J. (08-15-2017. ) Superwetting and aptamer functionalized shrink-induced high surface area electrochemical sensors.Biosensors and Bioelectronics, , 94 ,438-442 More Information
Kwuimy C.;Kastner J.;Chen Y.;Heikenfeld J.C. (06-24-2017. ) A first-time flipped classroom experience: Measure of outcomes and challenges .ASEE Annual Conference and Exposition, Conference Proceedings, , 2017-June ,
Ventura S.;Heikenfeld J.;Brooks T.;Esfandiari L.;Boyce S.;Park Y.;Kasting G. (04-01-2017. ) Cortisol extraction through human skin by reverse iontophoresis.Bioelectrochemistry, , 114 ,54-60 More Information
Diebold A.;Watson A.;Holcomb S.;Tabor C.;Mast D.;Dickey M.;Heikenfeld J. (02-01-2017. ) Electrowetting-actuated liquid metal for RF applications.Journal of Micromechanics and Microengineering, , 27 (2 ) , More Information
Sonner Z.;Wilder E.;Gaillard T.;Kasting G.;Heikenfeld J. (01-01-2017. ) Integrated sudomotor axon reflex sweat stimulation for continuous sweat analyte analysis with indivi.Lab on a Chip, , 17 (15 ) ,2550-2560 More Information
Eaker C.B.;Joshipura I.D.;Maxwell L.R.;Heikenfeld J.;Dickey M.D. (01-01-2017. ) Electrowetting without external voltage using paint-on electrodes.Lab on a Chip, , 17 (6 ) ,1069-1075 More Information
Holcomb S.;Brothers M.;Diebold A.;Thatcher W.;Mast D.;Tabor C.;Heikenfeld J. (12-06-2016. ) Oxide-Free Actuation of Gallium Liquid Metal Alloys Enabled by Novel Acidified Siloxane Oils.Langmuir, , 32 (48 ) ,12656-12663 More Information
Heikenfeld J. (06-01-2016. ) Non-invasive Analyte Access and Sensing through Eccrine Sweat: Challenges and Outlook circa 2016.Electroanalysis, , 28 (6 ) ,1242-1249 More Information
Kumar L.;Wang X.;Hagen J.;Naik R.;Papautsky I.;Heikenfeld J. (05-07-2016. ) Label free nano-aptasensor for interleukin-6 in protein-dilute bio fluids such as sweat.Analytical Methods, , 8 (17 ) ,3440-3444 More Information
Schultz P.;Heikenfeld J. (04-01-2016. ) Enhanced optical discrimination system based on switchable retroreflective films.Optical Engineering, , 55 (4 ) , More Information
Heikenfeld J. (01-27-2016. ) Bioanalytical devices: Technological leap for sweat sensing.Nature, , 529 (7587 ) ,475-476 More Information
Heikenfeld J.;Zhou K. (01-01-2016. ) Electrofluidic displays.Handbook of Visual Display Technology, , 2473-2491 More Information
Peng R.;Sonner Z.;Hauke A.;Wilder E.;Kasting J.;Gaillard T.;Swaille D.;Sherman F.;Mao X.;Hagen J.;Murdock R.;Heikenfeld J. (01-01-2016. ) A new oil/membrane approach for integrated sweat sampling and sensing: Sample volumes reduced from ?.Lab on a Chip, , 16 (22 ) ,4415-4423 More Information
Cumby B.;Mast D.;Tabor C.;Dickey M.;Heikenfeld J. (10-01-2015. ) Robust Pressure-Actuated Liquid Metal Devices Showing Reconfigurable Electromagnetic Effects at GHz .IEEE Transactions on Microwave Theory and Techniques, , 63 (10 ) ,3122-3130 More Information
Hsieh W.;Chen K.;Heikenfeld J. (06-21-2015. ) Sophisticated oil film geometries through incomplete electrical dewetting by feedback control and Fo.Lab on a Chip, , 15 (12 ) ,2615-2624 More Information
Mukherjee S.;Hsieh W.;Smith N.;Goulding M.;Heikenfeld J. (06-10-2015. ) Electrokinetic pixels with biprimary inks for color displays and color-temperature-tunable smart win.Applied Optics, , 54 (17 ) ,5603-5609 More Information
Rose D.;Ratterman M.;Griffin D.;Hou L.;Kelley-Loughnane N.;Naik R.;Hagen J.;Papautsky I.;Heikenfeld J. (06-01-2015. ) Adhesive RFID sensor patch for monitoring of sweat electrolytes.IEEE Transactions on Biomedical Engineering, , 62 (6 ) ,1457-1465 More Information
Russell A.;Hsieh W.;Chen K.;Heikenfeld J. (01-13-2015. ) Experimental and numerical insights into isotropic spreading and deterministic dewetting of dielectr.Langmuir, , 31 (1 ) ,637-642 More Information
Subbian V.;Bucks G.;Heikenfeld J. (01-01-2015. ) Inverting instruction in a semiconductor devices course: A case study of a flipped electrical engine .ASEE Annual Conference and Exposition, Conference Proceedings, , 122nd ASEE Annual Conference and Exposition: Makin (122nd ASEE Annual Conference and Exposition: Makin ) ,
Sonner Z.;Wilder E.;Heikenfeld J.;Kasting G.;Beyette F.;Swaile D.;Sherman F.;Joyce J.;Hagen J.;Kelley-Loughnane N.;Naik R. (01-01-2015. ) The microfluidics of the eccrine sweat gland, including biomarker partitioning, transport, and biose.Biomicrofluidics, , 9 (3 ) , More Information
Heikenfeld J. (11-01-2014. ) Let them see you sweat.IEEE Spectrum, , 51 (11 ) ,46-63 More Information
Schultz A.;Papautsky I.;Heikenfeld J. (05-13-2014. ) Investigation of laplace barriers for arrayed electrowetting lab-on-a-chip.Langmuir, , 30 (18 ) ,5349-5356 More Information
Russell A.;Kreit E.;Heikenfeld J. (05-13-2014. ) Scaling dielectrowetting optical shutters to higher resolution: Microfluidic and optical implication.Langmuir, , 30 (18 ) ,5357-5362 More Information
Zhao R.;Cumby B.;Russell A.;Heikenfeld J. (01-06-2014. ) Erratum: Large area and low power dielectrowetting optical shutter with local deterministic fluid fi.Applied Physics Letters, , 104 (1 ) , More Information
Heikenfeld J. (01-01-2014. ) On the frontlines of innovation: Inspiration for "skin-like" displays .Information Display, , 30 (1 ) ,
Cumby B.;Heikenfeld J.;Mast D.;Tabor C.;Dickey M. (01-01-2014. ) Robust pressure-actuated liquid metal devices showing reconfigurable electromagnetic effects at GHz .IEEE Antennas and Propagation Society, AP-S International Symposium (Digest), , 553-554 More Information
Mukheriee S.;Heikenfeld J.;Smith N.;Goulding M.;Topping C.;Norman S.;Liu Q.;Kramer L. (01-01-2014. ) Biprimary dual-particle electrokinetic displays with 70% reflectance and greatly improved color satu .21st International Display Workshops 2014, IDW 2014, , 2 ,1150-1153
Mukherjee S.;Heikenfeld J.;Smith N.;Goulding M.;Topping C.;Norman S.;Liu Q.;Kramer L. (01-01-2014. ) The biprimary color system for E-Paper: Doubling color performance compared to RGBW.Digest of Technical Papers - SID International Symposium, , 45 (1 ) ,869-872 More Information
Mukherjee S.;Smith N.;Goulding M.;Topping C.;Norman S.;Liu Q.;Kramer L.;Kularatne S.;Heikenfeld J. (01-01-2014. ) A first demonstration and analysis of the biprimary color system for reflective displays.Journal of the Society for Information Display, , 22 (2 ) ,106-114 More Information
Rose D.;Ratterman M.;Griffin D.;Hou L.;Kelley-Loughnane N.;Naik R.;Hagen J.;Papautsky I.;Heikenfeld J. (01-01-2014. ) System-level design of an RFID sweat electrolyte sensor patch.2014 36th Annual International Conference of the IEEE Engineering in Medicine and Biology Society, EMBC 2014, , 4038-4041 More Information
Zhao R.;Cumby B.;Russell A.;Heikenfeld J. (11-25-2013. ) Large area and low power dielectrowetting optical shutter with local deterministic fluid film breaku.Applied Physics Letters, , 103 (22 ) , More Information
Hagedon M.;Heikenfeld J. (11-01-2013. ) A hybrid of microreplication and mask-less photolithography for creating dual porosity and textured .Journal of Micromechanics and Microengineering, , 23 (11 ) , More Information
Heikenfeld J.C. (09-01-2013. ) E-paper: A new product line from e ink corp. Topped the surprises at this year's show .Information Display, , 29 (5 ) ,28-30
Schultz A.;Chevalliot S.;Kuiper S.;Heikenfeld J. (05-01-2013. ) Detailed analysis of defect reduction in electrowetting dielectrics through a two-layer 'barrier' ap.Thin Solid Films, , 534 ,348-355 More Information
Heikenfeld J.C. (03-01-2013. ) Flexing and stretching .Information Display, , 29 (2 ) ,30-34
Kreit E.;Mäthger L.;Hanlon R.;Dennis P.;Naik R.;Forsythe E.;Heikenfeld J. (01-06-2013. ) Biological versus electronic adaptive coloration: How can one inform the other?.Journal of the Royal Society Interface, , 10 (78 ) , More Information
Zhao R.;Hua X.;Liang Z.;Heikenfeld J. (01-01-2013. ) Dielectrowetting-based manipulation of droplet and application in light valve.Proceedings of SPIE - The International Society for Optical Engineering, , 9044 , More Information
Hagedon M.;Heikenfeld J.;Dean K.;Kreit E.;Zhou K.;Rudolph J. (01-01-2013. ) Electrofluidic imaging films for brighter, faster, and lower-cost e-paper.Digest of Technical Papers - SID International Symposium, , 44 (1 ) ,111-114 More Information
Hou L.;Hagen J.;Wang X.;Papautsky I.;Naik R.;Kelley-Loughnane N.;Heikenfeld J. (01-01-2013. ) Artificial microfluidic skin for in vitro perspiration simulation and testing.Lab on a Chip, , 13 (10 ) ,1868-1875 More Information
Kreit E.;Mognetti B.;Yeomans J.;Heikenfeld J. (12-21-2012. ) Erratum: Partial-post Laplace barriers for virtual confinement, stable displacement, and >5 c.Lab on a Chip, , 12 (24 ) ,5279 More Information
Banerjee A.;Liu Y.;Heikenfeld J.;Papautsky I. (12-21-2012. ) Deterministic splitting of fluid volumes in electrowetting microfluidics.Lab on a Chip, , 12 (24 ) ,5138-5141 More Information
Hagedon M.;Yang S.;Russell A.;Heikenfeld J. (11-26-2012. ) Bright e-Paper by transport of ink through a white electrofluidic imaging film.Nature Communications, , 3 , More Information
Cumby B.;Hayes G.;Dickey M.;Justice R.;Tabor C.;Heikenfeld J. (10-22-2012. ) Reconfigurable liquid metal circuits by Laplace pressure shaping.Applied Physics Letters, , 101 (17 ) , More Information
Chevalliot S.;Kuiper S.;Heikenfeld J. (09-01-2012. ) Experimental validation of the invariance of electrowetting contact angle saturation.Journal of Adhesion Science and Technology, , 26 (12-17 ) ,1909-1930 More Information
Rebello K.J.;Maranchi J.P.;Tiffany J.E.;Brown C.Y.;Maisano A.J.;Hagedon M.A.;Heikenfeld J.C. (07-23-2012. ) Electrofluidic systems for contrast management.Proceedings of SPIE - The International Society for Optical Engineering, , 8373 , More Information
Heikenfeld J.C. (07-01-2012. ) Display week 2012 review: E-paper .Information Display, , 28 (7-8 ) ,6-9
Schultz P.;Cumby B.;Heikenfeld J. (06-10-2012. ) Investigation of five types of switchable retroreflector films for enhanced visible and infrared con.Applied Optics, , 51 (17 ) ,3744-3754 More Information
Banerjee A.;Kreit E.;Liu Y.;Heikenfeld J.;Papautsky I. (02-21-2012. ) Reconfigurable virtual electrowetting channels.Lab on a Chip, , 12 (4 ) ,758-764 More Information
Heikenfeld J. (02-01-2012. ) Tablets and ereaders: Fertile ground for display innovations .Information Display, , 28 (2-3 ) ,
Noh J.;Noh J.;Kreit E.;Heikenfeld J.;Rack P. (01-21-2012. ) Toward active-matrix lab-on-a-chip: Programmable electrofluidic control enabled by arrayed oxide thi.Lab on a Chip, , 12 (2 ) ,353-360 More Information
Zhou K.;Heikenfeld J. (01-01-2012. ) Electrofluidic displays.Handbook of Visual Display Technology, , 3 ,1761-1774 More Information
Banerjee A.;Liu Y.;Heikenfeld J.;Papautsky I. (01-01-2012. ) Deterministic spotting of electrowetting microchannels .Proceedings of the 16th International Conference on Miniaturized Systems for Chemistry and Life Sciences, MicroTAS 2012, , 335-337
Kreit E.;Mognetti B.;Yeomans J.;Heikenfeld J. (12-21-2011. ) Partial-post laplace barriers for virtual confinement, stable displacement, and >5 cm s.Lab on a Chip, , 11 (24 ) ,4221-4227 More Information
Chevalliot S.;Heikenfeld J. (12-12-2011. ) Electrowetting optics and displays: Materials implications on performance and reliability.International Conference on Optical MEMS and Nanophotonics, , 45-46 More Information
Heikenfeld J. (12-01-2011. ) Prospects for emerging e-Paper technologies, and a new breakthrough in electrofluidic displays .Proceedings of the International Display Workshops, , 3 ,1921-1924
Chevalliot S.;Heikenfeld J. (12-01-2011. ) The invariance of electrowetting contact angle saturation to polymer, fluid, and interfacial materia.Materials Research Society Symposium Proceedings, , 1346 ,10-13 More Information
Banerjee A.;Kreit E.;Heikenfeld J.;Papautsky I. (12-01-2011. ) Programmable microfluidics in virtual electrowetting channels .15th International Conference on Miniaturized Systems for Chemistry and Life Sciences 2011, MicroTAS 2011, , 1 ,242-244
Dean K.;Zhou K.;Smith S.;Brollier B.;Atkuri H.;Rudolph J.;Yang S.;Chevalliot S.;Kreit E.;Heikenfeld J. (12-01-2011. ) Electrofluidic displays: Multi-stability and display technology progress .49th Annual SID Symposium, Seminar, and Exhibition 2011, Display Week 2011, , 1 ,111-113
Chevalliot S.;Heikenfeld J.;Clapp L.;Milarcik A.;Vilner S. (10-31-2011. ) Analysis of nonaqueous electrowetting fluids for displays.IEEE/OSA Journal of Display Technology, , 7 (12 ) ,649-656 More Information
Schultz A.;Heikenfeld J.;Kang H.;Cheng W. (09-30-2011. ) 1000:1 Contrast ratio transmissive electrowetting displays.IEEE/OSA Journal of Display Technology, , 7 (11 ) ,583-585 More Information
Yang S.;Heikenfeld J.;Kreit E.;Hagedon M.;Dean K.;Zhou K.;Smith S.;Rudolph J. (09-01-2011. ) Electrofluidic displays: Fundamental platforms and unique performance attributes.Journal of the Society for Information Display, , 19 (9 ) ,608-613 More Information
Yang S.;Hagedon M.;Heikenfeld J. (08-05-2011. ) Light out-coupling for reflective displays: Simple geometrical model, MATLAB simulation, and experim.IEEE/OSA Journal of Display Technology, , 7 (9 ) ,473-477 More Information
Heikenfeld J.C. (07-01-2011. ) Display week 2011 review: E-Paper .Information Display, , 27 (7-8 ) ,12-14
Banerjee A.;Kreit E.;Dhindsa M.;Heikenfeld J.;Papautsky I. (06-09-2011. ) A new electrowetting lab-on-a-chip platform based on programmable and virtual "wall-less" channels.Proceedings of SPIE - The International Society for Optical Engineering, , 7929 , More Information
Dean K.A.;Zhou K.;Smith S.;Brollier B.;Atkuri H.;Rudolph J.;Yang S.;Chevalliot S.;Kreit E.;Heikenfeld J. (06-01-2011. ) 10. 2: Electrofluidic displays: Multi-stability and display technology progress .Digest of Technical Papers - SID International Symposium, , 42 1 ,111-113
Dhindsa M.;Heikenfeld J.;Weekamp W.;Kuiper S. (05-03-2011. ) Electrowetting without electrolysis on self-healing dielectrics.Langmuir, , 27 (9 ) ,5665-5670 More Information
Heikenfeld J. (04-11-2011. ) A new Bi-primary color system for doubling the reflectance and colorfulness of e-Paper.Proceedings of SPIE - The International Society for Optical Engineering, , 7956 , More Information
Dhindsa M.;Kuiper S.;Heikenfeld J. (03-01-2011. ) Reliable and low-voltage electrowetting on thin parylene films.Thin Solid Films, , 519 (10 ) ,3346-3351 More Information
Heikenfeld J.;Drzaic P.;Yeo J.;Koch T. (02-01-2011. ) Review paper: A critical review of the present and future prospects for electronic paper.Journal of the Society for Information Display, , 19 (2 ) ,129-156 More Information
Kreit E.;Dhindsa M.;Yang S.;Hagedon M.;Zhou K.;Papautsky I.;Heikenfeld J. (12-07-2010. ) Laplace barriers for electrowetting thresholding and virtual fluid confinement.Langmuir, , 26 (23 ) ,18550-18556 More Information
Heikenfeld J. (12-01-2010. ) e-Paper: Clarifying future R&D needs by a fundamental understanding of the maximum performan.2010 23rd Annual Meeting of the IEEE Photonics Society, PHOTINICS 2010, , 71-72 More Information
Zhou K.;Dean K.;Heikenfeld J. (12-01-2010. ) 33.3: Flexible electrofluidic displays using brilliantly colored pigments .48th Annual SID Symposium, Seminar, and Exhibition 2010, Display Week 2010, , 1 ,484-486
Zhou K.;Yang S.;Kreit E.;Heikenfeld J. (12-01-2010. ) P-111: Distinguished poster: Reliable electrofluidic display pixels without liquid splitting .48th Annual SID Symposium, Seminar, and Exhibition 2010, Display Week 2010, , 3 ,1659-1662
Hagedon M.;Zhou K.;Yang S.;Kreit E.;Heikenfeld J. (12-01-2010. ) Fluid dosing of pigment dispersions in electrofluidic displays.2010 23rd Annual Meeting of the IEEE Photonics Society, PHOTINICS 2010, , 252-253 More Information
Heikenfeld J.;Yang S.;Kreit E.;Hagedon M.;Dean K.;Zhou K.;Smith S.;Brollier B.;Rudolph J. (12-01-2010. ) Electrofluidic displays - First prototypes, a new multi-stable architecture, and pixels without boun .IDW'10 - Proceedings of the 17th International Display Workshops, , 3 ,2133-2135
Yang S.;Zhou K.;Kreit E.;Heikenfeld J. (10-04-2010. ) High reflectivity electrofluidic pixels with zero-power grayscale operation.Applied Physics Letters, , 97 (14 ) , More Information
Hou L.;Heikenfeld J. (08-24-2010. ) Demonstration of a scalable microfabrication process for arrayed electrowetting microprisms.Biennial University/Government/Industry Microelectronics Symposium - Proceedings, , More Information
Yang S.;Kreit E.;Heikenfeld J.;Zhou K. (08-24-2010. ) New demonstration of bistable electrofluidic display pixels.Biennial University/Government/Industry Microelectronics Symposium - Proceedings, , More Information
Yang J.;Dhindsa M.;Heikenfeld J.;Papautsky I.;Kwon S.;Rack P. (08-24-2010. ) Programmable electrowetting channels.Biennial University/Government/Industry Microelectronics Symposium - Proceedings, , More Information
Zhou K.;Dean K.A.;Heikenfeld J. (05-01-2010. ) 33.3: Flexible electrofluidic displays using brilliantly colored pigments .Digest of Technical Papers - SID International Symposium, , 41 1 ,484-486
Zhou K.;Yang S.;Kreit E.;Heikenfeld J. (05-01-2010. ) P-111: Distinguished poster: Reliable electrofluidic display pixels without liquid splitting .Digest of Technical Papers - SID International Symposium, , 41 1 ,1659-1662
Han W.;Haus J.;McManamon P.;Heikenfeld J.;Smith N.;Yang J. (03-15-2010. ) Transmissive beam steering through electrowetting microprism arrays.Optics Communications, , 283 (6 ) ,1174-1181 More Information
Heikenfeld J. (03-01-2010. ) Lite, brite displays.IEEE Spectrum, , 47 (3 ) , More Information
Hou L.;Zhang J.;Smith N.;Yang J.;Heikenfeld J. (01-01-2010. ) A full description of a scalable microfabrication process for arrayed electrowetting microprisms.Journal of Micromechanics and Microengineering, , 20 (1 ) , More Information
Dhindsa M.;Heikenfeld J.;Kwon S.;Park J.;Rack P.;Papautsky I. (01-01-2010. ) Virtual electrowetting channels: Electronic liquid transport with continuous channel functionality.Lab on a Chip, , 10 (7 ) ,832-836 More Information
Kreit E.;Zhou K.;Yang S.;Heikenfeld J.;Dean K.;Howard E.;Johnson M.;Cheng W.;Lo K. (12-01-2009. ) Recent developments in electrowetting displays and research of a new and improved 'electrofluidic' d .2009 International Display Manufacturing Conference, 3D Systems and Applications, and Asia Display, IDMC/3DSA/Asia Display 2009, ,
Smith N.;Hou L.;Zhang J.;Heikenfeld J. (11-01-2009. ) Fabrication and demonstration of electrowetting liquid lens arrays.IEEE/OSA Journal of Display Technology, , 5 (11 ) ,411-413 More Information
Raj B.;Dhindsa M.;Smith N.;Laughlin R.;Heikenfeld J. (10-20-2009. ) Ion and liquid dependent dielectric failure in electrowetting systems.Langmuir, , 25 (20 ) ,12387-12392 More Information
Kilaru M.;Yang J.;Heikenfeld J. (09-28-2009. ) Advanced characterization of electrowetting retroreflectors.Optics Express, , 17 (20 ) ,17563-17569 More Information
Han W.;Haus J.;Mcmanamon P.;Heikenfeld J.;Smith N.;Yang J. (09-09-2009. ) Beam steering performance of electrowetting microprism arrays.Proceedings of SPIE - The International Society for Optical Engineering, , 7339 , More Information
Zhang J.;Van Meter D.;Hou L.;Smith N.;Yang J.;Stalcup A.;Laughlin R.;Heikenfeld J. (09-01-2009. ) Preparation and analysis of 1-chloronaphthalene for highly refractive electrowetting optics.Langmuir, , 25 (17 ) ,10413-10416 More Information
Zhou K.;Heikenfeld J.;Dean K.;Howard E.;Johnson M. (08-12-2009. ) A full description of a simple and scalable fabrication process for electrowetting displays.Journal of Micromechanics and Microengineering, , 19 (6 ) , More Information
McManamon P.F.;Bos P.J.;Escuti M.J.;Heikenfeld J.;Serati S.;Xie H.;Watson E.A. (06-01-2009. ) A review of phased array steering for narrow-band electrooptical systems.Proceedings of the IEEE, , 97 (6 ) ,1078-1096 More Information
Heikenfeld J.;Zhou K.;Kreit E.;Raj B.;Yang S.;Sun B.;Milarcik A.;Clapp L.;Schwartz R. (05-01-2009. ) Electrofluidic displays using Young-Laplace transposition of brilliant pigment dispersions.Nature Photonics, , 3 (5 ) ,292-296 More Information
Park J.;Kwon S.;Jun S.;Mcknight T.;Melechko A.;Simpson M.;Dhindsa M.;Heikenfeld J.;Rack P. (02-10-2009. ) Active-matrix microelectrode arrays integrated with vertically aligned carbon nanofibers.IEEE Electron Device Letters, , 30 (3 ) ,254-257 More Information
Kilaru M.;Cumby B.;Heikenfeld J. (02-09-2009. ) Electrowetting retroreflectors: Scalable and wide-spectrum modulation between corner cube and scatte.Applied Physics Letters, , 94 (4 ) , More Information
Heikenfeld J. (01-01-2009. ) The author responds .Optics and Photonics News, , 20 (4 ) ,6
Heikenfeld J.;Dhindsa M. (01-01-2009. ) Electrowetting on superhydrophobic surfaces: Present status and prospects .Superhydrophobic Surfaces, , 449-464
Heikenfeld J.;Smith N.;Dhindsa M.;Zhou K.;Kilaru M.;Hou L.;Zhang J.;Kreit E.;Raj B. (01-01-2009. ) Recent progress in arrayed electrowetting optics.Optics and Photonics News, , 20 (1 ) ,20-26 More Information
Kilaru M.;Heikenfeld J. (12-01-2008. ) A new type of information display device: Switchable electrowetting retroreflectors.Conference Proceedings - Lasers and Electro-Optics Society Annual Meeting-LEOS, , 196-197 More Information
Cheng W.;Lo K.;Heikenfeld J. (12-01-2008. ) "Electrowetting displays, progression toward large area and high brightness flexible displays" .Proceedings of International Meeting on Information Display, , 8 ,1337-1340
Heikenfeld J.;Smith N.;Hou L.;Zhang J. (12-01-2008. ) A novel electrowetting approach for optical phased arrays invited talk - EOSS.Conference Proceedings - Lasers and Electro-Optics Society Annual Meeting-LEOS, , 577-578 More Information
Zhang J.;Hou L.;Smith N.;Christy L.;Heikenfeld J. (12-01-2008. ) Toward the potential of electrowetting microprisms: High performance liquids, low voltage dielectric.Conference Proceedings - Lasers and Electro-Optics Society Annual Meeting-LEOS, , 261-262 More Information
Smith N.;Hou L.;Zhang J.;Heikenfeld J. (09-22-2008. ) Experimental validation of >1 kHz electrowetting modulation.Biennial University/Government/Industry Microelectronics Symposium - Proceedings, , 11-14 More Information
Raj B.;Smith N.;Christy L.;Dhindsa M.;Heikenfeld J. (09-22-2008. ) Composite dielectrics and surfactants for low voltage electrowetting devices.Biennial University/Government/Industry Microelectronics Symposium - Proceedings, , 187-190 More Information
Dhindsa M.;Heikenfeld J.;Kwon S.;Park J.;Rack P. (09-22-2008. ) Electrical control of debye screening in liquid microchannels for ionic separations.Biennial University/Government/Industry Microelectronics Symposium - Proceedings, , 161-164 More Information
Heikenfeld J.;Dhindsa M. (06-01-2008. ) Electrowetting on superhydrophobic surfaces: Present status and prospects.Journal of Adhesion Science and Technology, , 22 (3-4 ) ,319-334 More Information
Lao Y.;Sun B.;Zhou K.;Heikenfeld J. (06-01-2008. ) Ultra-high transmission electrowetting displays enabled by integrated reflectors.IEEE/OSA Journal of Display Technology, , 4 (2 ) ,120-122 More Information
Zhou K.;Heikenfeld J. (03-28-2008. ) Arrayed electrowetting microwells.Applied Physics Letters, , 92 (11 ) , More Information
Heikenfeld J.;Smith N.;Sun B.;Zhou K.;Hou L.;Lao Y.;Raj B. (03-21-2008. ) Flat electrowetting optics and displays.Proceedings of SPIE - The International Society for Optical Engineering, , 6887 , More Information
Sun B.;Heikenfeld J. (02-01-2008. ) Observation and optical implications of oil dewetting patterns in electrowetting displays.Journal of Micromechanics and Microengineering, , 18 (2 ) , More Information
Heikenfeld J. (12-01-2007. ) Flat electrowetting optics based on arrayed light valves and microprisms.Conference Proceedings - Lasers and Electro-Optics Society Annual Meeting-LEOS, , 206-207 More Information
Hou L.;Smith N.;Heikenfeld J. (12-01-2007. ) Electrowetting micro-prisms and micro-mirrors.Conference Proceedings - Lasers and Electro-Optics Society Annual Meeting-LEOS, , 457-458 More Information
Zhou K.;Sun B.;Lao Y.;Heikenfeld J. (12-01-2007. ) Electrowetting light valves for electronic paper.Conference Proceedings - Lasers and Electro-Optics Society Annual Meeting-LEOS, , 288-289 More Information
Smith N.R.;Abeysinghe D.C.;Haus J.W.;Heikenfeld J. (12-01-2007. ) A new form of flat optics enabled by electrowetting microprisms.Conference Proceedings - Lasers and Electro-Optics Society Annual Meeting-LEOS, , 819-820 More Information
Heikenfeld J.;Sun B.;Zhou K.;Lao Y.;Kilaru M. (12-01-2007. ) Recent advances in electrowetting display fabrication, device architectures, and performance .IDMC 2007 - International Display Manufacturing Conference and FPD Expo - Proceedings, , 290-293
Sun B.;Zhou K.;Lao Y.;Heikenfeld J.;Cheng W. (11-20-2007. ) Scalable fabrication of electrowetting displays with self-assembled oil dosing.Applied Physics Letters, , 91 (1 ) , More Information
Hou L.;Smith N.;Heikenfeld J. (08-02-2007. ) Electrowetting manipulation of any optical film.Applied Physics Letters, , 90 (25 ) , More Information
Bhat K.;Heikenfeld J.;Agarwal M.;Lvov Y.;Varahramyan K. (08-01-2007. ) Nonwoven electrowetting textiles.Applied Physics Letters, , 91 (2 ) , More Information
Kilaru M.;Heikenfeld J.;Lin G.;Mark J. (06-01-2007. ) Strong charge trapping and bistable electrowetting on nanocomposite fluoropolymer: BaTi O3 dielectri.Applied Physics Letters, , 90 (21 ) , More Information
Li W.;Hagen J.;Jones R.;Heikenfeld J.;Steckl A. (03-01-2007. ) Color tunable organic light emitting diodes using Eu complex doping.Solid-State Electronics, , 51 (3 ) ,500-504 More Information
Kilaru M.K.;Gui L.;Mark J.E.;Heikenfeld J.C. (12-01-2006. ) Hydrophobic dielectrics of fluoropolymer / BaTiO3 nanocomposites for low-voltage and charge storing .Materials Research Society Symposium Proceedings, , 949 ,117-122
Dhindsa M.S.;Smith N.R.;Heikenfeld J.;Rack P.D.;Fowlkes J.D.;Doktycz M.J.;Melechko A.V.;Simpson M.L. (12-01-2006. ) Electrowetting on arrayed carbon nanofibers .2006 6th IEEE Conference on Nanotechnology, IEEE-NANO 2006, , 1 ,207-210
Dhindsa M.;Smith N.;Heikenfeld J.;Rack P.;Fowlkes J.;Doktycz M.;Melechko A.;Simpson M. (10-10-2006. ) Reversible electrowetting of vertically aligned superhydrophobic carbon nanofibers.Langmuir, , 22 (21 ) ,9030-9034 More Information
Li W.;Jones R.;Allen S.;Heikenfeld J.;Steckl A. (06-01-2006. ) Maximizing Alq3 OLED internal and external efficiencies: Charge balanced devi.IEEE/OSA Journal of Display Technology, , 2 (2 ) ,143-151 More Information
Smith N.;Abeysinghe D.;Haus J.;Heikenfeld J. (01-01-2006. ) Agile wide-angle beam steering with electrowetting microprisms.Optics Express, , 14 (14 ) ,6557-6563 More Information
Heikenfeld J.;Steckl A.J. (12-01-2005. ) Electrowetting light valves with greater than 80'% transmission, unlimited view angle, and video res .Digest of Technical Papers - SID International Symposium, , 36 (2 ) ,1674-1677
Heikenfeld J.;Steckl A. (12-01-2005. ) Electrowetting-based pixelation for light wave coupling displays.Digest of Technical Papers - SID International Symposium, , 36 (1 ) ,746-749 More Information
Steckl A.;Heikenfeld J.;Allen S. (09-01-2005. ) Light wave coupled flat panel displays and solid-state lighting using hybrid inorganic/organic mater.IEEE/OSA Journal of Display Technology, , 1 (1 ) ,157-166 More Information
Heikenfeld J.;Steckl A. (07-04-2005. ) High-transmission electrowetting light valves.Applied Physics Letters, , 86 (15 ) ,1-3 More Information
Munasinghe C.;Heikenfeld J.;Dorey R.;Whatmore R.;Bender J.;Wager J.;Steckl A. (02-01-2005. ) High brightness ZnS and GaN electroluminescent devices using PZT thick dielectric layers.IEEE Transactions on Electron Devices, , 52 (2 ) ,194-203 More Information
Heikenfeld J.;Steckl A. (01-01-2005. ) Intense switchable fluorescence in light wave coupled electrowetting devices.Applied Physics Letters, , 86 (1 ) , More Information
Steckl A.;Heikenfeld J. (12-01-2004. ) Emissive electrowetting devices for Hybrid I/O™ displays .Conference Proceedings - Lasers and Electro-Optics Society Annual Meeting-LEOS, , 1 ,250-251
Heikenfeld J.;Steckl A. (11-01-2004. ) Liquid light .Information Display, , 20 (11 ) ,26-31
Heikenfeld J.;Steckl A. (04-29-2004. ) Fabrication and performance characteristics of black-dielectric electroluminescent 160 × 80-pixel di.Journal of the Society for Information Display, , 12 (1 ) ,57-64 More Information
Baker C.;Heikenfeld J.;Yu Z.;Steckl A. (03-01-2004. ) Optical amplification and electroluminescence at 1.54 ?m in Er-doped zinc silicate germanate on sili.Applied Physics Letters, , 84 (9 ) ,1462-1464 More Information
Hömmerich U.;Nyein E.;Lee D.;Heikenfeld J.;Steckl A.;Zavada J. (12-15-2003. ) Photoluminescence studies of rare earth (Er, Eu, Tm) in situ doped GaN.Materials Science and Engineering B: Solid-State Materials for Advanced Technology, , 105 (1-3 ) ,91-96 More Information
Steckl A.;Heikenfeld J.;Munasinghe C.;Lee D.;Wang Y.;Jones W. (12-09-2003. ) Inorganic electroluminescent displays: The impact of new materials .Conference Proceedings - Lasers and Electro-Optics Society Annual Meeting-LEOS, , 2 ,656-657
Baker C.;Heikenfeld J.;Munasinghe C.;Steckl A.;Nyein E.;Hommerich U. (12-09-2003. ) 1.5 ?m Zn2Si0.5Ge0.5O.Conference Proceedings - Lasers and Electro-Optics Society Annual Meeting-LEOS, , 2 ,1054-1055
Heikenfeld J.;Steckl A. (12-01-2003. ) Inorganic EL displays at the crossroads .Information Display, , 19 (12 ) ,20-25
Nyein E.;Hömmerich U.;Heikenfeld J.;Lee D.;Steckl A.;Zavada J. (03-17-2003. ) Spectral and time-resolved photoluminescence studies of Eu-doped GaN.Applied Physics Letters, , 82 (11 ) ,1655-1657 More Information
Steckl A.;Allen S.;Heikenfeld J. (01-01-2003. ) Hybrid inorganic/organic luminescent devices.2003 International Semiconductor Device Research Symposium, ISDRS 2003 - Proceedings, , 38-39 More Information
Nyein E.;Hömmerich U.;Heikenfeld J.;Lee D.;Steckl A.;Zavada J. (01-01-2003. ) Characterization of the red light emission from Eu doped GaN .OSA Trends in Optics and Photonics Series, , 88 ,1005-1006
Munasinghe C.;Heikenfeld J.;Dorey R.;Whatmore R.;Bender J.;Wager J.;Steckl A. (01-01-2003. ) Improved luminance and efficiency of ZnS:Mn and GaN:Eu TDEL devices using PZT thick dielectric films.2003 International Semiconductor Device Research Symposium, ISDRS 2003 - Proceedings, , 75-76 More Information
Steckl A.;Lee D.;Heikenfeld J.;Munasinghe C.;Pan M.;Wang Y.;Yu Z.;Park J.;Baker C.;Jones R. (01-01-2003. ) Rare earth doped GaN electroluminescent devices.IEEE International Symposium on Compound Semiconductors, Proceedings, , 2003-January ,147-148 More Information
Baker C.;Heikenfeld J.;Steckl A. (11-01-2002. ) Photoluminescent and electroluminescent Zn2Si0.5Ge<.IEEE Journal on Selected Topics in Quantum Electronics, , 8 (6 ) ,1420-1426 More Information
Heikenfeld J.;Steckl A. (09-01-2002. ) Rare-earth-doped GaN switchable color electroluminescent devices.IEEE Transactions on Electron Devices, , 49 (9 ) ,1545-1551 More Information
Heikenfeld J.;Steckl A. (08-01-2002. ) Contrast-enhancement in black dielectric electroluminescent devices.IEEE Transactions on Electron Devices, , 49 (8 ) ,1348-1352 More Information
Seo J.;Hömmerich U.;Lee D.;Heikenfeld J.;Steckl A.;Zavada J. (07-17-2002. ) Thermal quenching of photoluminescence from Er-doped GaN thin films.Journal of Alloys and Compounds, , 341 (1-2 ) ,62-66 More Information
Steckl A.;Heikenfeld J.;Lee D.;Garter M.;Baker C.;Wang Y.;Jones R. (07-01-2002. ) Rare-earth-doped GaN: Growth, properties, and fabrication of electroluminescent devices.IEEE Journal on Selected Topics in Quantum Electronics, , 8 (4 ) ,749-766 More Information
Heikenfeld J.;Steckl A. (04-01-2002. ) Electroluminescent devices using a high-temperature stable GaN-based phosphor and thick-film dielect.IEEE Transactions on Electron Devices, , 49 (4 ) ,557-563 More Information
Lee D.;Heikenfeld J.;Steckl A. (01-21-2002. ) Growth-temperature dependence of Er-doped GaN luminescent thin films.Applied Physics Letters, , 80 (3 ) ,344-346 More Information
Nyein E.;Hömmerich U.;Heikenfeld J.;Lee D.;Steckl A.;Zavada J. (01-01-2002. ) Spectroscopic evaluation of rare earth doped GaN for full-color display applications .Pacific Rim Conference on Lasers and Electro-Optics, CLEO - Technical Digest, , 654
Heikenfeld J.;Steckl A. (12-01-2001. ) AC operation of GaN:Er thin film electroluminescent display devices .Materials Research Society Symposium - Proceedings, , 639 ,
Lee D.;Heikenfeld J.;Steckl A.;Hommerich U.;Seo J.;Braud A.;Zavada J. (08-06-2001. ) Optimum Er concentration for in situ doped GaN visible and infrared luminescence.Applied Physics Letters, , 79 (6 ) ,719-721 More Information
Steckl A.;Heikenfeld J.;Lee D.;Garter M. (04-24-2001. ) Multiple color capability from rare earth-doped gallium nitride.Materials Science and Engineering B: Solid-State Materials for Advanced Technology, , 81 (1-3 ) ,97-101 More Information
Heikenfeld J.;Steckl A. (01-01-2001. ) Rare-earth doped gan electroluminescent devices for robust flat panel displays .Annual Device Research Conference Digest, , 177-178
Heikenfeld J.;Steckl A. (11-27-2000. ) Alternating current thin-film electroluminescence of GaN:Er.Applied Physics Letters, , 77 (22 ) ,3520-3522 More Information
Lee D.;Heikenfeld J.;Birkhahn R.;Garter M.;Lee B.;Steckl A. (03-20-2000. ) Voltage-controlled yellow or orange emission from GaN codoped with Er and Eu.Applied Physics Letters, , 76 (12 ) ,1525-1527 More Information
Heikenfeld J.;Lee D.;Garter M.;Birkhahn R.;Steckl A. (03-13-2000. ) Low-voltage GaN:Er green electroluminescent devices.Applied Physics Letters, , 76 (11 ) ,1365-1367 More Information
Steckl A.;Garter M.;Lee D.;Heikenfeld J.;Birkhahn R. (10-11-1999. ) Blue emission from Tm-doped GaN electroluminescent devices.Applied Physics Letters, , 75 (15 ) ,2184-2186 More Information
Heikenfeld J.;Garter M.;Lee D.;Birkhahn R.;Steckl A. (08-30-1999. ) Red light emission by photoluminescence and electroluminescence from Eu-doped GaN.Applied Physics Letters, , 75 (9 ) ,1189-1191 More Information
https://scholar.google.com/citations?user=XT0lBpMAAAAJ&hl=en
 ,