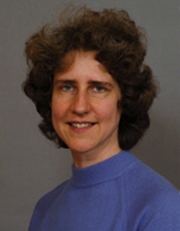 Mara M. Helmuth
Professor
Professor of Composition
Memorial Hall
282
CCM Composition - 0003
Mara Helmuth, Professor, is a composer with special interest in electroacoustic and computer music and research. Her compositions have received numerous performances in the U.S., Canada, Europe, and Asia. Her recordings are on Esther Lamneck's Tárogató Constructions (Innova), Open Space CD 33 Benjamin Boretz 9x9, Sounding Out! (Everglade, 2010), Sound Collaborations, v. 36 of Centaur Records Consortium to Distribute Computer Music Series (CRC 2903, 2007), Implements of Actuation, including collaborations with Allen Otte (Electronic Music Foundation EMF 023), Open Space CD 16 and the 50th Anniversary University of Illinois Experimental Music Studios commemorative collection (2008). She created two interactive installations for the SinoNordic Arts Space in Beijing and one for Teach and Tour Sojourners in Kampala, Uganda. 

She has participated in research involving virtural reality, granular synthesis, object-oriented and graphical user interface programming, Internet 2 performance applications and wireless sensor networks for musical performance. She has created the composition applications StochGran and Patchmix, and the internet improvisation application Soundmesh. Her articles concerning computer and electronic music have appeared in the Journal for New Music Research, Perspectives of New Music, Computer Music Journal, and Computers and Mathematics with Applications, and a chapters in the monographs Analytical Methods of Electroacoustic Music (Simoni, ed.) and Audible Traces (Barkin and Hamessley, ed.).

Helmuth has received grants from the University of Cincinnati University Research Council, the Tangeman Sacred Music Center, Open Meadows Foundation, the Brazos Valley Arts Council and Texas A&M's Associate Provost for Computing. Dr. Helmuth plays the piano and tennis. 

She has been on the board of directors of the International Computer Music Association and Society of Electroacoustic Music in the United States, and served as ICMA President.
DMA: Columbia University New York, NY,
BA and MM: University of Illinois Urbana, IL,
Grant: #Project Agreement Investigators:Helmuth, Margaret; Vogel, Craig 08-01-2012 -07-31-2013 Live Well Collaborative, Inc. Duchossois: Chime Development Role:Collaborator $30,022.00 Active Level:Private Non-Profit
Book Chapter
Mara Helmuth (2006 ) Barry Truax's Riverrun Analytical Methods of Electroacoustic Music .(pp. 187).New York, Taylor and Francis
Invited Presentations
Mara Helumth (2010. ) Wireless Sensor Networks and Computer Music, Dance and Installation Implementations .International Computer Music Conference, San Francisco, CA. Level:International
Mara Helmuth (2008. ) Intercultural Exploration .International Computer Music Conference, Level:International
Lecture
Mara Helmuth (2010. ) Wireless Sensor Networks and Computer Music, Dance and Installation Implementations .San Francisco, CA. Other Institution. Level:International
Mara Helmuth (2008. ) Intercultural Exploration .Other Institution. Level:International
Recent Performances
Expanding Space - Timothy Northcut, tuba

Sonic Explorations, CCM, Univ Cincinnati, Nov 15, 2010
Faculty Recital, CCM, Univ Cincinnati, Oct 25, 2010
International Tuba Euphonium Conference, Arizona State Univ, May 27, 2010

Butterfly Mirrors (improvisation 1 for clarinet)

Performance Time Arts Series, Towne Hall, College Hill, Cincinnati, Rebecca Danard, clar, Nov 12,13, 2010
Guest Artists Recital/Sonic Explorations, CCM, Univ. Cincinnati, Esther Lamneck, clar, Elizabeth McNutt, flute, Oct 6, 2010
Sonic Explorations, CCM, Univ. Cincinnati, Rebecca Darnard, clar, Apr 20, 2010

LIfting the Mask - video

(Em)powered by Deep Listening, Meridian Gallery, San Francisco, Aug 5, 2010
International Computer Music Conference, Stony Brook University, Jun 3-4, 2010
Festival of Women Composers, Indiana Univ Pennsylvania, Mar 19, 2010
Sounding Out!, Roulette, New York City, Jan 23, 2010
Sonic Explorations, CCM, Univ. Cincinnati Apr 21, 2009

String Paths - graphic score realizations

Accent Festival, CCM, Univ. Cincinnati, Allen Otte, percussion, Soundmesh, Jun 12, 2010
Intermedia Festival, IUPUI, Indianapolis, Soundmesh Internet2 Improvisation, Apr 24, 2010
Sonic Explorations, CCM, Univ. Cincinnati, Internet2 Improvisation with Columbia U, Scott Deal and Charles Nichols Apr 15, 2008
Sam Houston University, TX, Apr 20, 2007

Dragon of the Nebula - tape, Judith Mikita, choreography

Miami University, OH, Apr 24, 25, 2010

Abandoned Lake in Maine - tape

Arts Now Series, North Carolina State University, Mar 8 2010

Butterfly Within

Accent 2009 Festival, CCM, Univ. Cincinnati Jun 18, 2009
Next Wave 2008, Korean National Univ of Arts, Seoul, Nov 15, 2008
Korean Electroacoustic Music Festival/SICMF, Seoul, Nov 11, 2008
Gallimaufry, Birmingham Art Music Alliance, Unit. Univ Church, Birmingham, AL

On Your Mark...

CCM Ballet Ensemble Spring Concert, Univ. Cincinnati, May 29, 30, 31, 2009

The Man and the Moon - Alan Bern, accordion

Society of Electroacoustic Music in the US, Fort Wayne, IN, Apr 16, 2009
New York City Electroacoustic Music Festival, Queens College, Apr 3 2009
International Computer Music Conference, Sonic Arts Research Center, Belfast, Aug 2008

Where Is My Voice? 

Columbia University Computer Music Center, Apr 7, 2009
Music From NYC EMF, Stony Brook Univ, NY
8th Annual New Music Festival, California State Fullerton, Mar 21, 2009
New Music Festival, Ball State University, Muncie IN Jan 31, 2009
Performance Time Arts Series, College Hill Towne Hall, May 2,3, 2008

bugs and ice: a Question of Focus

Earfest, Stony Brook Univ, NY Mar 5, 2008

No. 7 for gyil and computer, Allen Otte, gyil

    Performance Time Arts Series, College Hill Towne Hall, May 2,3, 2008
    North Carolina Comptuer Music Festival, NCSU, Raleigh, NC, Feb 25, 2008
    Allen Otte Percussion Recital, Bellevue Church, KY, Feb 1, 2008
,

Recent Publications
Recordings:

Lifting the Mask on Sounding Out! Everglade Records, 2010
Where is My Voice? on 50th Anniversary Unviersity of Illinois Experimental Music Studios commemorative collection CD, 2008
Sound Collaborations, CD, Centaur: Consortium to Distribute Computer Music, v.36. CRC 2903, 2007
Meeting the Free Dreamer on Open Space CD 16, 2004
Implements of Actuation, with Allen Otte, Electronic Music Foundation DMR 023, 2001

Score:

String Paths in Notations 21, MarkBatty Publishers, 2009
Other Activities
International Computer Music Association

President, 2008-2010
Best Paper selection panel, 2010
Music juror, 2009
Recent Commissions
Butterfly Mirrors - Tornado Project (2010)
The Birds - Concert Nova (2010)
Hidden Mountain - SinoNordic Arts Space, Beijing (2007)
Software
StochGran - granular synthesis software (OSX)
Soundmesh - Internet2 improvisation, RTcmix-based
RTcmix instruments for granular synthesis
,