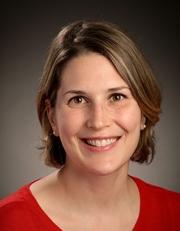 Sarah Henson , MD
Assistant Professor of Clinical-Affiliate
Dr.
Cincinnati Children's Hospital
3333 Burnet Ave
Cincinnati, Ohio 45229-3026
Phone 513-636-2388
Email sarah.henson@cchmc.org
Dr. Henson received her medical degree at the University of Arkansas and then completed her pediatric residency at the University of Oklahoma Health Sciences Center. Dr. Henson completed her Pediatric Cardiology Fellowship and Advanced Pediatric Preventive Cardiology Fellowship at Cincinnati Children's Hospital Medical Center. Dr. Henson's advanced training in the diagnosis and treatment of high cholesterol and high blood pressure makes her a great addition to our Preventive Cardiology team.
Bachelor of Science: Oakland University Rochester, MI, 2008 (Biochemistry)
Doctor of Medicine: University of Arkansas for Medical Sciences College of Medicine Little Rock, AR, 2014 (Medicine)
Research and Practice Interests
Pediatric Preventive Cardiologist focused on a career in preventive cardiology that addresses the impact of cardiovascular risk factors on cardiac structure and function. Research interests include identification of cardiac dysfunction and vascular changes associated with cardiovascular risk factors present in youth, utilization of home blood pressure devices for the diagnosis and management of pediatric hypertension, and improving screening for cardiovascular risk factors in individuals with congenital heart disease. 
Positions and Work Experience
07-2017 -06-2018 Pediatric Complex Care Hospitalist, The Children's Center Rehabilitation Hospital, Bethany, OK
Peer Reviewed Publications
Henson SE, Lang SM, Khoury PR, Tian C, Rutter MM, Urbina EM, Ryan TD, Taylor MD, Alsaied T. (2021. ) The Effect of Adiposity on Cardiovascular Function and Myocardial Fibrosis in Patients With Duchenne Muscular Dystrophy.Journal of the American Heart Association, , 10 (19 ) ,e021037
The Effect of Adiposity on Cardiovascular Function and Myocardial Fibrosis in Patients With Duchenne Muscular Dystrophy
More Information
Siddiqui S, Alsaied T, Henson SE, Gandhi J, Patel P, Khoury P, Villa C, Ryan TD, Wittekind SG, Lang SM, Taylor MD. (2020. ) Left Ventricular Magnetic Resonance Imaging Strain Predicts the Onset of Duchenne Muscular Dystrophy-Associated Cardiomyopathy.Circulation , , 13 (11 ) ,e011526
Left Ventricular Magnetic Resonance Imaging Strain Predicts the Onset of Duchenne Muscular Dystrophy–Associated Cardiomyopathy
More Information
Henson, Sarah E; Lang, Sean M; Khoury, Philip R; Tian, Cuixia; Rutter, Meilan M; Urbina, Elaine M; Ryan, Thomas D; Taylor, Michael D; Alsaied, Tarek (2021. ) The Effect of Adiposity on Cardiovascular Function and Myocardial Fibrosis in Patients With Duchenne Muscular Dystrophy.Journal of the American Heart Association, , 10 (19 ) ,e021037 More Information
Siddiqui, Saira; Alsaied, Tarek; Henson, Sarah E; Gandhi, Janvi; Patel, Priyal; Khoury, Philip; Villa, Chet; Ryan, Thomas D; Wittekind, Samuel G; Lang, Sean M; Taylor, Michael D (2020. ) Left Ventricular Magnetic Resonance Imaging Strain Predicts the Onset of Duchenne Muscular Dystrophy-Associated Cardiomyopathy.Circulation. Cardiovascular imaging, , 13 (11 ) ,e011526 More Information
Invited Presentations
Henson, S.E., Urbina E.M. (2022. ) (In Press. ) Triglyceride to HDL-C Ratio and Increased Arterial Stiffness in Youth with Obesity or Type 2 Diabetes. Pediatric Academic Society Meeting , Denver, CO. Professional Meeting. . Level:National
Poster Presentations
Henson, S.E., Balan, A. (2015. ) (In Press. ) Central Nervous System Phaeohyphomycosis Mimicking Tumefactive Multiple Sclerosis in an Immunocompetent Pediatric Patient. .American Federation for Medical Research Southern Regional Meeting, New Orleans, LA, USA. . Professional Meeting. . Level:Regional
Henson, S. E., Shah, A. (2017. ) (In Press. ) Effects of Methadone on QT Intervals in Pediatric Patients. .American Federation for Medical Research Southern Regional Meeting, New Orleans, LA, USA. . Level:Regional
Henson, S.E., Schwarz, R. (2017. ) (In Press. ) Pacemaker-Dependent Patient with Hyperkalemia after Abrupt Cessation of Isoproterenol. American Federation for Medical Research Southern Regional Meeting, New Orleans, LA, USA. . Level:Regional
Henson, S.E., Alsaied, T. (2021. ) (In Press. ) The Effect of Adiposity on Cardiovascular Function and Myocardial Fibrosis in Duchenne Muscular Dystrophy. Society for Cardiovascular Magnetic Resonance Virtual Scientific Sessions., Virtual . . Level:International
2017 Owen M. Rennert Award for Academic Excellence and Scholarly Achievement University of Oklahoma Department of Pediatrics recognition of Academic Excellence and Achievement University of Oklahoma Status:Recipient Level:Department Type:Recognition
2016 OU Children's Hospital Foundation Resident Research Award Status:Recipient Level:Department Type:Monetary
University of Oklahoma Health Sciences Center (Patient Safety Committee ) Committee Member Type:Departmental Service Level:Department 2015 -2016
University of Oklahoma Health Sciences Center (Residency Council ) Elected Member Type:Departmental Service Level:Department 2016 -2017
The Children's Center Rehabilitation Hospital (Pharmacy Safety Committee ) Committee Member Type:Departmental Service Level:Local 2017 -2018
The Children's Center Rehabilitation Hospital (Quality Improvement Committee ) Committee Member Type:Departmental Service Level:Local 2017 -2018
Post Graduate Training and Education
2014-2017 Pediatric Resident, Pediatric Residency , University of Oklahoma Health Sciences Center, , Oklahoma City, OK
2018-2021 Pediatric Cardiology Fellow, Pediatric Cardiology Fellowship, The Heart Institute Cincinnati Children's Hospital, , Cincinnati, OH
2021Advanced Pediatric Preventive Cardiology Fellow, Advanced Pediatric Preventive Cardiology Fellowship, The Heart Institute Cincinnati Children's Hospital, , Cincinnati, OH
2014: Fellow American Academy of Pediatrics,
2018: Fellow American College of Cardiology,
2021: Fellow National Lipid Association,
2021: Fellow American Heart Association,
2021: Fellow International Society of Hypertension,
Academic - Cincinnati Children's Hospital
3333 Burnet Ave
Cincinnati  Ohio, 45229-3026
Phone: 513-636-2388
sarah.henson@cchmc.org