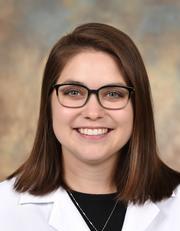 Sydney Higgins
Medical Resident/Fellow
Personal Statement
My father was an engineer who I looked up to in every way possible. He would pass time in the car by sharing his love for math and problem solving with me. Forever wanting to impress him, I would hide my hands in my coat sleeves or behind my back so he could not see my fingers moving as I counted how many times 5 went into 15. Hearing his praise for correct answers was the most rewarding feeling. In my junior year of high school my parents were encouraging me to spend my summer taking calculus at a nearby college. However, my chemistry teacher presented me with a flyer from The Cleveland Clinic for a paid internship. It was not going to advance my impending engineering career, but it would give me money for senior year and add something interesting to my college application. Little did I know how much of an impact it would have on my life. In early 2016, my father was diagnosed with stage IV colorectal cancer at the age of 56. I remember the first time I walked into his hospital room I could not help but cry. The man that had just watched me graduate from college was frail and confused. He did not understand what was happening to him and always seemed to have more questions than answers. My dad lost his battle with cancer after five short months. Two weeks later I started medical school at OUHCOM, knowing he would have wanted me to pursue our passion for education. I now wear my father's fingerprint on a necklace. Each time I see it reflect in a mirror it reminds me the patients who I help care for are someone's loved ones. I am taking care of someone's father, mother, sister or brother just as someone had taken care of mine. The opportunity to care for others in their time of need is something I will never take for granted. I am looking forward to serving others through medicine.

Why I Chose Cincinnati
I am originally from Northeastern Ohio. I received my Bachelor's from the University of Toledo and attended medical school at Ohio University in Athens, Ohio. It is only natural that I move to yet another corner of Ohio for residency! Just kidding! In all seriousness, I ranked The University of Cincinnati Medical Center as my number one choice for residency because of all the great people I met on interview day. Cincinnati is also a spectacular city to live and grow in. I am looking forward to three awesome years! Go Bearcats!
DO: Ohio University, College Of Osteopathic Medicine
University of Cincinnati College of Medicine
231 Albert Sabin Way
Cincinnati  Ohio, 45267
HIGGINS3@UCMAIL.UC.EDU