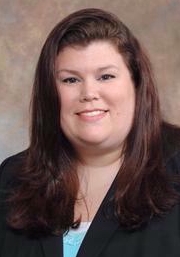 Katie Richardson Hobbing , PhD
Assistant Professor Educator
Department of Pharmacology & Systems Physiology
University of Cincinnati College of Medicine
231 Albert B. Sabin Way
Cincinnati, Ohio 45267-0576
Phone 513-558-4159
Fax 513-558-5738
Email katie.hobbing@uc.edu
As Faculty Director for the Master's in Pharmacology program and Associate Director for the Special Master's Program in Physiology, my work centers around the educational mission of our programs: to challenge and support students academically as they work to discover their preferred career path.  As an educator, I find it is important to not just train students in pharmacology but to train well-rounded students that can think critically and communicate effectively.  These translatable skills are important for any chosen career path.  Therefore, together with my colleagues, we have worked hard to integrate these skills (data interpretation, critically thinking, and science communication) into the curriculum, while also actively engaging students in the classroom.
 
Prior to transitioning into education, my research work focused on the following: 

My postdoctoral research interests centered around the tumor suppressor RASSF1A (and its related family members).  Rassf1a is epigenetically silenced in over 37 different tumor types and is the most frequently methylated gene in human cancers.  It is estimated that a staggering 95% of breast cancers, 88% of small-cell lung cancers (SCLCs), and approximately 39% of non-small-cell lung cancers have enhanced promoter methylation of Rassf1a.  Moreover, in young ER/PR negative breast cancer patients, 78% of African American women compared with 20% of Caucasian women had Rassf1a promoter methylation.  This differential loss of RASSF1A function may be a key contributor to the racial disparity in breast cancer morbidity rates.  Loss of Rassf1a expression is associated with a poorer prognosis, decreased overall survival, and altered responsiveness to common chemotherapeutic agents. While RASSF1A is frequently inactivated in human cancer, it also exhibits several single nucleotide polymorphisms (SNPs) associated with an increased cancer risk.  A specific SNP occurs in approximately 26% of the Caucasian population and is more prevalent in BRCA1 associated breast cancers.   What is astounding is that women with BRCA1 mutations plus RASSF1A SNP expression present with breast cancer 6 years earlier than those with BRCA1 mutations alone. This compelling evidence not only implicates BRCA1 but RASSF1A in the early formation of breast cancer.

While RASSF1A has no enzymatic activity, it is best known to bind and modulate Ras signaling while serving as a cellular protein scaffold, coordinating various protein-protein interactions.  These protein interactions regulate numerous cellular processes including pro-apoptotic signaling, inflammatory signaling, microtubule dynamics, cell cycle control, genomic stability, and motility/invasion. However, the exact and far-reaching cellular mechanisms regulated by RASSF1A are not fully understood.  My research focused on identifying the dysregulated cellular mechanisms altered by loss/SNP expression by utilizing both in vivo and in vitro models.
 
Doctor of Philosopy: University of Louisville Louisville, KY, 2008 (Pharmacology and Toxicology)
Master of Science: University of Louisville Louisville, KY, 2006 (Pharmacology and Toxicology)
Bachelor of Engineering: Vanderbilt University Nashville, TN, 2001 (Chemical Engineering)
Grant: #URS Hobbing New Faculty Development Award – 2017/18 Investigators:Hobbing, Katharine 06-01-2018 -06-30-2019 UC's Research Support URS Hobbing New Faculty Development Award – 2017/18 Role:PI $2,500.00 Active Level:Internal UC
Peer Reviewed Publications
Donninger, Howard; Hobbing, Katharine; Schmidt, M L; Walters, Eric; Rund, Laurie; Schook, Larry; Clark, Geoffrey J (2015. ) A porcine model system of BRCA1 driven breast cancer.Frontiers in genetics, , 6 ,269 More Information
Donninger, Howard; Clark, Jennifer; Rinaldo, Francesca; Nelson, Nicholas; Barnoud, Thibaut; Schmidt, M Lee; Hobbing, Katharine R; Vos, Michele D; Sils, Brian; Clark, Geoffrey J (2015. ) The RASSF1A tumor suppressor regulates XPA-mediated DNA repair.Molecular and cellular biology, , 35 (1 ) ,277-87 More Information
Watkins, Stephanie K; Li, Bing; Richardson, Katharine S; Head, Kimberly; Egilmez, Nejat K; Zeng, Qun; Suttles, Jill; Stout, Robert D (2009. ) Rapid release of cytoplasmic IL-15 from tumor-associated macrophages is an initial and critical event in IL-12-initiated tumor regression.European journal of immunology, , 39 (8 ) ,2126-35 More Information
Richardson, Katharine S; Zundel, Wayne (2005. ) The emerging role of the COP9 signalosome in cancer.Molecular cancer research : MCR, , 3 (12 ) ,645-53 More Information
Guo, Luping; Richardson, Katharine S; Tucker, Lindsay M; Doll, Mark A; Hein, David W; Arteel, Gavin E (2004. ) Role of the renin-angiotensin system in hepatic ischemia reperfusion injury in rats.Hepatology (Baltimore, Md.), , 40 (3 ) ,583-9 More Information
Harrell Stewart, Desmond; Hobbing, Katherine; Schmidt, M Lee; Donninger, Howard; Clark, Geoffrey J (2019. ) The role of RASSF proteins in modulating RAS driven lung tumors in vivo.Journal of thoracic disease, , 11 (Suppl 9 ) ,S1436-S1437 More Information
Schmidt, M Lee; Hobbing, Katharine R; Donninger, Howard; Clark, Geoffrey J (2018. ) RASSF1A Deficiency Enhances RAS-Driven Lung Tumorigenesis.Cancer research, , 78 (10 ) ,2614-2623 More Information
Jones, Dominique Z; Schmidt, M Lee; Suman, Suman; Hobbing, Katharine R; Barve, Shirish S; Gobejishvili, Leila; Brock, Guy; Klinge, Carolyn M; Rai, Shesh N; Park, Jong; Clark, Geoffrey J; Agarwal, Rajesh; Kidd, LaCreis R (2018. ) Micro-RNA-186-5p inhibition attenuates proliferation, anchorage independent growth and invasion in metastatic prostate cancer cells.BMC cancer, , 18 (1 ) ,421 More Information
Academic - Department of Pharmacology & Systems Physiology
University of Cincinnati College of Medicine
Cincinnati  Ohio, 45267-0576
Phone: 513-558-4159
Fax: 513-558-5738
katie.hobbing@uc.edu