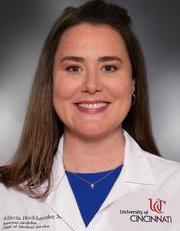 Aliecia Hochhausler , MD
Associate Professor of Clinical-Affiliate
Vice Chair, Veteran Affairs
Medical Sciences Building
COM IM Hospital Medicine Aff Faculty - 0551
Doctorate of Medicine: University of Cincinnati College of Medicine
Thomas More College (Biology)
Research and Practice Interests
As the sole clinical coordinator for "Serial Point of Care Venous Lactate for the Evaluation of Blunt Trauma Patients" and "The CRUSADE National Quality Improvement Initiative: Can Rapid Risk Stratification of Unstable Angina Patients Suppress ADverse Outcomes with Early Implementation of the ACC/AHA Guidelines" as well as interim coordinator for several other research trials. I was involved with preparing research documents, coordinating study materials, resource and data management, monitoring trial progress and enrollment, as well as maintaining study specific equipment and documentation. I had the opportunity to coordinate efforts of research nurses and undergraduate students who were involved with the enrollment and data collection process.  This position entailed a great amount of in-service training, teaching undergraduate premedical students about trial-specific background information and clinically relevant pathophysiology, and planning meetings to facilitate ongoing support of active trials.
 
As Senior Clinical Studies assistant, I maintained research related inventory and resources for three clinical sites (Christ, Jewish and University Hospitals) as well as for outside sites involved in our multi-center trials, organized and shipped banked biological specimens, and maintained the operation of the various point of care and diagnostic devises. I have also had the opportunity to be involved in various trial start ups by creating and editing methodological documents used to execute the protocols, performed basic quality monitoring of patient files and coordinated the completion of the case report forms. In this position I was involved in training newly hired research associates, planning and teaching at monthly research associate meetings and new trial in-service and education.
 
As a clinical studies assistant, I enrolled patients in various academic and sponsored research trials at University, Jewish, and Christ Hospitals' emergency departments.  Serving in this capacity I was responsible for identifying, screening, recruiting and consenting patients to participate in various active research trials. Duties also included collecting clinical data, interviewing patients, processing biological specimens, operating point of care and non-invasive diagnostic devises.  In the fall of 2001, I was promoted and served as the Lead Clinical Studies Assistant.  In this position I continued to work clinically, and also took on the additional responsibilities of managing the research resources and equipment as well as interfacing with research coordinators and principal investigators.
 
2005 Northern Kentucky Medical Society Merit Based Scholarship
2010 Alpha Omega Alpha
Phone: 513-558-2590