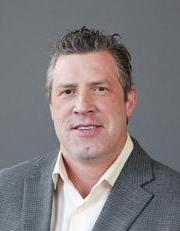 Casey Hord
Professor
Teachers College 600G
2600 Clifton Ave.
University of Cincinnati
Cincinnati, Ohio 45221
Phone (513) 556-2481
Email casey.hord@uc.edu
Casey Hord is a Professor in the Department of Special Education. His primary research interest is developing mathematics interventions for students with learning disabilities and students with mild intellectual disability. Other research interests include the role of visual representations and strategic questioning in mathematics teaching, the training of pre-service teachers to teach mathematics to students with mild disabilities, and the potential role of mathematics tutors for students with mild disabilities in urban, suburban, and rural settings.

For more information on UC student involvement in tutoring contexts in the community, please see this link: http://cech.uc.edu/headlines/2016/hughes-tutoring.html and, if you have an interest in volunteering as a tutor at a local school, please email Dr. Hord at casey.hord@uc.edu

For more information about Dr. Hord's National Science Foundation project (in collaboration with Anna DeJarnatte) and related research, please see the following links:
https://cadrek12.org/users/casey-hord
https://www.nsf.gov/awardsearch/showAward?AWD_ID=1813903
https://sites.google.com/ucmail.uc.edu/trainingpreserviceteachers/home

If you are interested in getting a PhD in Educational Studies with a concentration in Special Education, please contact Dr. Hord at casey.hord@uc.edu.
PhD: Purdue University 2012 (Special Education)
M. S. Ed.: Southern Illinois University Edwardsville 2002 (Elementary Education)
B.A. : Millikin University 1997 (Sociology)
Positions and Work Experience
2018 -2023 Associate Professor, University of Cincinnati,
2023 -To Present Professor, University of Cincinnati,
Grant: #DRL-1417983 Investigators:Koenig, K. (PI), Bao, L., Hord, C., & Zydney, J. 09-01-2014 -08-31-2017 National Science Foundation Teacher Professional Development for Technology--Enhance Inquiry to Foster Students' 21st Century Learning Role:Collaborator $449,876 Completed Type:Grant
Grant: #ARP ESSER Sourced Grants / S425U210035 Investigators:Hord, C. (PI); Doyle, Kathryn; DeJarnette, Anna 07-01-2022 -06-30-2024 Department of Education Closing the Gap for Students with Learning Difficulties Enrolled in Algebra 1 and High School Geometry Role:PI $499996.44 Active Type:Grant
Grant: #RSC14036 /ODE 63941 /USEd H027A140111A Investigators:Camp, E. M. (PI), Kroeger, S. D., Haydon, T, & Hord, C. 07-01-2014 -06-30-2015 Department of Education Addressing the Needs of Every Student: An Evidence-Based Model for Inclusive and Special Education Teacher Preparation Role:Collaborator $250,000 Completed Type:Grant
Grant: #DRL-1813903 Investigators:Hord, Casey (PI); DeJarnette, Anna (Co-PI) 08-01-2018 -07-31-2021 National Science Foundation Training Pre-Service Teachers to Tutor Students with Learning Disabilities in Algebra I Role:PI $450,000.00 Active
Academic - Teachers College 600G
2600 Clifton Ave.
Cincinnati  Ohio, 45221
Phone: (513) 556-2481
casey.hord@uc.edu