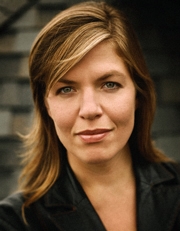 Sharon Huizinga
Assoc Professor
Assistant Professor of Lighting Design and Technology
Corbett Cntr Perform Arts
CCM Tech Theatre/Design&Production/Light - 0003
Sharon Huizinga has been a Lighting Designer and Programmer for over 15 years, working around the world and in many genres, from theatre and live music to corporate events and television.

Europe Selected: Eos programmer for the Dutch National Opera & Ballet (multiple productions), ETC Field Project Coordinator for Northern Europe, guest lecturer for the Academy voor Theatre en Dance Amsterdam, lighting, projection and scenic design for multiple European tours with Deva Premal & Miten.

US Selected: Multiple lighting and projection designs for University of Wyoming, Asst. Professor of Lighting and Projection Design for University of Wyoming's department of Theatre and Dance. Lighting Design for Macbeth Ghost on Fire, Merry Wives of Windsor and Sweet Love Adieu for the Oberon Theatre Ensemble in New York. Lighting Programmer for Shrek, the Musical (Broadway and national tour), Nerds, a Musical Software Satire (Philadelphia), Ditty Doodle Works Pajama Party Live (National Tour) and the GM booth at the NY Auto Show. Lighting Director for the Home States Ball at the 2009 Presidential Inauguration (Washington DC).

Canada Selected: Lighting Designer for the world premier of Khaos, the Opera, Lighting Director for the Cultural Olympiad of the 2010 Winter Olympic Games, Lighting Programmer for the 2010 Paralympic Games Opening Ceremonies, multiple lighting designs for The Globe Theatre in Regina, Studio 58, Intermuses Productions, and The Richmond Gateway Theatre, all in Vancouver. She has also designed lighting for I am My Own Wife (Belfry Theatre, Victoria), Cymbeline (Bard on the Beach, Vancouver), and for Ali and Ali and the Axes of Evil (Neworld/Cahoots Theatre, Vancouver/Toronto), the closing production of the 2005 Canada Games in Regina, and co-designed lighting (with Mike Johnston) for MTV Select.

Touring Credits Include: Lighting Designer for Diana Krall's "From This Moment On" Tour, Asst. Head of Lighting for Cirque Du Soleil's Dralion, Lighting and Scenic Designer for multiple Deva Premal & Miten tours, Production Manager and Lighting Designer for Jesse Cook's Frontiers Tour, Video Programmer for Diana Krall's Solo shows at the Montreal Jazz Festival, Asst. Production Manager for Diana Krall's Girl In The Other Room Tour (Asia, Australia and NZ), Production Manager and Technical Director for Fire, Where There's Smoke Canadian Tour(Dance Arts Vancouver), Lighting Director for Norah Jones' Summer 2003 Tour, Lighting Director for Ballet British Columbia's Mexico Tour of The Faery Queen, and an enlightening turn as a promoter's representative for Pearl Jam's 2005 Canadian Tour.

Huizinga is a certified Jivamukti yoga teacher and a firm believer in the tiny house movement. She believes that the entertainment world is really fun most of the time.
BA: University of Wyoming
MFA: University of British Columbia
Grant: #Check 1591 Investigators:Huizinga, Sharon 11-23-2021 -11-22-2022 Foto Focus The Hughes Project Role:PI 10000.00 Awarded Level:Non Profit