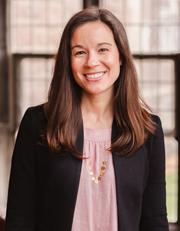 Megan Steigerwald Ille
Assistant Professor-Educator of Musicology
Emery Hall
CCM Composition, Musicology & Theory - 0003
Megan Steigerwald Ille is a musicologist whose research and teaching considers the intersections of operatic, popular and digital cultures in the 21st century in the United States and Canada. Her book-in-progress, Opera for Everyone: Experimenting with American Opera in the Digital Age, explores changing modes of spectatorship and performer labor in contemporary opera in the US through an in-depth ethnographic study of the LA-based experimental opera company called The Industry.

She has articles forthcoming in the Journal of the Society of American Music and The Opera Quarterly. Since 2018 she has served as a Postdoctoral Fellow of Digital Cultures in the American Culture Studies Program at Washington University in St. Louis.

Steigerwald Ille completed her PhD in Historical Musicology and a certificate in Ethnomusicology at the Eastman School of Music, University of Rochester.